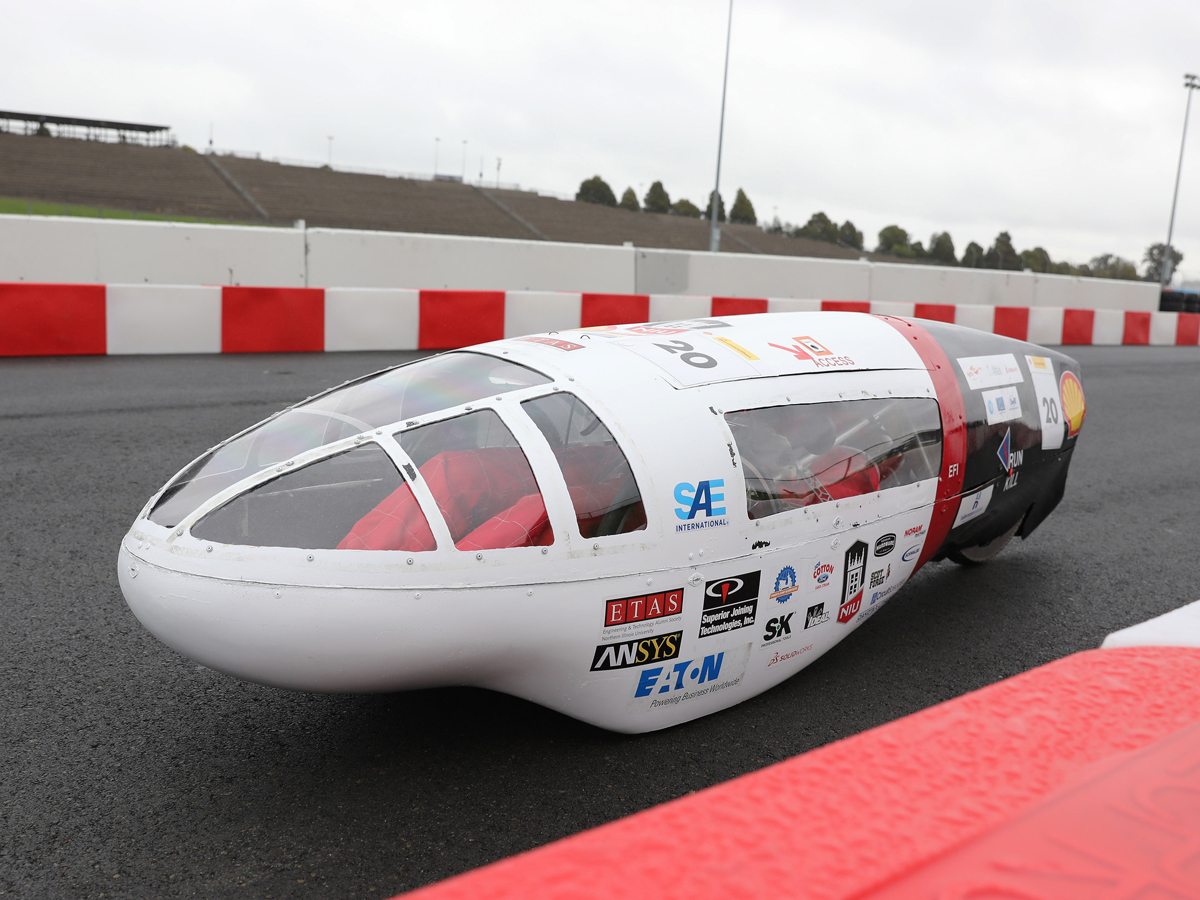 A sleek black and white vehicle that resembles a wingless plane can travel 1,524 miles on a single gallon of gasoline. It's the winning entry by Northern Illinois University of DeKalb students, who participated this past weekend in the Shell Eco-Marathon Americas Mileage Challenge at Sonoma Raceway.
They were among more than 1,000 students from the Western Hemisphere to compete, either in trying to get the most mileage from their vehicles or to design a fuel-saving vehicle that one day could travel on conventional roadways.
The students, who named their vehicle "NIU Supermileage," achieved their win on their college's first try in the Mileage Challenge.
"This means everything to our team," said Josh Helsper, team leader. "It validates all the engineering we've learned and the work we've done."
Mater Dei High School not only won the United States UrbanConcept contest, it broke the recording the battery electric category with a 68.2 mile per kilowatt-hour run.
Unlike NIU-DeKalb, Mater Dei is a veteran at the contest, entering every Mileage Challenge since 2007. That schools' entry was named "Mater Dei Supermileage 2."
This year's contest drew 88 teams from high schools and colleges from the United States, Argentina, Brazil, Canada, Colombia, Ecuador, Guatemala and Mexico.
The Prototype class concentrates on ultra-efficient and lightweight designs and often have three wheels.
The UrbanConcept class encourages designs of "roadworthy" vehicles that would meet real-life needs of drivers.
The two classes are divided into three energy categories – internal combustion engine that use gasoline, diesel and ethanol, hydrogen fuel cell vehicles and those using electric batteries.
Winners of other categories are "Eco Illini Supermileage, entered by the University of Illinois at Urbana-Champaign, winning the Prototype Battery Electric with 152 miles per kilowatt hours; "Ualberta EcoCar prototype Team" entered by University of Alberta, Edmonton, Alberta, Canada, winning the Prototype Hydrogen Fuel Cell category with 159 .8 miles per m3 unit of hydrogen; and "Wawasee Gold," entered by Wawasee High School, Syracuse, Indiana, and winning the UrbanConcept Internal Combustion Engine with 680.7 miles per gallon.
Other teams were honored for work off the track. Those awards and their winners are:
Technical Innovation Award sponsored by Southwest Research Institute: BYU SMV, Brigham Young University implemented a system to quickly optimize the air-fuel ratio over a short engine burn time. The optimization is meant to achieve better fuel economy and reduce harmful emissions.
Most Innovative H2 Award sponsored by Linde: Ualberta EcoCar Prototype Team, University of Alberta was awarded this off-track award for the customized controller built for their hydrogen fuel cell powered vehicle.
Communications Award: LA Tech EcoCar, Louisiana Tech University submitted an integrated communication plan with clear objectives, audience and content strategy, multi-channel tactics and measurable analytics.
Vehicle Design Award for Prototype: Pato a Jato, Universidade Tecnológica Federal do Paraná used an eco-friendly plant-based resin and biodegradable material made with a 3D printer. The car is painted yellow, which was chosen to reflect light better than dark colors, decreasing the internal temperature.
Vehicle Design Award for UrbanConcept: LA Tech EcoCar, Louisiana Tech University pushed the envelope in design. They paid attention to detail including mounted LED lights inside the body of the car for a sleeker and more aerodynamic look.
Safety Award: Texas A&M University had a high-quality submission and went into great detail on their processes to ensure their car and driver were safe. Ultimately, they chose driver safety over and above track performance and chose not to take an additional risk to complete a last attempt.
Perseverance and Spirit of the Event Award: EEV at Sac State, California State University, Sacramento. This team was organized, funded and managed entirely by students with minimal support from the school. The team included students from diverse engineering disciplines with a clear delineation of roles, while still working collaboratively.
Southwest Research Institute Scholarship Winners: $1,000 scholarships were awarded to three students from University of California, Berkeley; Rice University; and San Antonio College.
Travel Safety Stipend: The LSU Capstone Team from Louisiana State University provided a very detailed journey management plan, which took into account rest times, driver changes and proper sleep times.
The winning schools have earned the opportunity to compete in the Drivers' World Championship in London, United Kingdom, July 1 to 5, facing teams from Asia and Europe.
In the Drivers' World Championship qualifier, Wawasee Gold took first and Mater Dei, with Supermileage 2 and Supermileage, took second and third respectively. Because rules allow only one team from each school may advance to the world championships, fourth-place Alden-Conger High School and its vehicle, Knights 3, will get to compete in London.
The world champions will be chosen at that competition, and the winner will get to go to the home of Scuderia Ferrari in Italy.
Competitors also may see other opportunities come their way. Shell's Make the Future Live Partners , including Agility, Altair, Dassault Systèmes, HP, Linde, Sonoma Raceway, Southwest Research Institute and Toyota, often use the Eco-Marathon as a recruitment opportunity.
"These students have dedicated countless hours to developing solutions that support a cleaner, lower-carbon energy future," said Shanna Simmons, Global Technical Director Shell Eco-marathon.
"The mileage challenge is a platform for students to test their theories on energy efficiency and receive hands-on experience before entering the workforce," she said.