Margaret Dominici
July 2, 1944 – Sept. 5, 2019
Resident of Martinez, Calif.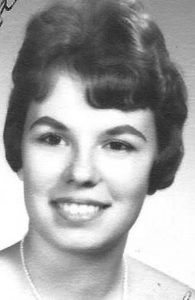 Peggy Dominici was born Margaret Jean Kelleher to Jerry and June Kelleher on July 2, 1944. She was surrounded by loved ones when she passed peacefully at her home. She was preceded in death by her husband Phil Dominici. She is survived by her brother, Bill Kelleher, her sons Todd and David Nichols, and their immediate family members. She had five grandchildren and two great grandchildren. Peggy spent the majority of her life residing in the city of Martinez and graduated from the Alhambra High School, class of 1962.
Peggy worked in various types of employment prior to enjoying a successful thirty – five-year career in law enforcement with the Martinez Police Department, and the Pleasant Hill Police Department. She was one of many members that developed the Pleasant Hill Police Department when it was formed in 1970. Peggy served as an evidence clerk, records clerk, police dispatcher, and later as the Support Services Manager. She retired from the Pleasant Hill Police Department in 2003.
Peggy was a loving wife, mother, grandmother and great grandmother. She enjoyed spending time with family, trav- eling with Phil, gambling trips to casinos, playing card games with friends; completing crossword puzzles were part of her early morning routine. She will be greatly missed.
A celebration of Peggy's life will be held on September 24th, at 11:30 am, at Zio Fraedo's Restaurant located in Pleasant Hill.