By CHARLIE JARRETT
Martinez News-Gazette Columnist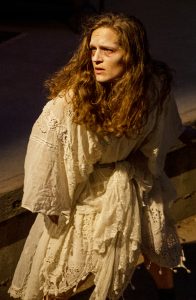 First this week, the very intriguing murder mystery play in Orinda, "The Woman in White", extracted from the 500-page book written by Wilkie Collins in 1859, and recently adapted into a theatrical play by local author Malcolm Cowler. Next, in Pittsburgh, the Pittsburgh community Theater presents the upbeat musical comedy, Sister Act, in which an outrageously sexy and bombastic lounge singer bears witness to a mobster murder scene and is secretly sequestered in a convent by the police, where she upends the sisters peaceful and God-fearing life and interjects some new purpose and soulful rhythm into their Catholicism!
The Woman in White, now playing at the starlight theater in Orinda, was considered to be among the very first true mystery and sensation novels ever written. The basic plot introduces us to Walter Cartwright (Jeff Kimmich), who is a young "teacher of drawing", a man of strong principles and sense of justice. He has been invited to the Frederick Fairlie household where he has been hired to introduce and instruct Miss Laura Fairlie (Claire Stevenson) and her half-sister, Marian Holcombe (Beth Sheridan), in the arts of painting and drawing. As he is traveling down a London street on his way to the Limmeridge House to meet his new students, he is stopped and startled by a distressed young lady, who is wide-eyed, disheveled, and dressed entirely in white, asking him if he knows the way to a Limmeridge House in Cumberland. He admits that the estate she is asking about is the very same residence he himself is seeking. Suddenly, the frightened young lady rushes away from him into the dark immediately following a man's voice coming from the street behind him, demanding to know if anyone has seen a young woman in white who has just escaped from a mental institution.
Fast forward several months to the Limmeridge House where we find art instructor Walter instructing the two young ladies, one of whom (Laura) he falls in love with. But she is unhappily forced to marry a Baronet, Sir Percival Glyde (Remingston Stone) at the insistence of her uncle. We soon find out that the Baron is actually only interested in gaining control of her estate. This is where the story becomes quite intense and complex. Numerous events and side stories evolve as 14 excellent actors portray a plethora of significant characters. The action of the story heats up to display an intense urgency, leaving the audience on the edge of their seats.
This is a powerful play, well characterized and adapted from its original story and directed by Malcolm Cowler. The Woman in White continues Thursdays at 8 pm, Fridays and Saturdays at 8:30 pm and with Sunday matinees at 4 pm, now through Sunday, September 26th. Ticket prices are very reasonable at $22 for adults and $19 for Seniors and Students (age 19 and under). The theater is located in the Orinda Community Center, next to the park, at #28 Orinda Way, across the street from the Right Aid drugstore. Please go to their webpage at www.orsvp.org or call (925) 528-9225 to order tickets or to gather more information.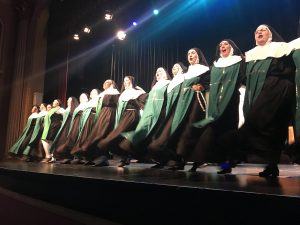 Sister Act is a musical based on the 1992 film of the same name, starring Whoopi Goldberg, with music created by Alan Menken and lyrics by Glenn Slater. Sister Act, under the auspices of the Pittsburgh Community Theater and the artful direction of Dianna Schepers, provides a fun filled evening of entertainment, uplifted by a cast of 30 Pittsburg-area actors and actresses. The soulful singing and crazy antics of black entertainer, Tanika Shevaun Baptiste, plays the same character in this musical that Whoopi Goldberg portrayed in the movie version, Deloris Van Cartier. After accidentally witnessing a murder perpetuated by her ex-boyfriend, gangster Curtis Jackson (Lou Esposito II), she flees for her life and heads straight to the police station to report the crime and plead for protection. The policeman on duty, Eddie Souther (Giovanni Vidrio), happens to have been an old high school classmate and admirer. He finds her a Catholic convent, The Holy Order of the Little Sisters of our Mother of Perpetual Faith, willing (some apprehension by the mother superior) to hide her until the killer is apprehended.
It is quickly discovered that Deloris does not fit in with the ways of life in a convent. In fact, quite the opposite. She is a free willed adventure seeker who sneaks out of the convent that first night, seeking something to eat and drink in a bar across the street. Because of breaking rules repeatedly, Deloris is on the verge of being kicked out of the convent. When it is discovered that as a trained musician she has a natural feel for entertaining her audience, and can sing perfectly on key (which apparently none of the other nuns who are members of the convent choir seem to be able to do), she is given one last chance to help the members of the convent choir to learn to sing on key. Unexpectedly, Monsignor O'Hara (Gregory Brown) discovers that her style of Christian music and her radical form of direction has turned their uncommon chorus from total cacophony into a thoroughly delightful and joyful noise, and a style of music that is suddenly drawing new parishioners to the church. Will she stay and save the day, or be cast away?
Other outstanding vocal contributors in this production that must be mentioned, include gangster Curtis Jackson (Lou Esposito II), Sister Mary Patrick (Atessa McAleenan-Morrell) and Sister Mary Robert (Mary Caroline Tilton-Miller). Music Director, Grace Edwards; choreographer, Shelley McDowell; scenic designer, Dianna Schepers; and most importantly, costume designer Michael Spratt and his assistants have performed their own sort bit of magic by bringing together all the elements necessary to make and/or alter 44 nun's customs, consequently making this show a well-designed production.
Performance dates are Friday, September 20 at 8 PM, Saturdays at 8 PM, with matinees on Saturday, September 14 at 2 PM and on Sundays September 15 and 22nd at 2 PM. Tickets are a very reasonable $28 for adults and four students or seniors (62 years of age or older) $22 each. Call (925) 427-1611 or go online to www.pittsburgcaliforniatheatre.com/upcoming-events/ for tickets The beautiful California Theater, in which this production is performed, was built in 1920, artfully restored in recent years, and is located at 351 Railroad Ave. in Pittsburgh, right across the street from the famous New Mecca Café. I strongly suggest that the drive to Pittsburgh is well worth it, to attend this show.