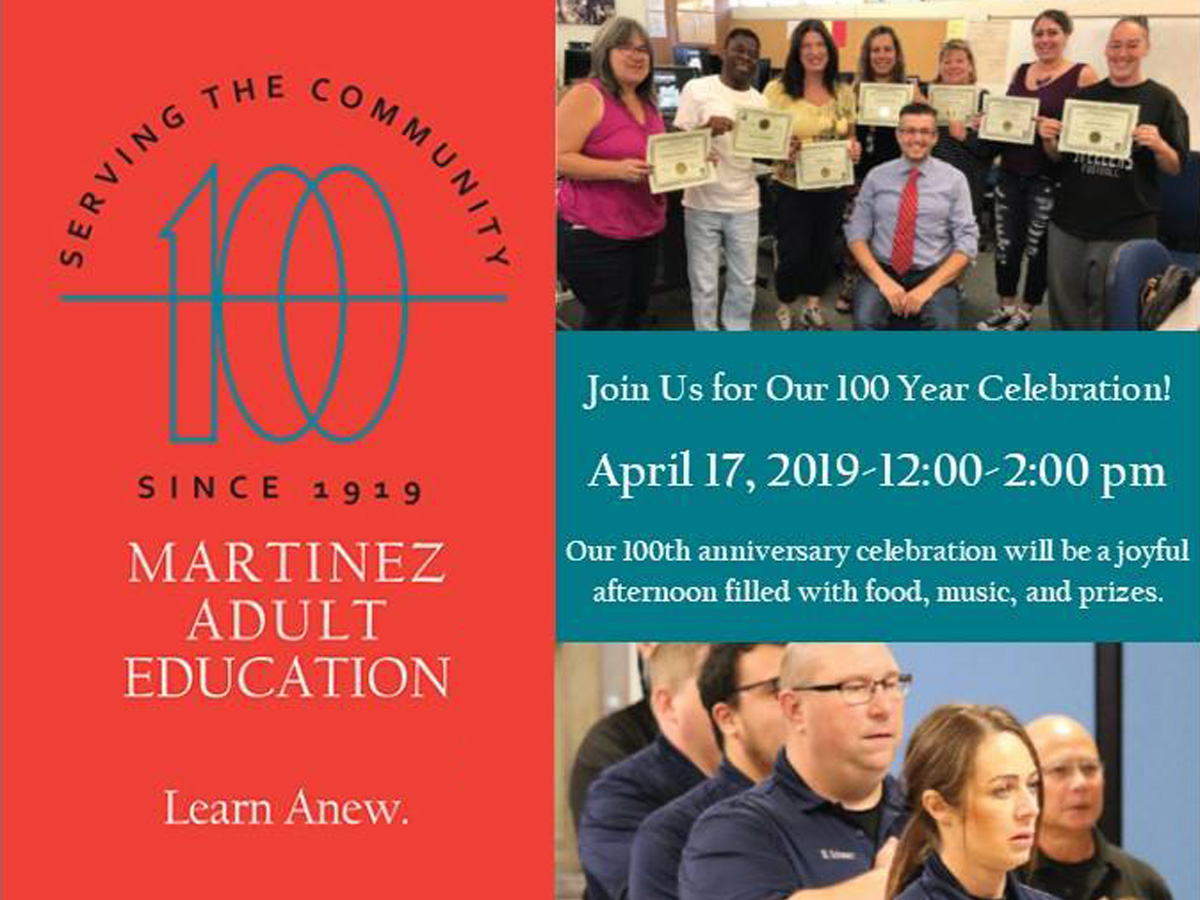 MARTINEZ, Calif. – Martinez Adult Education is about to celebrate its 100th year of providing opportunities in a variety of areas.
The celebration, with music, refreshments and prizes, will take place April 17 at the school's campus, 600 F. St.
The adult school (MEA) has been offering courses in the area of career and technical training, English as a second language, health and safety, Peace Officers Standards Training (POST), apprenticeships and community education, as well as giving people the chance to earn adult high school diplomas and high school equivalency documents.
In announcing its centennial, the school said it's considered a vital part of the Martinez community and surrounding area, influencing thousands of students."
Under the authority of the Martinez Unified School District, MEA began offering evening classes at 1919 to Shell Refinery employees. Those classes took place at night in high school classrooms.
Two years later, Shell employees formally requested the district to offer more courses. By 1925, MEA was offering stenography, typing, automobile mechanics and American citizenship.
By 1978, the school needed its own campus and moved to its current site, 600 F St., former site of Montecito Elementary School.
Since then, the school has grown to offer 25 career and technical programs through which students can earn certificates through the Business Training Center. Other courses are offered through Technology Education Center, POST and various health care training programs.
In addition, MAE offers state-approved courses in English as a Second Language among other education opportunities. It's also the Local Area Education (LEA) for several apprenticeship programs.
MEA students can learn office skills, including those for medical offices, a variety of computer programs, including marketing and graphic design and architectural work. Classes also can lead a student to be a para-educaor or start a criminal justice career.
Health programs aren't ignored, whether they're dance and fitness or courses in cardiopulmonary resuscitation, food safety or Medicare.
Residents also can enroll in a variety of other courses, from communication to cake decorating, from those in the musical or pictorial arts to those that can lead to citizenship.
Its full catalog is available on its website, http://mae-martinez-ca.schoolloop.com/
The school is accredited by the Western Association of Schools and Colleges, the California Department of Education and Department of Consumer Affairs, Veterans Education and the state Commission on Peace Officers Standards and Training.
The Martinez Adult Education school will celebrate its 100th year from noon to 2 p.m. Wednesday, April 17 at 600 F St.
The commemoration includes an open house that showcase the school's past and current achievements, with displays, demonstrations, live entertainment and prizes. Students who have recently earned their United States citizenship will be honored.