Schroder Moves Family-Owned Insurance Company To Martinez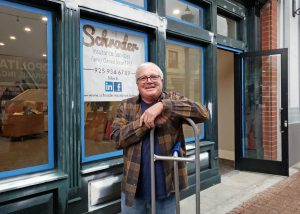 Mayor Rob Schroder has fulfilled a dream. His family business, Schroder Insurance Services, has opened on Martinez's Main Street.
The move started Friday. "We opened up Monday at 8 a.m.," he said.
There's still some moving to do, he said. Pictures and plaques still need to be placed on the walls. Right now, they're still in boxes.
Schroder is the third generation to operate the family business, which was founded 85 years ago in Walnut Creek by his grandfather, John T. Schroder, who often went by his initials, J.T. Then his father, Robert I. Schroder, joined the firm, followed later by Schroder himself.
The company has had various home sites in Walnut Creek through the decades, but remained in the general area. Most of the time, it was on Walnut Creek's Main Street, except for a few years it was on Broadway.
The building Schroder left, 1410 N. Main St., originally was Walnut Creek's post office building that dates from the 1920s, he said. His family has owned many of the Walnut Creek sites, and his parents' trust will be leasing its latest property.
"I wanted to move to Martinez for many years. This is where I am, and I am mayor of this town," Schroder said.
But he kept the company in Walnut Creek while his parents, now in their 90s, were still active. In fact, until recently, his father would come to work every day. "Now he's not driving anymore and he's home, so it was an opportunity to move," Schroder said.
Just as he wanted to move the company to Martinez, Schroder said he also wanted to be on Main Street, just like the business has been much of its time in Walnut Creek.
"Main Street is the center of town. I want to be in the middle of the renaissance," he said.
"This is not the kind of business you put up on a fifth floor," Schroder said. Instead, it's on the first floor of 653 Main Street. While he has an office in the back, he and the other employees are "out front on the floor – no cubicles."
He said friends and acquaintances as well as clients are stopping by, saying "Welcome to Martinez." He said the company likely will have an open house in early spring.
White Pony Express's Living Nativity Christmas Eve In Walnut Creek
Actor portrayals of the roles of Mary, Joseph and the newborn Jesus, angels and other characters will take place from 4:30 p.m. to 7:30 p.m. Monday, Dec. 24, Christmas Eve during the White Pony Express's live nativity at the Sanctuary of Sufism Reoriented, 11 White Horse Court, Walnut Creek.
Joining the actors will be a camel, a donkey, sheep, goats, a cow, piglets, a llama, alpacas and other animals.
Seasonal choral music will be performed in the Prayer Hall, and refreshments will be served.
Martinez Chamber of Commerce Announces Holiday Closing
Martinez Chamber of Commerce will be closed in holiday observances from Dec. 25 to Jan. 1, 2019.
Business News Welcome At The Martinez News-Gazette
The Martinez News-Gazette's weekly Martinez Business Beat column is an opportunity for local businesses and companies to tell our readers about business-oriented news, such as moves, grand openings, awards, promotion of employees, staff changes and changes in goods and services.
Submissions will be edited for length and content. Please include who, what, when, where, why and how, preferably in the body of an email; and please provide contact information.
The deadline is 3 p.m. Friday for news items to appear in the following Wednesday edition. Please e-mail news releases and accompanying high-resolution photographs and logos to martinezgazettereporter@gmail.com and put "Attn: Business Beat" in the subject line along with the name of your business.
The Martinez News-Gazette also appreciates area companies' advertising patronage. For advertising services, please call 925-228-6400.