Downtown Martinez Zombie Brew Crawl Tickets Available, Trunk-Or-Treat Oct. 28
Tickets to the Main Street Martinez Zombie Brew Crawl, 2:30 p.m. Saturday, Oct. 20, are on sale.
Participants will get to stroll through the downtown, visiting participating small businesses that will be serving samples of craft beers made at various breweries.
Zombie costuming is not required, but participants who dress for the occasion may compete in a costume contest at 6 p.m. that day at Main Street Plaza in the 600 block of Main Street.
Advance tickets are $30 through Oct. 15, $35 from Oct. 16-Oct. 19 and $40 at the door if the event hasn't sold out. Tickets are available online at https://www.eventbrite.com/e/zombie-brew-crawl-oct-20-2018-tickets-47037123302.
Another Main Street Martinez event that picks up on the Halloween theme is Trunk-Or-Treat, which gives children a safe, fun and free chance to wear their costumes and collect candy along Main Street.
It's an option to walking house to house. Instead, children will stroll among bsuinesses where candy will be available from decorated trunks. Each trunk is sponsored by a Martinez business or resident.
Participation is free, and those wanting to provide trunks of candy are being asked to register by Oct. 19. Each vehicle should have two adults to supervise, and they are  welcome to dress in costume. They should provide enough treats for at least 1,000 children. Setup will take place at 8:30 a.m. the day of the event.
Main Street Martinez will be at Main Street Plaza, in the 600 block of Main Street, to hand out bags and a map of participating in-store locations. In addition, the Farmers Market will be set up along Main Street as well. Employees of the Martinez Recreation Department will be painting faces during Trunk-or-Treat. Those interested in participating may visit the website https://downtownmartinez.org/events.
Anheuser-Busch Bringing 'Taste of Germany' To Fairfield For Oktoberfest
Anheuser-Busch will let people get a taste of Germany Saturday, Oct. 6, during the brewers' Oktoberfest celebration in Fairfield.
The event will take place from noon to 5 p.m., and those attending will get a chance to try Oktoberfest beers, such as Spaten Lager, Spaten Optimator, Spaten Oktoberfest and Franziskaner and German-inspired food as well as hear live German folk music by Die Alpen Band. Also performing withll be Alpenntanzer Schuhplatter Dance Group, presenting traditional Bavarian and Austrian folk dances.
Those attending can participate in the stein-holding and stein relay competitions and yard games designed for all ages. While there, they may tour the brewery or take a Beermaster tour, which include a free beer sample for those 21 and older. The gift shop also will be open. .
The event takes place in the Tasting Room at Anheuser-Busch, Fairfield, 3101 Busch Drive, Fairfield, from noon to 5 p.m. Saturday. Tasting room hours are 11 a.m. to 6:30 p.m.; the gift shop is open 11 a.m. to 7 p.m. and tour hours are 11 a.m. to 5 p.m. Those interested may visit BudweiserTours.com.
Barrel Aged Cocktail Lounge Wins 'Best Martini' At Chamber Gala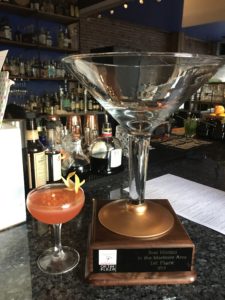 The best Martini in Martinez, birthplace of the signature cocktail, is the "Tiki Tini," created by Barrel Aged Cocktail Lounge. Bartender Dennis Haaglash let customers taste-test the rum-based cocktail, telling them he was striving for a "tiki bar" concoction.
The result was chosen by a panel of judges as the best martini in the Martinez Chamber of Commerce Martinis on the Plaza Gala last month.
Also going home with a prize is Mona's Burgers, whose entry, the Basil Gimlet, was chosen by attendees for the "People's Choice" award.
Other prizewinners were Whisky Lane, second place, for "The Press," and Wise Girl Ristorante Italiano and Cocktails for "Daisy's Pleasure Tini."
The Chamber's next event is a business mixer at 5:30 p.m. Wednesday, Oct. 10, at Connolly & Taylor, 4000 Alhambra Ave.
Business News Welcome At The Martinez News-Gazette
The Martinez News-Gazette's weekly Martinez Business Beat column is an opportunity for local businesses and companies to tell our readers about business-oriented news, such as moves, grand openings, awards, promotion of employees, staff changes and changes in goods and services.
Submissions will be edited for length and content. Please include who, what, when, where, why and how, preferably in the body of an email; and please provide contact information.
The deadline is 3 p.m. Friday for news items to appear in the following Wednesday edition. Please e-mail news releases and accompanying high-resolution photographs and logos to martinezgazettereporter@gmail.com and put "Attn: Business Beat" in the subject line along with the name of your business.
The Martinez News-Gazette also appreciates area companies' advertising patronage. For advertising services, please call 925-228-6400.