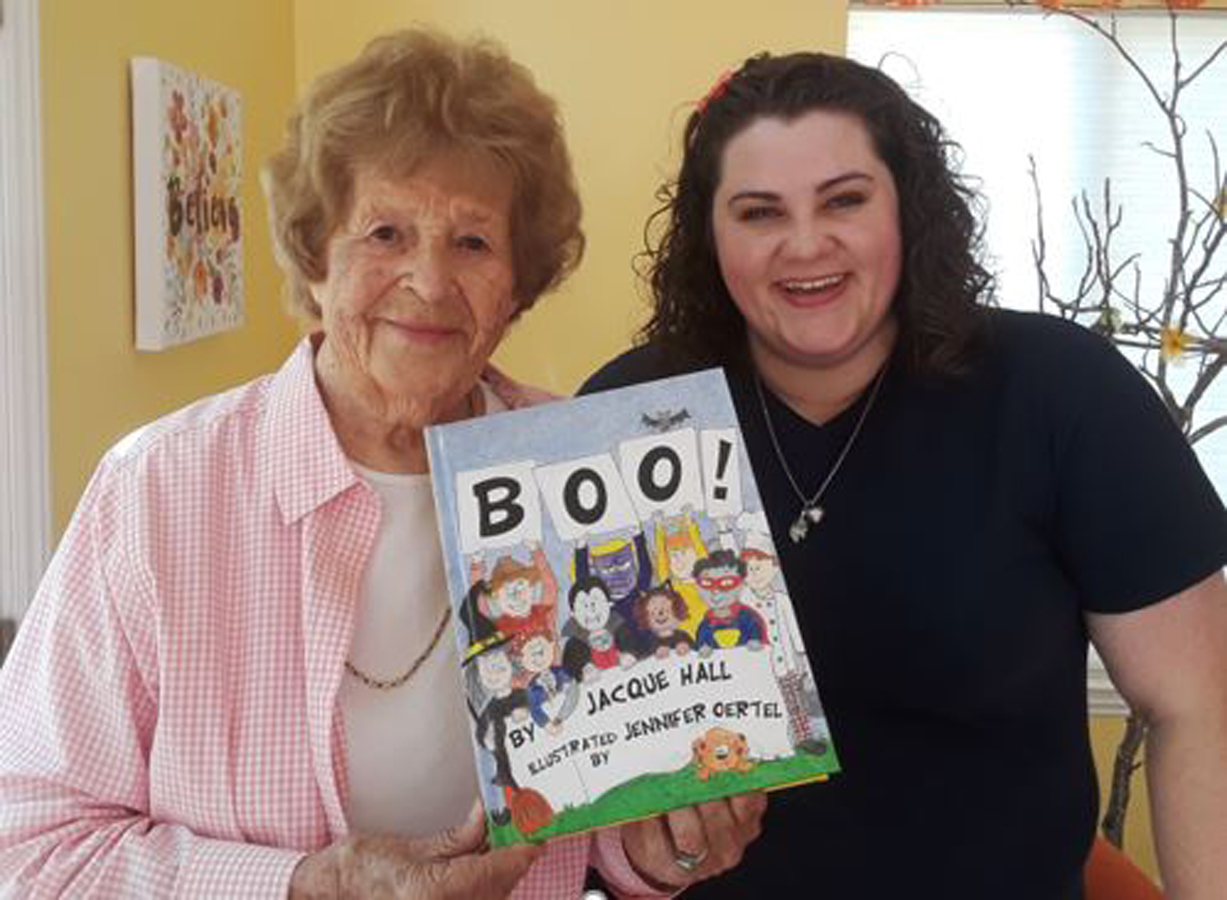 MARTINEZ, Calif. ­­– Author Jacque Hall and her artistic granddaughter, Jennifer Oertel, have collaborated on a new book, "Boo!" released just in time for Halloween. Youngsters and adults can meet both the writer and the illustrator at a book signing Saturday.
Hall is a third-generation Californian who has lived in Martinez since 1961. At 91, she said, she's not one to sit in a rocking chair and knit.
Instead, she writes books, from her collection of the newspaper columns she wrote for the Martinez News-Gazette, "Life as an Anecdote," to "Tell Me a Story, Nona," for which she turned word play into a story collection to be read to children. Oertel illustrated that book, too.
Hall has written a mystery for middle school-aged children, "Tommy Turns Detective," then used her own traveling adventures as the basis for "The Four from California: Our Hearts were Young and Our Hair Was Gray." For that book, Hall's daughter, Debbie Oertel handled illustrating duties.
"Bunny-sitting" a pet presented her with puzzle she used as a basis for another children's book, "What Does the Rabbit Say?" that is illustrated by British artist Reg Cartwright.
Hall collaborated with Jennifer Oertel again for an alphabet book, "The ABCs of Carrots and Peas" prior to their latest book, "Boo," which has a Halloween theme.
Back when Hall was a child, she said there were only tricks, no treats, at Halloween. She has described her own mischievous childhood pranks – wrapping wood pieces, soap or pebbles to make them look like candy, or using a pin to keep a door bell ringing.
By comparison, her granddaughter used Halloween as a chance to dress up, once as a pile of laundry and another time as a spaghetti and meatball dinner on a table setting.
"Boo!" celebrates Halloween adventures, which Hall said can be more exciting for children than any other holiday.
It's a rhyming picture book, full of black cats and witches and Trick or Treat on Halloween. "I think it's a big thing and kids love it," Hall said. "And kids like to be scared a little. It's kind of spooky, and that's appealing."
Oertel has illustrated each page, using pastels, crayons and other media to give them color. "She's such a good artist and wanted to illustrate the book. So we got together," Hall said. "She's given it a cute twist."
The book signing will be at 3 p.m. to 5 p.m. Saturday at Oertel's home, 328 Lindsey Drive. Refreshments will be served. The hardcover books are $18.99 and will be available there for purchase. Books can be ordered through the publisher, Alive Books, alivebookpublishing.com/books-sale, Amazon.com, Barnes and Noble, other books stores or through Hall's website, Jacquehall.com, or the artist's site, Jenniferoertel.com.