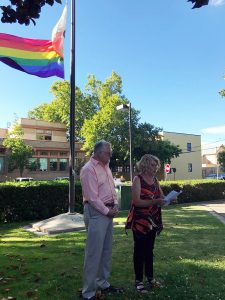 MARTINEZ, Calif. – In a ceremony that blended laughter, applause and poignancy, Martinez police officers raised the rainbow-colored Pride flag and Vice Mayor Noralea Gipner read a proclamation of June as the month to honor lesbians, gays, bisexuals, transsexuals, the questioning and other community members.
"It's showing that Martinez has a love for all," Gipner said of Tuesday's ceremony, and acknowledged that members of the LGBTQ communities don't always feel respected.
Martinez resident John Stevens approached Gipner, whom he considered an ally, and the Council, asking for a proclamation during June, which has been selected as the month for such acknowledgements.
"When I started, I wasn't sure how people – and the Council – would react," he said. "To my surprise, there was immediate agreement."
The first proclamation was read at the next available Council meeting.
Such swift action didn't happen everywhere in the San Francisco Bay Area.
Antioch postponed its eventual approval of raising a rainbow flag after some resident said the flag was exclusionary of some beliefs.
Dublin's initial decision was not to raise a rainbow flag after hearing concerns it would set a precedent that could open the flagpole to less-welcome symbols.
But that led to a rally and a petition against the city's decision. Later, that Council agreed to fly the flag for 30 days.
In the meantime, the city of Emeryville raised two flags, one for itself and the other for Dublin residents.
Martinez's own ceremony attracted upwards of 75 people to watch Sgt. Patrick Salamid, Cpl. Ryan Baillie and Officer Mike Lincoln raise the colorful flag on a pole in front of City Hall in Ignacio Plaza.
The banner was set at half staff, in a somber reminder of the loss of a former Martinez Police Explorer, Tara O'Sullivan, 26, a Sacramento Police officer who was slain June 19 while responding to a domestic disturbance call.
Martinez's proclamation acknowledged the many LGBTQ community members in Martinez, as residents, students, business owners and other contributors. It declared that cities should show support for those people and for June as the month recognized as a time of Pride celebrations.
Stevens said the Council knew that the ceremony that marked the placement of the flag for 24 hours "is right for Martinez."
He said he also was pleased that when the idea was floated online, it received more than 400 positive comments, and only a few negative ones. "That speaks for the city," he said.
As a result, he said, those who may be made to feel uncomfortable elsewhere because of their sexual orientation "will feel more welcome. It's huge that this was started by the city for the citizens of our community."