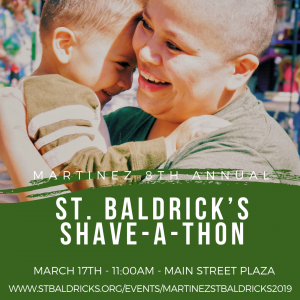 We ask all to join the Martinez community in a special event happening on Sunday, March 17th, 2019. Citrus Salon is hosting the 8th Annual St. Baldrick's signature head shaving event.
In the U.S, more children die of childhood cancer than any other disease-more than AIDS, asthma, cystic fibrosis, congenital anomalies, and diabetes combined. And yet, all types of childhood cancers combined receive only 4% of the U.S. federal funding for cancer research. The St. Baldrick's Foundation is a volunteer-driven charity committed to funding the most promising research to find cures for childhood cancers and give survivors long, healthy lives.
"Shavees" ask friends and families to make donations "on their head" and in return they attend one of the thousands of volunteer-organized events around the world where they have their heads shaved in solidarity with kids fighting cancer. Last year our community raised over $27,000 for life saving cancer research and we want to do it again for 2019!
This year's event features live Music from "The Martinez Music Mafia" and our very own Martinez Mayor will be shaving his head too!
Not everyone who participates is a "shavee". You can also start a fundraising team, volunteer or donate.
Here's how you can participate:
1. Head to www.stbaldricks.com/martinezstbaldrticks2019
2. Register as a "shavee" or volunteer
3. As a "shavee" you'll go bald to show your support- and in the process inspire friends and family to donate to childhood cancer research
4. Everyone Join us on March 17th, Downtown Martinez, where the life-changing, head shaving event will be.
The event will be on Sunday March 17, 2019, 11 a.m. – 2 p.m. at the Main Street Plaza in downtown Martinez.