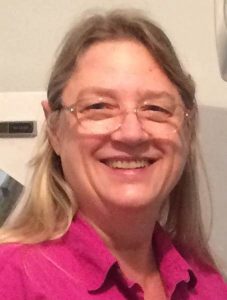 Mary Susan Baier was born January 5, 1957 in Walnut Creek, CA. With family by her side, she passed away in Colorado on September 5, 2018 after a struggle with cancer (mesothelioma). 
Raised in Martinez, Mary was a 1975 graduate of Alhambra High School, then earned her B.A. in Industrial Arts at Humboldt State University. A civilian with the United States Air Force, Mary started her career at McClellan Air Force Base in Sacramento, CA and retired 30 years later from Peterson Air Force Base in Colorado Springs, CO.  
We will remember Mary for her creativity and kindness, unique sense of humor, and love of cooking, crafting, sewing, kite-flying, and the children in her life. Together with her husband of 20 years, Mary took great joy in creating elaborate and colorful kites, and participating in American Kitefliers Association festivals around the country.
A Celebration of Life will be held Sunday, October 21, 2018 starting at 2:00 P.M. at the First Congregational Church, Court and Susana Streets, Martinez, CA, and continuing with a kite-flying tribute (including kites created by Mary) at the Ted and Kathy Radke Martinez Regional Shoreline, near the Martinez Marina. 
Mary is survived by her mother, Carol Baier, siblings Molly (Tim), Carl (Tamara), and Ann (Thomas); niece Madeleine and nephews George, Adam and Dale; her husband's children Virginia; John Gabby III (Jana) and their children, Gracie and Lila; and Kathy Turner (Doug) and children Madisyn, McKenna, and Morgan, and grandchild Audrey. Mary was preceded in death by her husband John A. Gabby, Jr.
We continue to celebrate Mary's life by remembering her stories, jokes, quips, and advice for living. Please bring your favorite sayings or memories of Mary, or send them to Ann Baier farmorganic@comcast.net to share them with Mary's family and friends.
Mary left a generous contribution for the Science, Engineering and Math Scholarship for Alhambra High School girls, established by Dianna Matthias (Alhambra High School Class of 1955) in honor of Mary's mother, Carol Baier, who was a science teacher at Alhambra in the 1950's. In lieu of flowers, additional donations may be made to the scholarship fund. Checks may be made payable to Schwab Charitable, with "Alhambra Fund" in the memo line, and sent c/o Molly Baier P.O. Box 7483, Arlington, VA 22207.