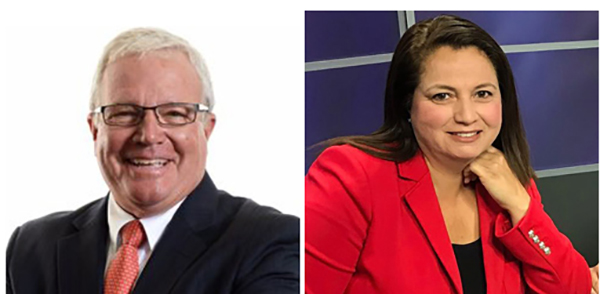 Prior to every election, the Martinez News-Gazette asks local candidates a series of questions to inform voters about how those candidates stand on select issues.
Below are the responses to seven questions submitted to Mayor Rob Schroder and challenger Yazmín Llama-Morales. The answers are unedited and appear exactly as submitted by the candidates. 
Please introduce yourself. Why are you uniquely suited to be Mayor of Martinez?
Schroder: It has been my privilege to serve the Martinez Community first as a Planning Commissioner, and then as City Council Member and now, Mayor. I am a life-long resident of Contra Costa County growing up in Walnut Creek. I graduated for UC Berkeley with a degree in Business Administration. After college I joined the family insurance brokerage established by my grandfather in 1933 where I have been president for almost 30 years.
I chose Martinez as my new hometown in 1992 this is where my wife and I have raised 4 grown daughters.
Llamas-Morales: I'm a third-generation child of immigrant grandparents who settled in our community. In our early days our father was embraced by our extended labor family – Union Machinist which influenced us be leaders to work hard and help build a strong community for the future.
Today, my husband and I are proudly raising our three young children in our community. I'm a mother and professional with Master's in Public Administration and BA Education/Ethnic Studies and graduate from U.C. Berkeley.
As a small business owner and tireless advocate for families, veterans, workers, the disabled, seniors, and teachers. I'll be a voice for tackling the serious budget issues facing our city while growing small businesses and improving government efficiency. I will work hard to make sure that everyone's voice is heard Citywide through my representation.
How do we keep the "downtown renaissance" momentum going? Are there other areas in Martinez where such commercial comebacks are needed? How can that be accomplished?
Schroder: The renaissance that we are experiencing in the historic downtown is the result of many things coming together at the same time. The catalyst that pulled it all together was the establishment of the mandatory earthquake retrofit ordinance which required the bracing of all unreinforced masonry buildings to protect lives and property in the very likely case of a moderate to severe earthquake. The ordinance was crafted with benchmark dates for engineering reports, plan approval and finally completion of construction.
Most property owners immediately complied with the requirements, some sold their properties and a small handful ignored the ordinance. Those properties that sold brought in new owners with investment capital and a fresh outlook on unlocking the potential of the downtown core. Buildings that had been vacant for years came alive with new businesses, restaurants, and even some apartments above. At this time all buildings have been retro-fitted except one that was granted additional time when it was discovered to be unreinforced masonry after the required completion date had passed.
With a strong local economy this renaissance should continue with the balance of the vacant retrofired buildings occupied as new businesses with living units on the second floor. We should also take a new look at the Downtown Specific Plan that was adopted 18 years ago. In order to attract and retain quality businesses we must have a critical mass of people living in the downtown area to support those businesses.
This means we need to look at the current height limitations and the allowable density and promote Transit Oriented Development.
The other regional shopping areas of the city including Wal-Mart/Home Depot, Nob Hill, Virginia Hills, Village Oaks are doing well and generating the majority of the sales tax revenue for the city. These shopping areas are of major importance to the city and to the neighborhood residents. We must make sure that they have the constant support of the city's economic development department to assure the retention and attraction of businesses.
As we move forward with future annexations there are opportunities to concentrate economic development efforts along the Pacheco corridor and Howe Road.
Llamas-Morales: I personally think the downtown is simply going to an economic shift due to various market force factors. The recent changes occurring downtown are mainly due to the unenforced masonry buildings ordinance that finally being implemented which resulted in an infusing of new investment and owners in the downtown. In addition, the revitalization is a direct result of private investment from entrepreneurs. While this are all promising and positives steps I don't feel there is a renaissance occurring particularly when downtown is still unable to sustain a night life and when 5 new business open and 3 business close at the same time. In addition, in the past two years we have also lost anchor banks on our main street. It's a sign that there is still a lot of work to be done to help support small business growth and sustain our downtown.
In addition to being aware of the economic forces that impact our downtown. I would encourage infill and re utilization of parcels downtown and throughout the City. There are many aesthetically unpleasing buildings that do not have any historic or architectural significance. They are apartment buildings built in the 1960's that could possibly have better non-dense reutilization. The downtown specific plan has created some great infill projects in the downtown, but I think it's in moderation while preserving the small-town feel. We need to limit dense developments and dense parking structures in the downtown area too. I want to see a community that that you can live, work and play. I love walkable communities (trailmap) and I would work hard to create throughout Martinez not just downtown. Most of Martinez is already built out but I think there is opportunities to improve neighborhoods and the downtown with more pedestrian friendly designs.
What does the city need to do to address homelessness? Are there creative approaches within Martinez's authority and other collaborations in addition to the CORE team and 2-1-1?
Schroder: Homelessness is a regional issue for every community in Contra Costa County. Being the county seat of Contra Costa County, Martinez is home to the Regional Medical Center, the Detention Facility, Superior Court, Loaves & Fishes, and many welfare and social service agencies. All of these services cause Martinez to have a very visible homeless population that is partially hidden in our neighboring communities.
Because of our recent success in retaining veteran officers and attracting high quality recruits, we again have one officer dedicated to working with the homeless and the CORE 211 team. This will help us to reach out to homeless individuals and get them linked to the services they need to break the cycle of homelessness, substance abuse, addiction and mental health issues. With the anticipated successful passage of Measure X the city will be able to devote more public safety resources to address the issue in Martinez and to work with the county and our neighboring communities to provide additional temporary shelter and services to break the cycle of homelessness.
Llamas-Morales: No answer submitted.
Some people worry about city expenditures on contract lawyers, the Social Security settlement and the upcoming increases in payments to CalPERS. What would you do to curb these or other expenses to get or keep the city on a fiscally sound track?
Schroder: The City of Martinez has contracted with the firm of Walter & Pistole for many years to perform the function of City Attorney. We do not have a full time City Attorney's office staffed by city employees. This works for Martinez and is cost effective. When we need legal services it is at our disposal. When we do not, we are not paying salaries and benefits to in-house attorneys.
From time to time the city may have a need for specialized legal services for a particular situation. Two recent instances that required specialized legal services included the process of moving from at-large City Council elections to by-district elections and also negotiating with CalPERS, Social Security and the IRS on the settlement of the JFA issue. Without the expertise of these specialized legal services the city could have placed itself in a precarious legal and financial position.
Llamas-Morales: While I understand the City of Martinez has contracted with the firm of Walter & Pistole for many years to perform the function of City Attorney. I am a frim believer that we have a fiduciary duty to always explore costs saving alternatives.
We need to be thoughtful and Strategic on how we solve this City Financial problem while attempting to fund quality of life needs. I would be open to exploring various revenue generating options and look at best practices of other Cities throughout the Country to address budget shortfalls. Many cities have found approving marijuana dispensaries with strict regulations to generate large tax revenue sources for the city.
I'm open to exploring special district assessments. We are a middle-class community and whatever plan is deployed is needs not to be a financial tax burden to our residents.
Measure X, if it passes, would give the city some financial breathing room to address services and other needs. How do you feel about Measure X, what it would mean if it passes and what it would mean if it were to fail?
Schroder: I am in complete support of Measure X to allow the city to continue to provide a high level of service to its residents and businesses. For the last two decades the City of Martinez has had balanced budgets and a healthy reserve fund to be used in emergencies. As of the end of the most recent fiscal year the city's unrestricted fund balance sat at 34% of the General Fund. Our fiscal reserve policy states that it should be no lower than 20% with any excess to be set aside for capital improvements and paying off of pension debts.
Although our financial statements are strong, our financial forecasts show a leveling of revenues from sales and property tax and a continual increase in operational and retirement costs. In order to continue to provide a high level of public and school safety, homeless services, maintenance of parks and public buildings we will need additional revenue. The proposed ½ sales tax measure will generate approximately $3.2 million and will allow us to continue in a positive direction. The failure of Measure X would mean we will be looking at cuts to services and very likely the loss of valuable and talented employees in both public safety and general services in the next few years.
Llamas-Morales: We need to increase our revenue, however, I am not sure that Measure X is the correct way. The only way I would support a sales tax increase is if the money was allocated to specific uses. I do not believe there is adequate oversight. We just built a baseball park, whilst our roads are riddled with potholes, we owe $4 M in social security back pay, etc. I don't think sound financial decisions are being made by our current council.
We need to stop using short term money for long term problems. I think we need to cut back on our spending and prioritize city funds to paying down debt/ loans and repairing our infrastructure. We also need to focus on bringing in businesses and more revenue via smart financial decisions.
If elected, what personal significant project would you work to go forward with? Why is this project important to you?
Schroder: If re-elected my major goal is to plan and to move forward with the development of the Martinez Waterfront, including both the waterside and landside of the area. Now that the downtown is on a positive course and is experiencing a renaissance it is time to concentrate on one of our most valuable assets, the waterfront. No other city in Central Contra Costa has such an unpolished jewel.
In 2014 the Senator Lois Wolk was successful in getting SB1424 through the legislature and signed by the governor. This bill granted the state lands at the Martinez Waterfront to the City of Martinez under the Public Trust Doctrine in perpetuity (which means forever). This replaces the former lease we had with the State Lands Commission. This grant gives the city control and security of the waterfront lands without an expiration date as is the case with a lease. The grant also requires the city to develop a plan for the waterfront lands to promote recreation and access to the waterfront. This includes limited development such as a restaurant/event center, small hotel, boat/yacht sales and service, and other recreational services.
The grant specifically states that no permanent housing can be built on the state lands at the Martinez Waterfront.
In conjunction with the planning and development of the waterfront we will continue to work with the Water Emergency Transit Authority (WETA) and the private firm PropSF on extending ferry service from Martinez to San Francisco.
Llamas-Morales: No answer submitted.
How much growth do you think is appropriate for Martinez? What kind of growth and where should it take place?
Schroder: Martinez is a built-out community with no large parcels of land available for development. Any development that will and should occur will be the reuse of under-utilized properties primarily in the downtown core adjacent to and surrounding the Amtrak Intermodal Facility. This is high quality Transit Oriented Development that takes advantage of the walkability of the downtown area with several public transportation options. This type of housing also allows for some units to be considered "affordable" but still high quality. Low density "affordable" housing does not pencil out and therefor does not exist without massive government subsidies.
Appropriate growth in Martinez will be moderate, high quality with affordable units for teachers, public servants and families, concentrating of the re-use of current uses that do not make sense in a downtown.
There are also some small infill opportunities in all parts of the city.
Llamas-Morales: Martinez is built out and has expanded to its Maximum. There will be limited development opportunities for many obvious reasons. However, I do think there is a lot of opportunity for infill projects South of highway 4 and re utilization of parcels like the downtown. I think that we can work on strategizes that help us economically while not impacting our quality of life. Community input must be considered and it should be given more weight that general impact studies. I will work hard to make sure everyone's voice is heard and that the best solution is deployed for our community that will help Martinez to be a vibrant community. We need to create a plan for healthy growth in our Community while preserving our quality of life needs in our existing neighborhoods. I want to make sure Martinez residents are not displaced and can continue to afford to live in this community. We have to work on policies and development solutions to help everyone have an opportunity to live in their community.