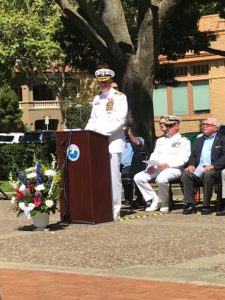 Memorial Day is about remembering fallen military heroes, speakers at Martinez's ceremony said Monday.
The tone was set by Shane Bower, chairperson of the Martinez Veterans Commission, who said he often hears people wish others "Happy Memorial Day."
"But it's not happy," he said. In his own military service, he lost two friends in combat, and five more he knew operationally also died. But veterans of World War II, the Korean War and the Vietnam War have seen or known many more who have died.
Quoting Robert J. O'Neill, the Navy Seal who disclosed he was the one who shot and killed Osama bin Laden, Bower said, "There are no happy losses. It is a time for reflection and pause."
Former mayor Michael Menesini said military heroes were "ordinary citizens" who put their lives and jobs on hold, and in some cases watched their marriages crumble because war changed them.
"We're here because of those who fought and died," Mayor Rob Schroder said. While Memorial Day represents one day of national awareness and reverence for those who paid the ultimate sacrifice, Schroder said the heroes should be honored every day, especially those from Martinez who died in service.
Their names are being engraved on a Martinez War Memorial that will be dedicated at 10 a.m. Saturday, June 16, in a ceremony at Veterans Memorial Park, at Alhambra Avenue and Berrellesa Street.
California Senator Bill Dodd (D-Napa), whose district contains Martinez, also suffered direct loss. He said his brother-in-law died in Vietnam.
The featured speaker, Captain John J. Driscoll of the United States Coast Guard, described the day that changed how he perceived Memorial Day.
He was in Washington, on his way to Bahrain to take command of the Coast Guard Patrol Forces Southwest Asia. He felt the need to visit the gravesite of his predecessor, so he and his wife went to Arlington Cemetery, where plots are assigned numbers so loved ones can be found.
Suddenly his wife called to Driscoll, pointing to the gravestone of someone who had gone to the Virginia Military Institute about the same time Driscoll had been there. Yes, he knew the man, and had played in the band with him. "I knew he was killed in Iraq in 2004," he said. He found another grave of someone else he knew.
Memorial Day, the one day to remember the war dead, "hardly seems enough."
He later asked his father, a Marine, if he had seen people killed. All his father said was, "Yes." But he gave his son no names or other elaboration. Driscoll has pondered how difficult it must be to carry that knowledge.
Then he advised, "Think what we can do to remember our heroes. Talk to veterans, so the fallen will be alive in our hearts."
Veterans Commissioner Ingemar Olsson said no words of condolences can assuage the feeling of loss to those whose loved one has died in service. "We mourn our brothers and sisters in arms, the men and women who gave their lives are heroes." So long as their sacrifice is remembered, he said, "they will never be forgotten."
David Fraser, chief of staff for Contra Costa County District 5 Supervisor Federal Glover, said his son, Brian, is a Marine corporal serving in Okinawa. Those who serve "have laid it on the line in defense of the Star Spangled Banner and the freedoms we hold dear."
As the nation remembers its fallen heroes, he said the greatest tribute to them would be to "make sure their brothers and sisters remaining in the service today are not called to risk their lives for causes that are not noble…If we honor the lives of the fallen, we must value the lives of our living."