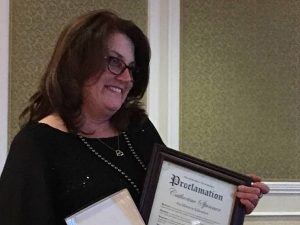 The Eukel Teacher Trust Award is given to area educators for being an outstanding teacher, who instills confidence in her students.
Here's what the Eukel Trust website said about Mrs. Balen-Spinner.
"Catherine Balen-Spinner. Ms. Balen-Spinner has been a teacher for 34 years and currently teaches second grade at Morello Park Elementary School in Martinez.
"She believes that building students' self-confidence is the key to motivating them to learn. Each month, students memorize and recite a poem in front of the entire class. She stops the class and makes an announcement when a student completes reading all the words on their "1,000 Word Challenge." Each morning, a different student is selected to be the "Short Teacher" who helps run the morning activities for the class. One parent told us, "She has taught my child to succeed not by holding his hand, but by allowing him to learn from his mistakes and has transformed a once shy, nervous, and academically challenged child into a confident, independent, eager to learn student."