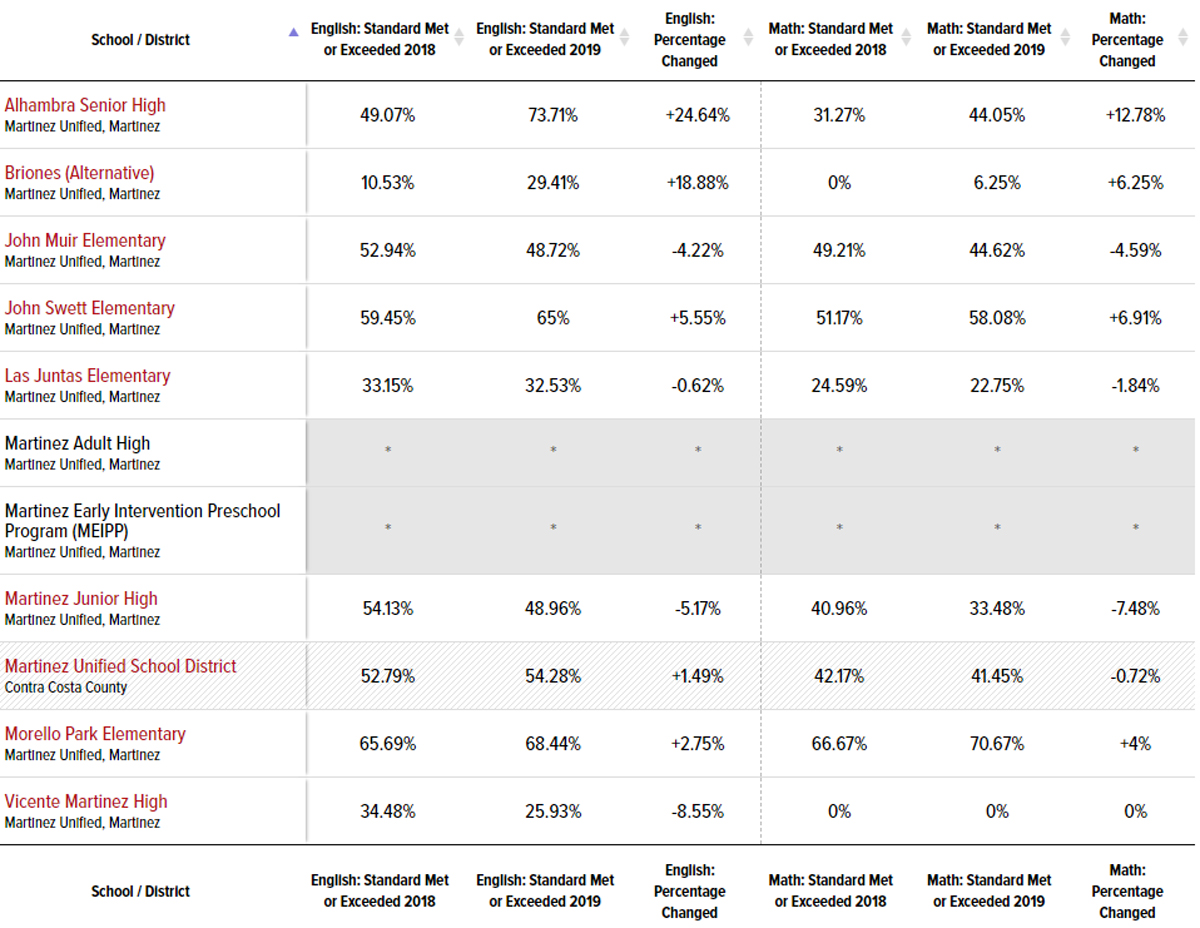 MARTINEZ, Calif. – Martinez Unified School District students scored above state averages on the California Assessment of Student Performance and Progress (CAASPP) test, but not as high as anyone would like. The results were made public Oct. 9, and the district's administration is still analyzing them.
"Our administration is currently reviewing the scores in detail and have already identified some areas of increased proficiency levels and other areas where scores did not increase. We will be presenting an analysis of these scores at an upcoming Board of Education," MUSD Superintendent of Schools CJ Carmack said.
Overall MUSD Scores for all grades in English/Literary Arts are: about 52.8 percent of students met or exceeded the grade-level standard, and about 42.17 percent of Math students met or exceeded the standard.
"The results were made public yesterday. Districts got preliminary data at the end of last year, but it is considered "embargoed" until the state releases the data publicly. In addition, the preliminary data we get in toward the end of each school often changes by the time of the public release due to the state processing the remaining scores and entering additional aspects of data we don't get in the preliminary data.
This is the first time that a majority, 50.87 percent of all students who took the English Language and Arts/Literacy (ELA) test met or exceeded the standard in the top two of four testing levels, which is the technical definition of proficiency at grade level. In math, 39.73 percent of all students met or exceeded the standard, according to EdSource.
California State Superintendent of Schools Tony Thurmond announced that students improved in English by .99 percent during in the preceding school year, and by 6.87 percent in the past five years. Thurmond says it is a small increase, but scores are steadily moving in the right direction, and new English/Literacy standards have been written.
The 2020 World Languages Framework is now in the public comment period before it will presumably be adopted as the state standard for what we have called English Literacy classes.
It is expected to help students develop cultural competence and become better global citizens. The standardized tests will likely change, as the new teaching standards are implemented.
About one-fifth of the state's students are classified as English learners, and Hispanic students, who compose the majority of California's students, made the largest 5-year gains in proficiency: 9 percentage points in English language arts, double that of whites, and 7 percentage points in math compared with 5 percentage points for whites. But 28 percent of Hispanics scored at or above standard in math, compared with 54 percent for whites and 74 percent for Asians.
Cammack said, "I recognize the system that California uses to measure schools relies on high-stakes standardized testing, however, these tests are not reflective of the comprehensive learning that happens for students over the course of an entire school year, nor are they reflective of the whole child and their overall capacity for success."
MUSD board member Johathan Wright agrees. "I don't think they actually reflect what is being done in public schools," Wright remarked. "Decade after decade we are rehiring better and better qualified teachers. I don't think standardized tests show how what they have learned will help them perform in real life in the future."
"These scores are all about politics and real estate. I hear good comments from students and parents all the time. I have not studied the scores. We need a deeper investigation of the results," he said.
Five years go the California State Department of Education changed the system of assessing student progress (testing). Students are divided into groups and compared with their peers. Smarter Balanced tests were designed to show student competency under the Common Core standards that were adopted in 2010, and are given at grade levels three, eight, and 11.
To make the test averages more accurate, recently arrived English Language Learners whose first date of entry into a United States school is after April 15, 2017 are not included, and ELLs who enrolled after that date, who chose to participate in the test will be included only in the percent of students tested calculations (not scores).
Test results and help understanding them can be found at: https://caaspp.cde.ca.gov/sb2018/UnderstandingCAASPPReports