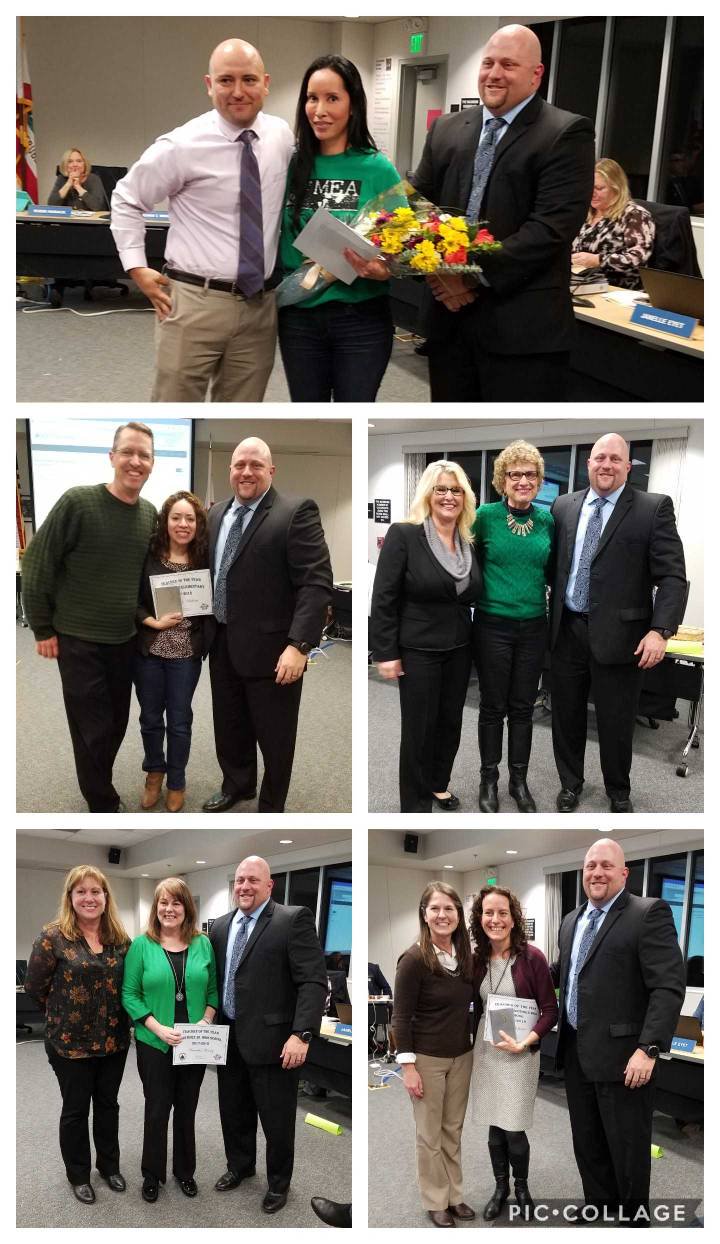 MARTINEZ, Calif. – Martinez Unified School District has honored both its teachers of the year as well as support staff, or classified employees, of the year.
Andrea Salas is Alhambra High School's teacher of the year, recommended by the school after she developed a plan for courses in computer science. Three years ago, the school had no courses, and now it has five sections. Two of the three courses are advance placement.
The school's advance placement pass rate exceeded 80 percent, and Alhambra has weekend, after-school and summer opportunities for students to learn. Girls are being recruited, and students compete in CyberPatriots and robotics competition, and the school's submission said Salas "is a prime example of what happens when a great teacher is supported and allowed to innovate.
Martinez Junior High School's teacher of the year is Amanda Moseley, cited as a positive advocate for students who also has respect of staff and parents. A special education teacher, she often is the go-between for parents and teachers and between students and teachers. She also has numerous meetings, parent requests and her own teaching assignments.
Vicente-Briones High Schools teacher of the year is Amy Specter, a certificated employee, but not a classroom teacher. She is a certificated academic counselor and mental health coordinator who has coordinated what the schools called "a vibrant and expansive mental health counseling program at Vicente and Briones."
Students are seeing the benefits of counseling, and the school experiences fewer behavioral disruptions. More students are using newly-acquired coping skills throughout the day. In addition, Specter has started a Psychology Club, which lets students learn about mental health, including behavioral health careers.
Michelle Watkins is the John Swett Elementary School teacher of the year, cited for her calm demeanor, her goals of excellent and her creative approaches that make learning fun for students. Her approaches are helping set a foundation for the school's children to be successful in the rest of their education career.
Mary Anne Lapoint, Morello Park Elementary School's teacher of the year, has been known for setting expectations high and helping students achieve those high standards. In addition to her work in the classroom, she has been involved in the classroom garden.
She has been her school's teacher representative in the Martinez Education Association and has helped the school run smoothly as teacher in charge when the principal is away. She is retiring this year.
Shane Velez, Las Juntas Elementary School's teacher of the year, is a physical education teacher who collaborates with those in his field, and he attends national conferences to keep up with fitness trends. He strives to make physical education fun, often playing top pop songs in the background.
The District's preschool teacher of the year is Mary Dominguez, praised for her experience and compassion. She works with special needs children and also makes learning fun, even though the students often have diverse needs. She also supports learning on behalf of all students as well as the teaching done by instructors.
Members of each campus's classified employees, or support staff, also have been recognized.
Maureen French, who works at Alhambra High School, handles the master scheduling program. In addition to that hefty task, she makes a strong first impression on behalf of Alhambra, and one supporter said she "keeps the counseling department sane."
Martinez Junior High School's classified employee of the year is Christy Heeb, a para educator who makes adjustments in the best interest of students. She also has unlimited support for the entire school, and makes sure each student has necessary materials and is prepared for tests.
Vicente-Briones High School's campus supervisor, Kristen Canepa, maintains a strong relationship with students and handles each situation with confidence. A colleague described her as a role model for students."
Miriam Flores, who works at John Muir Elementary School, prepares teacher groups, handles student behavior with consistent rewards and consequences, leads "thoughtful" art projects and provides support for others at the school.
JoAnn Buccellato not only helps other John Swett Elementary School employees do their jobs easier, she also is active in fundraising and an auction for the PTA. During one month, she cooked lunch for employees. She walks parents through paperworks they need to file, and is described as "the glue that makes a community a family."
Paraeducator Tammy White of Las Juntas Elementary School is described as someone with "an incredible passion for students." She maintains that positive rapport, supporters said.
Aimee Wallace is the Martinez Adult Education's support employee of the year. She is the first to greet new students, many of whom have little command of English. As part of the school's English for Speakers of other Languages department, she often handles those from 50 varied countries.
She "masterminds" testing and data entry and runs the school office, often saving other employees hours of work. She is working to secure grants so her school's programs can continue.
Angela Farmer is the Food Service employee of the year, and supporters said her extra effort, dedication and other contributions are the key to success in that department.
Morello Park Elementary's support staff person of the year is Jared Ruddell, who not only is the school's custodian, he's also taken on other identities – Elvis Presley and the school's mascot.
He often is the only positive male role model in some students' lives, and he has been inspiring them by reading to students.