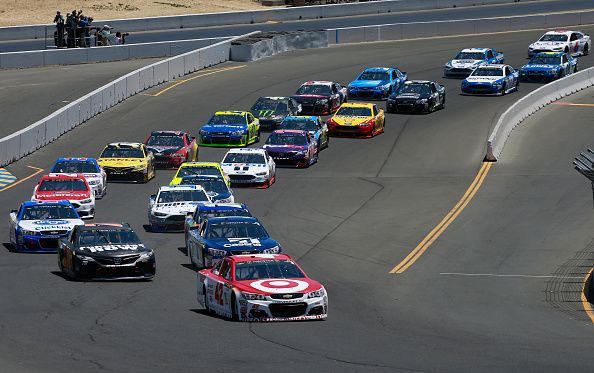 From Thursday's Hauler Parade from the Capitol in Sacramento to Sonoma Raceway on to Sunday's Toyota/Save Mart 350, NASCAR is coming to town for its 30th year at the intricate road course.
Bakersfield native Kevin Harvick is the defending champion, getting his first Cup win at the track and his first win in a Ford. He also is the first to win both the NASCAR West Series race and the NASCAR Cup Series race in the same weekend.
Harvick and wo16 winner Tony Stewart are the pair who posted the most recent back to back wins for a team, Stewart-Haas Racing. Previously, Michael Waltrip Racing did that with drivers who have since moved to other teams, Clint Bowyer in 2012 and Martin Truex Jr. in 2013.
Last year's race set the track record for most leaders, at 10, and most lead changes, at 13.
While Vallejo native Jeff Gordon, who has retired from full time racing, is considered the king of Sonoma, with five wins in 1998, 1999, 2000, 2004 and 2006, and who started from the pole five times, Kurt Busch is the active driver with the most top-five finishes at Sonoma, with seven, and his brother, is the only active driver who has won twice in the past 13 years.
Bay Area resident and Olympic Gold Medalist Jonny Moseley is the Grand Marshal of the Toyota/Save Mart 350, and he'll be recognized at Friday at the Children's Champions NASCAR Banquet at Cline Cellars. He'll also participate in Sunday's activities and give the command to drivers to start their engines.
Fans can chat with reigning Cup Champion Truex in a pre-race show and will see a 25-minute air show by Byron's Patriots Jet Team, the country's only civilian aerobatic jet team.
Activities begin with the Hauler Parade Thursday, the convoy of racing team tractor-trailer rigs. Friday's schedule starts at 10 a.m., when gates open. Cup practice starts at 11:40 a.m. 2:40 p.m., and K&N Pro Series West practice is at 1:05 p.m.
Gates open at 9 a.m. Saturday for the Drive For Safety Pole Day. K&N Pro Series West qualifying starts at 10:45 a.m. and Cup qualifying is at 11:45 a.m. The Carneros 200 NASCAR K&N Pro Series West Race, 64 laps on the road course, starts at 1:30 p.m.
Gates open at 7 a.m. Sunday, and the pre-race show starts at 10:15 a.m. The Toyota/Save Mart 350, a 110-lap race, starts at noon.
California Highway Patrol will be routing non-race traffic to other areas, but even with mitigation, California Highways 37 and 121 will be affected. The heaviest traffic times are expected to be 3 p.m. to 7 p.m. Friday and most of Saturday and Sunday. Track officials are urging fans to arrive early.
Those who don't want to drive may use the Charter America buses, which will collect fans from 19 locations in Northern California.
Sonoma County Sheriff's Office will be doing stringent disabilities placard checks, and those with false placards or those belonging to others will be fined, ticketed and required to appear in court.
Disabled guests with placards should use Gate 1, the track's main entrance on California Highway 121.
Tickets are $25 to $140 for single days, $95 to $180 for weekend passes. Children 12 and younger are admitted free Friday and Saturday, and for $10 Sunday. Military and group discounts are available. Those interested may visit www.sonomaraceway.com or call 800-870-7223 for tickets and transportation options.