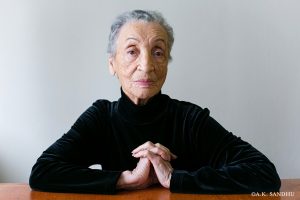 Famed National Park Service Ranger Betty Reid Soskin turned 97 on September 22 but she doesn't let that slow her down. Her blog shows 29 events, including two separate flights to Southern California, planned from October 1 through Wednesday, November 7, the day she speaks about her life and experiences at St. Andrew's Presbyterian Church in Pleasant Hill. Three days later she leaves for three days in New York for a Glamour magazine photo shoot.
Her talk at St. Andrews is arranged by Pleasant Hill/Martinez AAUW and is open to the community.
The event begins at 2 pm. Admission is free. Copies of her autobiography, Sign My Name to Freedom, will be available for purchase and signing.
The Depression, World War II and the post-war world provide the backdrop for her adventurous, interesting, sometimes difficult and finally amazing life. She talks and writes about that openly with truth that is not covered in rancor but is all the more powerful for being quietly matter of fact.
Betty's national fame has developed in the past few years largely because of her position as the oldest permanent National Park Service Ranger ever. She serves at the Rosie the Riverter National Historic Site. When the government was shut down briefly a few years ago, a local television station interviewed her. She stood in front of the camera in her uniform and in righteous indignation pointed out that besides keeping the public from visiting their national parks and monuments because of a political fight in Washington, it prevented her and other Rangers from educating the public about the history the Kaiser Shipyard and the women who took on jobs performed by men as well as her own job as a secretary at the black workers union.
She said in effect, "I am 94 years. I have plenty left to say and I don't have time to waste" on this nonsense. The clip made the national news and along with her blog, CBreaux Speaks, has reached around the world.
Those who have questions or are planning to attend are asked to contact AAUW program co-vice presidents Harriett Burt (925) 372-8038 or hjburt1940@comcast.net or Nancy Hobert (925-228-7271 or nhobert@aol.com. before the event.