Nora Sullivan Nelson
Oct. 24, 1955 – Aug. 6, 2019
Resident of Danville, Calif.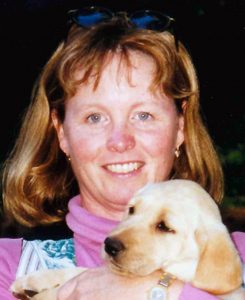 Nora passed away peacefully in her home with family at her side after a valiant battle with Alzheimer's disease. Nora touched many lives with her loving and creative spirit.
Nora grew up in Martinez, Livermore, Concord and Quincy and graduated from Alhambra High School in Martinez in 1973. Nora graduated with a degree in Social Welfare from Chico State in 1977 and managed a group home in Orland. In November 1980, Nora married and moved to the Bay Area and earned a Paralegal degree, working at a law firm until 1987. Nora then became a full-time homemaker and volunteered in local schools, Boy Scouts, Odyssey of the Mind and many other activities in support of her two sons. Nora co-founded a small winery in 1997 and started a web design and bookkeeping service in 2002. Nora enjoyed life, painting, outdoors, and her friends and family. Throughout her entire life, Nora was a creative artist and spent many hours painting decorative gifts that she shared with many friends and family.
Nora is survived by her loving husband of 39 years Scott Nelson, devoted children Andrew James (AJ) and Trevor Scott Nelson of Danville, mother Janet Sullivan of Walnut Creek, and brothers Neil Sullivan of Concord and Patrick Sullivan of Livermore.
Friends and family are invited to Celebration of Nora's Life on Saturday, September 7, at 1:30 p.m. at Brave Church, 20801 San Ramon Valley Blvd in San Ramon.
In lieu of flowers please donate by mail to: Attn: Larry Varela, Kaiser Hospice Department, 200 Muir Rd, Martinez, CA 94553, payable to: "Kaiser Martinez Hospice" and write "Nora Nelson donation" on the bottom.