By CHARLIE JARRETT
Special to the Gazette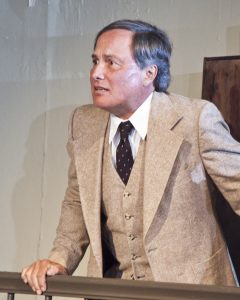 This week's reviews provide opportunities that could take you from Orinda to Lafayette, or all the way to San Jose. First and foremost, for those of you who prefer to not wander too far from home, I have to recommend the Orinda Starlight Village Player's production of Agatha Christie's "Witness for the Prosecution". The second alternative close to home would be the Lafayette Town Hall Theater's production of "Women on the Verge of a Nervous Breakdown". The third choice is the San Jose Stage Company's presentation of "Mama Mia!", which is hands down the most vibrant and enjoyable of the three.
Except for the fact that the Orinda starlight theater is an outdoor amphitheater venue, which means it can get very chilly when the cold fog comes over the Orinda/Oakland Hills, this is a great little community theater that delivers very good entertainment for a very reasonable $20 general admission, and only $10 for seniors and students.
This little theater does a lot of Agatha Christie murder mysteries, which, if you're not familiar with them, are usually very clever stories with surprise endings.
This particular storyline of "Witness for the Prosecution", invites the audience to decide whether Leonard Vole (Ken Sollazo), has murdered a senior citizen whom he has befriended. It begs the question as to why his wife, Romaine Vole (Laura Martin-Chapin), would suddenly change her testimony during the trial of confirming her husband's alibi, then denying it and becoming a witness for the prosecution.
The story takes place almost entirely in the courtroom where Vole's defense lawyer, Sir Wilfrid (John Chapin) and the English crown's prosecutorial attorney, Mr. Myers (Jim Woodbury), battle to serve the will of justice. This Christie play leads the audience on a merry mental chase as the mystery deepens, but of course, there is a final and very clever twist.
I thoroughly enjoyed the Orinda Starlight Village Players' show and I encourage you to dress warmly and go. The theater is located in the Orinda Community Center, next to the park, at #28 Orinda Way, across the street from the Right Aid drugstore. Please go to orsvp.org or call (925)528-9225 to order tickets or gather more information. The play continues on Fridays and Saturdays at 8:30 PM, with a 4 PM matinee on Sunday, June 23, and an 8 PM production on Thursday, June 27.
The Americanized title of the Town Hall play, "Women on the Verge of a Nervous Breakdown", is not a very accurate translation from the original 1988 Pedro Almodóvar Spanish black-comedy movie title (Mujeres al borde de un ataque de nervios), on which it is based. Probably, it more appropriately should have been titled something like, "Women Immersed in Sporadic Romantic Hysteria".
Jeffrey Lane's musical is like a giant Whack-A-Mole game, where the women caught up in the current emotional crisis switch identities so frequently it's hard to keep up.
However, for several other reasons beyond what I've already mentioned, this show left me disappointed. I must admit that I saw this play during a preview performance.
However, that preview was only one night before its official opening, and I don't think that the frustration and confusion I was feeling will heal itself overnight.
One poignant comment uttered during this show's ongoing and repetitive dialogue about these women's up and down sojourn in their journey seeking romance and love, is perhaps summarized as follows, "- – and God created love, but it was not his best work!
There are a number of very fine actors and actresses who deliver good performances in this production, especially Patricia Pitpitan, Sheila Viramontes and Marah Sotelo, in their lead roles. One excellent voice, that of the taxicab driver, Keaton Wilkerson, presented a pleasant vocal interlude on several occasions.
The music of lyricist David Yazbek, has met great success in a number of his other creations, but unfortunately there was not one single song that lodged in my memory and followed me out of the theater.
This production continues Fridays and Saturdays at 8 PM, and again on Thursday, June 20, with Sunday performances on June 9 and 16th at 2 PM. The show closes on June 22. Ticket prices range between $32 and $35 each, with discounts for seniors and youth.
The theater is located at 3535 School St. (at the corner of Moraga Road) in Lafayette. You can contact the box office at (925) 283-1557 or visit their website at www.townhall.com for more information.
The drive to San Jose generally takes my wife and I less than an hour. Generally, there is little or no traffic frustration as it seems that the time at which we seek to attend theatrical productions, is generally the time that provides us with favorable commuter traffic in that direction. This time, our 45 to 50-minute drive allowed us to easily find parking and attend the opening performance of "Mama Mia!", in a very comfortable little theater.
Comparatively, of the several "Mama Mia!" productions we've seen over the years, this theaters stage is somewhat smaller, presenting a bigger challenge to its producers.
However, this did not seem to present a problem as every moment in this production was bigger than life. The staging, while simple, was artfully adequate, in large part due to the superb dance and set movement choreography by Keith Pinto.
The four lady leads, Adreinne Herro as Donna Sheridan, Allison F. Rich as Tanya Cresham-Leigh, Jill Miller as Rosie Mulligan, and Allison J. Parker as Sophie Sheridan (the young lady whose wedding is pending) are absolutely terrific.
The three prospective dads, Keith Pinto as Harry Bright, Jeffrey Brian Adams as Bill Austin, Noel Anthony as Sam Carmichael, and soon-the to-be wed Sky as Sam Faustine, Sophie's fiancé, are delightfully superb.
All 18 actors and 5 band members make the music of ABBA rise alive again, as memorable as ever, and if you are an ardent follower of ABBA, then "Mama Mia!" is absolutely the show you should not miss.
It continues through July 7th with tickets ranging between $32 and $60 each (what a deal!!). Tickets may be purchased through the box office at (408) 283-7142 or online at www.thestage.org. The show runs for 2 hours and 30 minutes and the theater is easily found at 490 South 1st street (at the corner of William Street) in downtown San Jose.