By HARRIETT BURT
Martinez News-Gazette Contributor
Editor's Note: Once again a planned column topic had to be postponed for what could be called breaking history news, the Italian American Studies Association (IASA) tour of Martinez Italian fisher family communities in the late 19th and 20th centuries at Granger's Wharf and on "Island Hill" overlooking it.
Held on Sunday, May 6, 2018, IASA organizers expected ten members from around the Bay Area and Monterey to walk around the area with two or three locals who remembered growing up there and helping their fathers and grandfathers from an early age. Vince Ferrante, Jr., the local organizer, was warned that there was likely to be a crowd of local descendants, current owners of the area's homes and others interested in Martinez history.
As it turned out, much to the amazement of IASA organizers, 95 Martinez folks showed up as did Joe DiMaggio's boat. Among the locals were Vivian and Jeff Roubal. Vivian's column in the Wednesday, May 9th edition of the News-Gazette, contains an excellent 'on the ground' description of the event.
Our Town covers some other aspects of the event and its origins. Jeff took a million pictures of which there's probably only room for one of the Joltin' Joe. But the rest will be sent to Tom Zamaria for the MHS archives. Recording Martinez history was a team effort this week.
Thanks, Vivian and Jeff.
***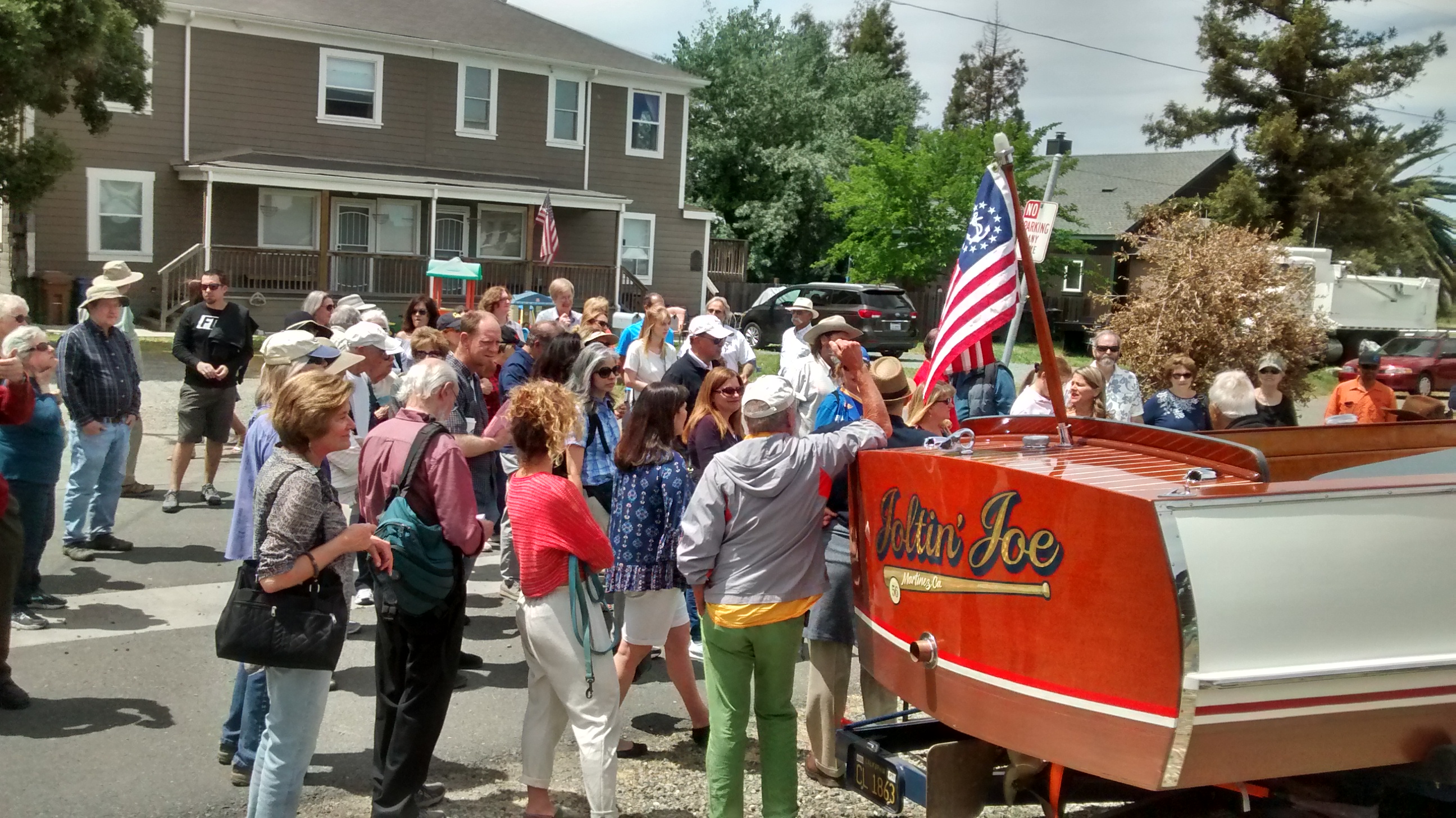 NOTE: "Island Hill" was the name given to the hill on the northwest corner of the downtown by early settlers. It refers to the fact that most of the earliest residents and town leaders lived there in the first 3 or 4 decades of Martinez history. Many of them came to California during the Gold Rush from Nantucket Island in Massachusetts. They then wrote their relatives and neighbors urging them to come out to California, specifically Martinez and often Island Hill. As they aged or moved, the burgeoning Italian fisher population spread up the hill. A number of the homes on the hill were built in the 1850s on Nantucket and shipped in pieces around Cape Horn to be re-constructed on the hill.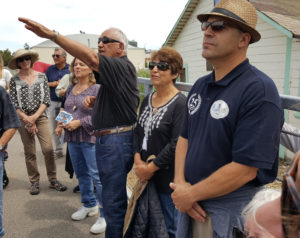 Vincent Ferrante, Jr., a Pittsburg resident with relatives in Martinez, is interested in the genealogy of the Ferrante family and has researched various branches in various locations in California and elsewhere.
"To follow the family history," he says, "you follow the fish."
The fish also led him to IASA as Pittsburg resident and member John Buffo recommended him to IASA leaders to organize the tour after Martinez resident and author Kristin Henderson was asked but was unable to do it. Henderson's research resulted in an Amazon e-book, "Capito! Italians and the Development of Martinez, California", on the Granger Wharf/Island Hill neighborhood. It was written in tandem with her successful 2014 application for Granger's Wharf and contiguous neighborhoods to be added to the National Register of Historic Places.
(The late Katherine "Tina" Davi Collins also wrote and published a book about Granger's Wharf. "Pioneer Italian Fishermen of Martinez – Nostri Pescatori" was published in 1997. Part historic text of the Granger's Wharf area with interviews of various fishermen, their wives, sons and daughters and part genealogy list of births, deaths and relationships of about 68 early members of the community, the book is still in print. Both the Martinez Museum and the County History Center keep a supply to sell to visitors. But for Ferrante, Tina's book, which took 20 years to compile, is more than a book, "It is our family Bible". Ed.)
"Capito!" had been read by local IASA members of the national organization which focusses on research, books and papers on the history and culture of Italian-Americans throughout the country and relates to many colleges and universities. Based on Henderson's book, Western Region IASA president Adele Negro and other members thought Martinez would be the ideal location for a walking tour for members and a possible paper to be disseminated in the Italian-American history community and academia. A similar tour had been held in San Rafael about 10 years ago. Consequently, they thought they knew what to expect in terms of attendance. While it had taken two years to get the Martinez event organized, there was no one in the group who knew that Italian-American history is of much interest not just to Italian-Americans in Martinez but to many others who live in the old neighborhoods or who love the variety in our town history and the contributions made to Martinez by Italian-Americans.
Ferrante pointed out that Martinez is ideal for such a tour as it has "countless examples of historic buildings that are still intact." Pittsburg, he noted, lost all or most of its Italian 'fishing village' buildings to redevelopment. Many Martinez citizens will remember that it was Italian-American descendants of the fishing community who were the main leaders of the ultimately successful anti-redevelopment (aka tax increment financing) fight in Martinez. It took more than 40 years to win the battle so everyone going forward could learn about the roots of a significant segment of the town's history.
Docent Nat Russo spoke about life on Buckley Street on Island Hill. Docents Danny Pellegrini and Leonard Gianno talked about their fathers' fishing life and the tasks they were given as soon as they were old enough to walk and talk. Docent Fran Gianno Hammond recalled the tight knit community on the Strait, the fun they had as children, Sunday dinners, the sight of 30 or 40 Monterey fishing boats tethered along a much wider Alhambra Creek and family Christmases.
Pellegrini and Gianno, joined by Angelo Costanza and others had lots of good information and stories. Pellegrini commented that the walk "was well done. (But) we could have spent a lot more time talking about things". Many probably agreed. He and others have talked with IASA members about having another event.
Mel Carone was one of several who were particularly impressed with Len Gianno's informed and precise descriptions of the actual fishing process. Gianno started going out to fish with his father when he was just a small boy.
Following the tour, IASA members and local organizers of the event gathered at Viano's Winery where John Viano told them about the history of wine-making in Martinez. Viano's is the last of the big commercial wineries in Martinez which once included the Christian Brothers, Digardi, and Bartolini among others.
IASA Western Region president Adele Negro of Monterey was also very pleased with the success of the event and with the support the community gave it.
All in all, it was a wonderful day whether one is of Italian descent or not. We will let Tina Davi Collins' introduction to 'Nostri Pescatori' define what it meant to grow up as an Italian-American on Granger's Wharf and Island Hill:
"The aromas of fresh bread baking and Italian sauce cooking are the sweetness I remember from my childhood. It was no chore for me to walk from Buckley Street to Grangers Wharf, where my father would be mending his nets. Maybe a train would go by, and I would wave. Adventure was at the end of the line!
"The fishermen earned an adequate living for their families and made Martinez their home. The descendants of the first handful of fishermen to arrive here are deeply rooted in Martinez. Their families grew and multiplied, flourishing like the flowers on Grangers Wharf."
Sources:

Kristin Henderson, "Capito! Italians and the Development of Martinez, California", Amazon e-book, 2014.

Katherine Davi Collins, Pioneer Fishermen of Martinez, 'Nostri Pescatori', self-published, 1997

Interviews with Vincent Ferrante, Mel Carone, Danny Pellegrini, Fran Gianno Hammond, IASA members: Adele Negro, Lawrence DiStasi, Maria Protti.