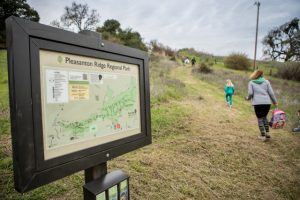 A new trailhead has opened at Pleasanton Ridge Regional Park, giving visitors access to the north end of the long, linear parkland without the need for an extended hike or ride.
The new Castleridge trailhead is located close to the intersection of Foothill Road and Old Foothill Road, west of Pleasanton's Alviso Adobe Community Park.
The project is a joint partnership between East Bay Regional Park District and the city of Pleasanton. It was made possible when the Park District purchased the 231-acre Castleridge property in 2014 for $2.2 million. Funding came from a $1 million grant through the Alameda County Altamont Landfill and Resource Facility Open Space Advisory Committee, with matching funds from the Park District's Measure WW.
The site has street parking for up to 50 vehicles, a drinking water fountain, accessible restroom, and gated access serving two neighboring communities.
Pleasanton Ridge is a long, narrow park extending north along a ridgeline from the town of Sunol almost all the way to Interstate 680. It has miles of hiking, equestrian and cycling trails, panoramic views of the Livermore and Sunol valleys, abundant wildlife, and beautiful wildflower displays in the spring. Maps of the park can be downloaded from the Park District web site, www.ebparks.org.
* * *
Naturalist Dino Labiste will lead a program at Coyote Hills Regional Park in Fremont on how ancient cultures made fire without matches. It's from 9:30 a.m. to 12:30 p.m. on Sunday, March 25, and includes hands-on activities and demonstrations. The minimum age for participants is 16 years.
We visit the hardware store for string and rope, but ancient cultures had to make it themselves. Dino will show how, during a program from 2 to 4:30 p.m. the same day.
Dino will demonstrate gathering, preparing, extracting and plying plant materials to produce cordage, and the group will practice the leg rolling method of processing plant fibers. The program is for ages nine and older.
Both programs are free, but registration is required. To register, call 888-327-2757 and select option 2. For fire making, refer to program 19927. For cordage, the number is 19934. Both meet at the front entrance of the visitor center.
Coyote Hills is at the end of Patterson Ranch Road off Paseo Padre Parkway.
There's a parking fee of $5 per vehicle. For information, call 510-544- 3220.
* * *
The interpretive staff at Crab Cove Visitor Center in Alameda will celebrate the arrival of spring with a "Splash Into Spring and Egg Scramble" from 10 a.m. to 4 p.m. on Saturday, March 24. Sponsors are the Park District, Alameda Recreation and Parks, and Alameda Rotary.
It's a full day of family activities, starting with crafts and games from 10 to 11:30 a.m. around the visitor center lawn. The egg hunt is at 11:30 a.m. The bay will be highlighted from 1:30 to 2 p.m. in the Old Wharf Classroom. From 2 to 3 p.m. it's Family Nature Fun, and the fish get fed from 3 to 3:30 p.m.
Crab Cove is at the end of McKay Avenue off Alameda's Central Avenue.
There's more parking in the Crown Beach lot at the intersection of Shore Line and Otis
Drives. If it rains, the event will be postponed until March 31. Call 510-544- 3187.
* * *
Las Trampas Regional Wilderness in San Ramon consists of two ridges with a canyon between them. Plants and animals that live along the canyon's creek are the theme of a naturalist-led walk from 8 to 10 a.m. on Sunday, March 25.
Meet at the parking lot at the north end of Bollinger Canyon Road off Crow
Canyon Road in San Ramon. Call 510-544- 3249 for information.
* * *
Secrets of spring birds will be revealed during a program from 8 to 10 a.m.
Saturday, March 24 at Contra Loma Regional Park in Antioch, led by naturalist Kevin
Dixon. This is the season when birds are finding food, singing and looking for mates.
Contra Loma is at the end of Frederickson Lane off Golf Course Road. Meet at
the main parking lot. There's a $5 parking fee per vehicle. For information, call 888-327-
2757, ext. 2755.
* * *
The land that is now Big Break Regional Shoreline used to be an asparagus farm. The park's interpretive staff will lead a walk from 2 to 3 p.m. on Saturday, March 24, in search of the green stalks.
Big Break is at 69 Big Break Road off Main Street in Oakley. Call 888-327- 2757, ext. 3050.
* * *
This is just a sample. There's lots more going on in the regional parks. Check out the web site, www.ebparks.org.