MARTINEZ, Calif. – A collaborative pilot program aimed at the intransigent homeless situation downtown will offer food, cleanliness, medical care, resources and hope every Wednesday during August on Green Street near the Senior Center.
The location is temporary, but organizers hope the program's effectiveness will make it a prototype that other cities with the same related problems.
"When I was first elected to the council, Mayor Schroder told me to pick a few things that I really care about to work on. This is one of them. This is part of my vision, my dream," commented Vice Mayor Noralea Gipner.
Gipner went to the bi-monthly meeting of Coordinated Outreach Referral and Engagement group, a combined Pleasant Hill and Martinez effort focused on the problem of homelessness in order to learn more.
Then she teamed up with Martinez Police Community Resource Officer (CRO) Rodney Brinser to attack the situation as health as a safety issue. Brinser's job brings him into constant contact people who have no home so he understands the problems they face. As a police officer, he can see both sides.
Police Chief Manjit Sappal backs their pilot program plan, which involves Contra Costa County, two charitable groups with business support, and is sanctioned by the city council.
"Homelessness is not a crime. Anytime we can provide a service to our homeless population it is another opportunity for us to try to refer them to services and help," the chief remarked.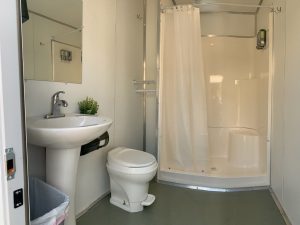 Brinser and Gipner are aware the sustained difference The Bay Church's (formerly Calvary Temple) six-year-old, Clean Start program is making. Trained church volunteers offer two free loads of laundry one day a month at a laundromat near the city limits, and the church recently invested on four mobile bathroom showers to make available to those in need on the same day as the clean clothes. Guests are provided with hair cuts, other necessities, information and a sense of fellowship at the same time.
Gipner thought that was great but said, "Once a month is not enough."
Brinser and Gipner also knew that the need for medical services is often a fundamental reason for homelessness, and asked the county to get involved.
Contra Costa County is providing its Mobile Clinic, which will be parked in the Senior Center's staff parking lot near Loaves and Fishes, that is open at the same time.
Clean Start is part of a larger "compassionate outreach" goal for Bay Church and they have a good record of sticking with it to get results, according to Brinser and Gipner.
"It took a long time to earn their trust," Carrie Gregg, Clean Start director, and wife of John Gregg. "Our heart goes out to those in need. We love God and love each other."
The church had a hard time finding a business that would help facilitate the program, and John Millino, owner of the Laundry Basket on Pacheco Blvd. was the only one to agree.
Trained church volunteers pay for about 75 loads of laundry, soap and dryer sheets and conversation. While the guests are washing and drying, they may have a bite to eat, some gently used new clothes, and toiletries.
Carrie's assistant, Kat Mulingtapang said, "It is more than clean clothes, we facilitate a sense of hope."
The pilot program will do the same things but on a weekly basis. The "Team" (Gipner and Brinser) will be there with county medical and mental health professionals and The Bay Church volunteers to see what homeless people may need, beyond the comfort of cleanliness and a meal from Loaves and Fishes.
Gipner praised the city council, especially Mayor Rob Schroder, for "letting me have my passion." She said, "They support me in every way."
Gipner said there is no name for the new pilot program yet. "We (she and Rinser) are not good at naming things, we are just good at doing things," she exclaimed with her usual enthusiasm.