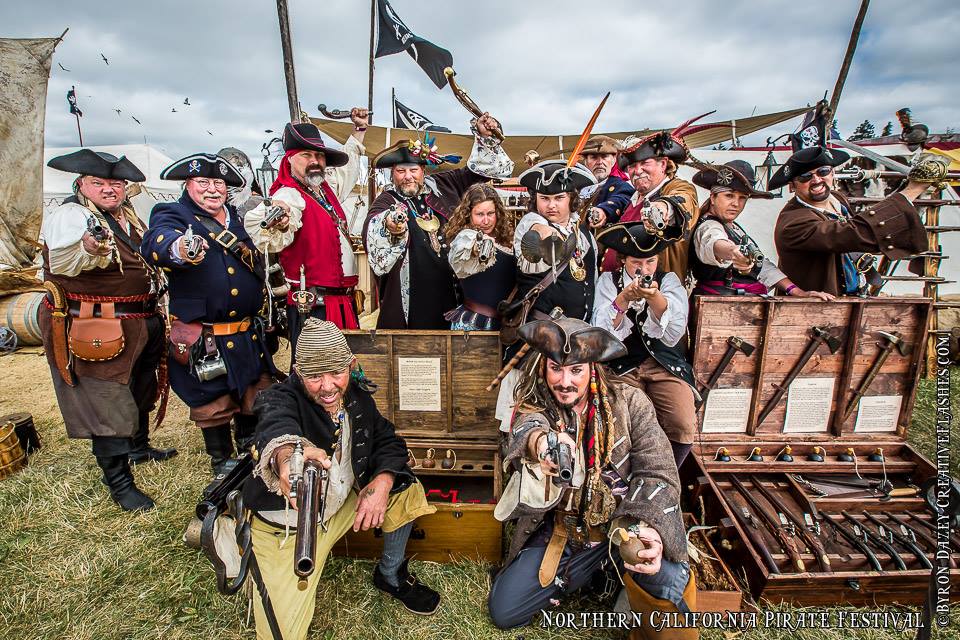 MARTINEZ, Calif. – Ahoy, ye salty sea dogs! Keep a weather eye on the horizon – especially toward the Carquinez Strait. Pirates are coming to invade the Vallejo Waterfront Park Father's Day weekend, June 16 and 17.
And those sea rogues and privateers have been doing just that for a dozen years, giving fathers and families the chance to run away from home and be pirates for two days.
The event has plenty of swashbuckling for the most ardent of Errol Flynn fans, from theater groups such as the Court of the Pirate Lords and Brotherhood of Oceanic Mercenaries – B.O.O.M. for short.
And boom they'll go as they fire up the cannons and take aim on a new invading ship, The Sea Eagle. The ship will be returning fire during daily ship to shore battles. B.O.O.M keeps bringing more cannons and fire power with every appearance, but also have educational displays with cast members available to explain the various historic items.
The Sea Eagle is a privateer-model sailing vessel with boldly colored sails, one of which bears a grinning skull and crossed swords. Its shallower draft means it will be able to come closer to shore for more dramatic views and sounds, said Anna Benincasa-Morales, one of festival's organizers and performers.
This year's tide looks to be high and the right time, too, she said. "We always joke our entire show is dictated by the tide," she said. "You can hear the crowd gasp when the ship comes in close."
Other sounds at the festival will be pleasant, such as Skip Henderson and the Starboard Watch, singing traditional maritime songs, the Seadogs and their sea shanties, the Penny Opry duo and their blend of maritime and Tin Pan Alley music, the Brass Farthing and their British and American folk and tavern songs, and the pirate, Celtic and rock band, O'Craven.
The "ladies" of the House of the Rising Sun also provide entertaining songs, but they're also likely to introduce festival goers to games of chance or entertain them with improvisation presentations or tell them stories about historical New Orleans.
The Kondor brothers will fascinate their audiences with their feats of juggling and balance. Tatseen's Serpent Sirens bellydancers will perform with snakes and swords, and the Dive Bar Mermaids, swimming in a 40-foot saltwater aquarium, will fight pirates and teach youngsters a mermaid hula dance.
What's a pirate without a parrot? Fowl Tales is a performance featuring two of the colorful birds and their one human companion.
Those who regularly attend the festival will see its layout in the Waterfront Park will have changed. Entrance will be from the street side, and the large tent that housed the Tortuga Stage will be gone.
"We're going back to a bit more open space," Benincasa-Morales said. That will allow people to feel the waterside breezes and have less obstructed views of the festival, she said. "You get to reexplore – it'll be like a treasure hunt."
Youngsters will find plenty to do, including face painting, a painting garden, pirate-themed bounce houses, including an enormous kraken slide.
They also may enroll in the Anne Bonney and Jack Rackham School of Piracy for the Young and Impressionable and learn sailing terms, how to swing aboard a prize ship, how to swab a deck and how to create their own Jolly Roger flags.
If they long for more adventure, they may take up foils and receive lessons in fencing. Bolder youth and adults can challenge the Zipline of Insanity.
Those intrigued by actual pirate history won't be disappointed.
Edward Teach, better known as the feared Blackbeard, to the equally feared Anne Bonney and her pirate partner, "Calico Jack" Rackham to Grace O'Malley, the woman pirate who met face to face with Queen Elizabeth I, will be walking the grounds.
Not everyone will be pirates there. Some will be pirate hunters.
Governor Woodes Rogers, a former pirate himself, will be scouring the grounds for black flag scalawags, sand he'll be supported by the Government House, where the British Red Coats and Royal Navy will put notorious pirates on trials while offering pardons to young pirates.
Morgan's Companie, which portrays the British Royal Navy sailors from the HMS Siren, will bring wooden boats from the pirate age, large and small artillery, other weaponry and sailor tools. They'll be offering pardons to pirates, but are likely to try to capture those unwilling to take the pardon.
Fictional pirates will be represented, too, in the form of the Robert Louis Stevenson Museum's booth. Stevenson's novel, "Treasure Island," has been a story that has influenced the public's view of pirates, with Long John Silver, maps that lead to buried riches and colorful parrots riding on a sailor's shoulder.
Stubby Wood, a freebooter in his own right, is master of ceremonies, introducing various entertainers throughout both days.
Costumes are encouraged, although they aren't required. But youngsters coming in costume may gather at the front gate to enter the festival's costume contest.
Adults often don a tricorn or bright sash or head scarf for their trip to pirate territory, and that thrills Benincasa-Morales.
"I've always been interested in pirates," she said. "They have a fascinating internal history." The festival is about the fun aspects of pirates – freedom on the high seas. "We're never going to go completely illustrating the harshness. That's not what people want. The need for escapism is stronger than ever, and being able to go and have a good time."
Many regular attendees as well as casual visitors are from Northern California, but some travel across the country and from other nations to attend, Benincasa-Morales said. That includes those who have cultivated pirate "personas" – storylines, names and in some cases, elaborate pirate attire. But they rub shoulders with those in Jolly Roger T-shirts and tricorns from a party store. The welcoming interaction between "hardcore" pirates and those who became sea rogues for the day is another aspect of the festival that pleases Benincasa-Morales.
"I think we cast a broad enough net. I like to think most people who attend get it. We do get a lot of people not in the pirate community," she said.
But some of them are lured in to the escapism of dressing differently for the day. They may not know what to expect during their first trip, then decide they want to play, she said. Gradually, some upgrade this or that of what they wear to the event.
And, not surprising, the Northern California Pirate Festival is a good place to spend doubloons and pieces of eight on pirate clothing, accessories, navigational tools, beads, baubles, leather goods, fans and umbrellas for portable shade, and a variety of other trinkets and treasures.
Festival goers don't need to be hungry or thirsty, with a variety of beverage and food vendors available.
Admission is $12, with children 12 and younger admitted at no charge. Weekend passes are $20. Tickets are available online at https://www.norcalpiratefestival.com and at the gate.
The Northern California Pirate Festival will take place from 10 a.m. to 6 p.m. Saturday and Sunday, June 16-17, at Vallejo Waterfront Park, 298 Mare Island Way, Vallejo.