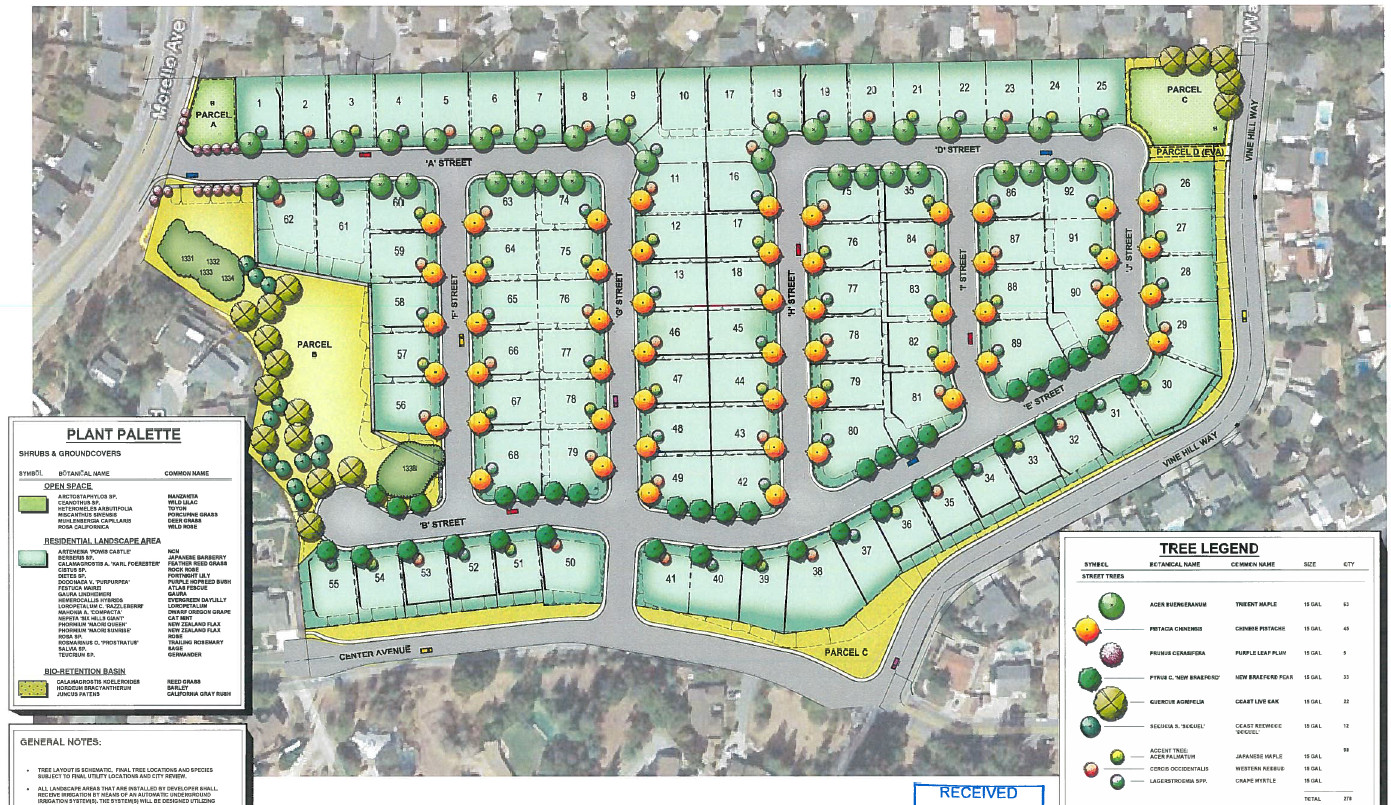 MARTINEZ, Calif. – Martinez Planning Commission has approved unanimously both the mitigated negative declaration and the vesting tentative map for a proposed development to be built on the former Pine Meadow Golf Course.
"That's it. The project is approved," said Christina Ratcliffe, Martinez Community and Economic Development director.
However, one the development's opponent, Tim Platt, warned that a lawsuit could overturn a Martinez City Council determination that the property is designated for residential development rather than open space use. Should that happen, it could upend the project.
The Commission's vote came after Tuesday night's public hearing on the documents and presentations that described DeNova Homes' plans to build 92 single-family homes on lots that range from the minimum allowed size of 7,500 square feet to some as large as 13,227 square feet, with an average size of 8,281 square feet, contract planner Cindy Gnos told the Commission.
Residents would enter the development from Morello Avenue; another intersection is on Center Avenue and an emergency vehicle access easement also would connect with Center Avenue. The streets would be built to public street standards, although whether the Martinez City Council would accept them for maintenance has not been decided, Assistant City Attorney Veronica Nebb said.
Members of the public had a month, ending May 4, to comment on the environmental Initial Study and Mitigated Negative Declaration documents. Those who submitted concerns or questions mentioned visual impacts, the effects on wildlife, safety of the lots' elevations and retaining walls, greenhouse gas emissions, whether chemicals used on the land when it was a golf course posed environmental hazards, drainage, compliance with the General Plan and zoning designation, the removal of a potential park site, impacts on schools and traffic and the cumulative impacts of adding another subdivision to the city.
Their observations led to minor changes in the DeNova Homes' design for the land, such as the requirement of analysis by a soil engineer who would examine soil stability and design of such elements as retaining walls.
Modification of plans would assure keeping greenhouse gas emissions below standards set by the Bay Area Air Quality Management District.
None of the changes was considered major, so the documents did not need to be recirculated, said Beth Thompson, who prepared the initial study and negative declaration for DeNovo Planning Group, an environmental planning firm that despite similarity of name is not related to DeNova Homes, a family-owned home construction company founded by Dave and Lori Sanson and based in Concord.
The vesting tentative subdivision map shows the development is consistent with the General Plan, and complies with Martinez rules and regulations.
Trent Sanson, son of the founders, said he and other company employees "have been working diligently" with Martinez city staff for more than two years. He explained how his company has been recognized as much for its support of community efforts, including housing the homeless, as for its projects.
He said his goals were a high quality design, using single-story homes, some of which have "junior" or "in-law" suites that allow young purchasers to "age in place" or let adult children continue living with their parents in an attached residence that either is walled off the main home or has a door that can be locked for privacy.
Most of those who attended the meeting said they favored the development. Don Wilson, who has lived adjacent to the former golf course site that would become the Vine Hill Subdivision for 40 years, said he had read the project's documents.
"I played on that golf course," he said, and added he considers the original property owners to be his friends. He called the DeNova Home proposal "a quality development," and urged its approval.
"Let this family do something with their property," he said.
Rich Verilli said the development would meet a critical need for new homes. "People can't find anything to rent or live in," he said. The development would improve the city's condition, he said, adding his wish that at least some of the homes would be considered "affordable housing."
Joel Crawford echoed Verilli's thought, saying younger couples, those 25 to 35, are struggling "to find anything that isn't decrepit." He said people want to live somewhere they can feel safe in rearing children, but that people from elsewhere are driving up prices and driving Californians out of the state because of the costs.
Coward's granddaughter, Laura Ingrassia, said her family has had a good relationship with DeNova Homes since it expressed interest in purchasing her family's land.
She reminded the Commission that in 1976, the city rejected Measure O, deciding against purchasing the land.
In October 2014, her family, DeNova Homes representatives, members of Friends of Pine Meadow and spokespersons for the Sierra Club met to talk about the property's potential sale for development. At that meeting, the Sierra Club representatives said the golf course didn't represent the type of land it sought to preserve, and it had no objections to its development, she said.
In 2017, the City Council's decision that the property always had been designated for residential use "set the record straight, she said, countering claims by opponents, including Platt, that "history was rewritten" by that determination.
Had original plans for the site remained unopposed, the development would have had walking trails and an open space area, but opponents sought to have the project subject to public vote, and the Council instead repealed its 2015 approval of that plan.
DeNova Homes submitted a new application the next year, appealing a staff determination that its application was incomplete. That led to the Council's determination that the land had remained designated as residential, not open space.
That decision is being challenged by Platt and others who formed the grass roots group Friends of Pine Meadow, although a decision on the challenge is pending.
The project's opponents contend that for 43 years, the golf course was considered open space designation. Platt reiterated that position Tuesday night.
"The facts are wrong, the process is wrong and the decision is wrong," he said. If a court ruling favors the project's opponents, he warned, that could overturn the basic premise on which the negative declaration and vesting tentative map are based.
Commissioner Sean Trambley said he, too, looked for a couple of years for a house in Martinez to buy. "The housing market is hard," he said, adding that he supports developments such as the one designed by DeNova Homes.
Commissioner Paul Kelly said this is the second time he's seen an application for the former golf course, which was closed in 2015, although its tavern remains open.
"Everything is the same, minus three homes," he said. Kelly said he liked that the subdivision's streets would be 46 feet wide, which could accommodate on-street parking on both sides. "I think this is a really good project."
Kimberly Glover was another Commissioner who was on the panel when the initial design was submitted. "This is very beneficial for Martinez," she said. At one time she lived close to the golf course, and said the only comments she has heard about the development have been complimentary ones, and like others, it took her several years to find a home in Martinez to buy.
Commissioner Gabriel Lemus also was on the Commission in time to see the earlier plans. In his work experience associated with the United States Department of Housing and Urban Development, he recognized that this subdivision wouldn't necessarily be classified as "affordable" homes.
But bringing more homes on the market could possibly stabilize prices, and that could benefit not only Martinez but also the greater East Bay area, Lemus said.
Alternate Jason Martin agreed.
Commissioner Tracey Casella said, "This would look beautiful, and would enhance our city. Residential in this space is completely what I would expect. It's not appropriate for much else."