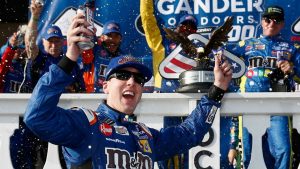 Kyle Busch outdueled rookie William Byron 112 laps into the Gander Outdoors 400 at Pocono Raceway Sunday afternoon to take the lead at last and for good.
He had missed leading two earlier times when it counted. Chase Elliott won Stage 1 of the race. Bakersfield native Kevin Harvick, first driver this year to win six races this year, took the second stage and clearly had the car to beat by that phase of the contest.
But Harvick, delayed during a pit stop, was well back when Busch made his move to take the lead.
Busch kept that lead to the end despite several restarts after cautions, including a frightening one that temporarily halted the race and sent it into overtime.
Busch is now tied with Harvick for 2018 wins at the Monster Energy NASCAR Cup series.
"I was worried!" Busch said. "I can't say enough about my teammate (Suarez). It was an awesome race." He said Suarez, the only driver from Mexico in the race, "gave me a heck of a run."
He said Harvick had the best car in the field and said his was second best, with runner-up Suarez's car likely third.
The weekend saw a Kyle Busch sweep – he also won the Camping World truck race as well.
"What's crazy this year is Harvick gets one, I get one, (Martin) Truex (Jr.) gets one," he said. The three own the bulk of trophies this season.
"I appreciate the fans and Rowdy Nation. This means a lot," he said.
Suarez said Busch was better than he on longer runs. "I felt I was decent, not great," he said. "I'm disappointed to be so close."
The series of cautions showed Busch's skills at handling restarts. One was caused when his brother, Kurt, had a tire go down. Another happened on the restart, when Landon Cassill's car began blowing oil on the track.
For several laps, the race was a battle between the leader Busch and Daniel Suarez, who steadily was closing the gap between them.
Then with six laps left, Bubba Wallace's No. 43 car owned by "The King" Richard Petty, lost its brakes.
Wallace skidded across the grassy infield, then slid across the track. He got his car turned so the passenger side took the brunt when his car slammed hard into the outside wall. Both front and back of the car were crumpled.
The race was halted and silent fans held their breath, waiting to see if Wallace would unfasten his window net, a sign he was okay. Finally the sign came, but ambulance staff had to help him from his car. He stood, then leaned over, and then sat on the track, leaning against his damaged car. He later walked gingerly to the ambulance. He finished 33rd.
"That was a huge hit," Wallace said after his examination in the track's care center. "There's no feeling like being helpless."
He explained his delay in signaling viewers he was all right, although he had spoken by radio with his crew of his condition. "I didn't get the window net down fast enough, but that was the last thing I thought about."
He said he had been racing Erik Jones, who finished the race fifth when he felt his brake pedal go to the floor. He pumped the belled. "It blew. I should have hooked a right to the fence, but I'm used to turning left," he said with his characteristic grin.
"I'm okay. But I'll be sore," he said. The pain may be tempered by some good news about the rookie's career – he just re-signed with Petty's racing team.
Alex Bowman finished third. "We were solid on the restarts all day," he said, but on the final restart, "I couldn't get to Kyle's rear bumper." He joked that Rick Hendrick, his team's owner, was at the track. "We really struggled all weekend until today, till the boss showed up!"
Harvick took fourth despite most drivers saying his car was the class of the field. "It's hard to have a car like that and not win," he said. He was hit on pit road and started in the back and still was a contender all day. Still, the finish was "hard to swallow."
Jones, along with Suarez was part of a three-way chase for the lead till Busch cleared the field and left the rest behind. "It was our one shot," he said. "We were tapped out on the speed."
Behind them came Byron, the top-finishing rookie, Elliott, Ryan Newman, Kurt Busch and Denny Hamlin.
Of the California drivers, Los Gatos driver A.J. Allmendinger was 14th, El Cajon native and past champion Jimmie Johnson was 17th; Elk Grove driver Kyle Larson was 23rd and Grass Valley's Matt DiBenedetto was 27th.
NASCAR drivers take on the second road course of the season, after getting Sonoma Raceway's Toyota/Save Mart 350 under their belts in June. New York's Watkins Glen is a speed course, compared to the technical turns of Sonoma Raceway that challenge a driver's skill in shifting, braking and acceleration.
The Watkins Glen International's broadcast will start at 11:30 a.m. Pacific time Sunday, Aug. 5, on NBC.