Rickey Lowell Frame
Oct. 14, 1955 – Nov. 2, 2019
Resident of Martinez, Calif.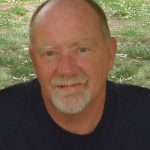 Rick, age 64 passed away early Saturday morning at his home in Nevada City, California. Rick was a resident of Martinez for over 45 years.
He was born in Dodge City, Kansas to Eldon and Frances Baird. Rick moved to Martinez as a young child. He spent much of his childhood in Martinez before moving to Grass Valley for a short period of time. While there, he learned the body and fender trade.
He spent his entire career as a body and fender man. His specialty was restoring classic cars. He raised his family in Martinez. He and his wife moved to Nevada City 14 years ago. He had a passion for classic cars, horseback riding, long car rides and working on his property.
He will be deeply missed by all who knew him.
Rick is survived by his wife, Vickie Frame of Nevada City, his children Nolan Frame of Nevada City and Jamie Monahan of Martinez, as well as his sister, Paulette Hathaway of Midvale, Idaho and his nephew, Donnie Worden of Carson City, Nevada. He is also survived by his four grandchildren.
He was preceded in death by his brother, Luey Bornheim of Lawrence, Kansas and sister, Deborah Baird of Lompoc, California.