Rupert R. Lorenzo
March 30, 1927 – June 28, 2018
Resident of Martinez, Calif.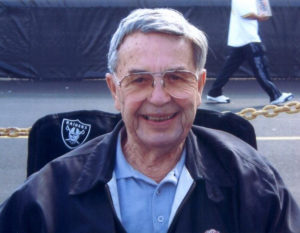 Rupert R. Lorenzo, a lifelong resident of Martinez passed away on June 28, 2018.
Rupert served in World War II, in the Navy, right after he turned 18 years old, where he was stationed in Japan.
Rupert was a service station owner for many years in Martinez, and he gave many young men their first jobs. Rupert was involved in many community activities. He was president of the Martinez Boys Club and the Kiwanis Club, he was a member of the Moose Lodge, the Yacht Club, the Model T Club of America and the California Service Station Association. He was also a member of the Men's Druids, in which Rupert held the highest position as Noble Grand Arch for the State of California.
Rupert was the proud Father of Ron Lorenzo (June), Lori Macklin (Mike), and Paul Lorenzo (Pattie). He has five grandchildren, Sheli Williams (Travis), Josh Lorenzo (Liz), Candice Macklin, Tori Phearson (Josh), and Zack Lorenzo. Rupert also is survived by seven great-grandchildren, nephew Jerry Carpenter, and niece, AnDi Irvin. Rupert was predeceased by his wife Elaine of 54 years and his parents and sister.
Friends and family are invited to a visitation on Thursday, July 5, from 4 p.m. to 8 p.m., with Vigil Service at 7 p.m. Funeral Service will be held on Friday, July 6, at 10:30 a.m., both at Connolly and Taylor, followed by interment at Oakmont Memorial Park Cemetery. In lieu of flowers, donate to your favorite charity.
Rupe, you may enjoy your pipe forever more.