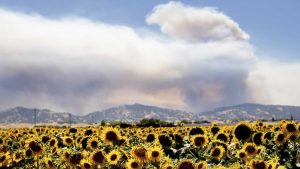 Bay Area Air Quality Management District has been issuing smoke advisories as well as wildfire safety tips because of wildfires in Lake, Napa and Yolo counties. Those fires have caused Martinez residents to worry about clouds of smoke as well as ash they see on their cars and property.
Two fires were extinguished by Contra Costa County Fire Protection District Friday and again Saturday in the vicinity of Ygnacio Valley Road.
The Friday fire, which started about 4 p.m. near the Lime Ridge Open Space, was brought under control that night after burning more than 200 acres. Multiple highways were partially or completely closed during the firefight.
A new fire ignited Saturday near Oak Grove Road, but was brought under control later that day. It may have been started by embers from the first fire, which Fire Marshal Robert Marshall said was started by a backfiring vehicle on Ygnacio Valley Road.
Meanwhile, CalFIRE is reminding residents not to set off fireworks or participate in any other activity that could cause new fires.
The Air Quality Management District issued its smoke advisory Sunday after the County Fire started that afternoon in Yolo County. Smoke and ash have been blown into the Bay Area, including Martinez, although fog has prevented some of its worst effects from reaching the ground in some areas, according to a district news announcement.
How long the advisory remains in effect will depend on changing wind patterns as well as the duration and intensity of the wildfires themselves.
"It is important that Bay Area residents protect their health," the District's advisory said. Those who are impacted by heavy smoke should seek shelter in buildings with filtered air or leave the Bay Area until smoke levels subside, the advisory said.
Smoke can irritate eyes and airways, cause coughing, a scratchy throat and irritated sinuses.
Those who suffer from asthma, emphysema or chronic obstructive pulmonary disease (COPD) may experience wheezing or other symptoms. The air district recommended those who are particularly susceptible, including the elderly, children and those with respiratory illnesses, should take extra precautions to avoid exposure.
However, the district said air quality may be improving by today if winds shift from the north to the west, pushing pollution away from the Bay Area. However, airborne ash may impact places that have been impacted by fire, the advisory said.
The Pawnee Fire, called that because it started near Pawnee and New Long Valley roads northeast of Clearlake Oaks, has burned 14,800 acres since June 23 and has been 75 percent contained after destroying at least 22 structures and is threatening 50 more.
During the weekend, the community of Double Eagle was ordered to evacuate again. Up to date information about evacuations may be obtained through the website http://www.lakesheriff.com/.
The newest fire, the County Fire in Yolo and Napa counties, started Saturday around County Road 63 and California Highway 16 in Rumsey Canyon. After burning 60,000 acres, it was 5 percent contained earlier this week. It was reported heading toward Lake Berryessa. However, so far, neither the Pawnee nor the County fire were expected to threaten Solano County beyond smoke and ash.
Evacuations have been ordered for those living north of California Highway 128 in Yolo County, but not Winters. Also ordered to leave are those living south of County Road 23, those east of Berryessa Knoxville Road, those west of County Road 89, those south of Esparto, those served by Highway 128 between Monticello Dam and Pleasant Valley Road.
Those north of Quail Canyon road, those South of Highway 128, east of Blue Ridge Mountains and west of Pleasant Valley Road were given evacuation advisories.
Hot, dry conditions not only mean the existing fires could grow despite firefighters' efforts, CalFIRE and regional fire protection agencies are worried new fires could develop.
Because some areas being burned are remote, helicopters have been used to deposit fire retardant or water and air tankers also have been used to spread retardant on the wildfires.
The agencies said people should be aware of fire and smoke coverage and health warnings, and use common sense. "If it looks smoky outside, avoid physical outside activities and don't let your children play outdoors," the air district said.
If people are advised to stay indoors, they should keep indoor air as clean as possible by closing doors and windows. However, on hot days, they should seek other shelter because without air conditioning, a closed shelter may become dangerous.
Those who are driving or are in an air conditioned home should run it on recycle or recirculate settings. The fresh air intake should remain closed, and the filter should be clean to prevent bringing additional smoke inside.
Those who have asthma or other lung disease should follow doctor directives, and should call their doctor if their symptoms worsen.