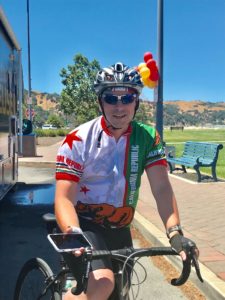 MARTINEZ, Calif. – Mark Meuser, who is challenging incumbent Alex Padilla for California secretary of state this November, launched a 5,000 mile campaign bicycle ride Monday from Martinez's Waterfront Park.
He plans to bicycle through all 58 of the state's counties, meeting residents and encouraging them to vote in the fall general election.
Since the Office of Secretary of State is California's top elections office, getting people to the polls is his goal. And he believes the office should do more not only to encourage people to vote but also to clarify voting procedures.
He said California has the second worse elections, and the state has been in Pew's lower index for the past several elections. And Pew noted that United States voter turnout is poor when compared to other developed countries 26th out of 32 members of the Organization for Economic Cooperation and Development (OECD) that is made up mostly of developed and democratic nations.
Although Meuser is a Republican, he said Monday he is speaking to every voter, whether that person identifies with Bernie Sanders, the Tea Party Patriots or any political position in between, when he says elections matter.
"Too many believe their votes don't matter," he said.
Too many people of various political persuasions believe there is interference by "big business" or other problems during elections, he said. And he agreed there is an integrity problem with California elections. "You are right."
Meuser said he wants to clean the election rolls and make sure proper procedures are in place so elections are fair and honest and votes are secure.
"The process should be as seamless as possible," he said.
Meuser said he originally had planned his bike ride earlier in the year, during cooler temperatures.
"I decided to shift this to July and August," he said. He expects the ride to take 46 days, although roadwork and fires may impact his schedule. A recreational vehicle will accompany him on the ride, but Meuser promised he wouldn't be riding in the van.
He said California is issue-oriented, which may work to improve turnout in November, especially since Proposition 6 will let voters decide whether to keep or repeal the Road Repair and Accountability Act. That is sometimes called "the gas tax," although in addition to increasing gasoline taxes, it raised taxes on diesel fuel and vehicle registration fees, including those for electric cars.
He is not a political newcomer. In 2012, he progressed to the general election for the California Senate District 7, but was defeated by Mark DeSaulnier, who now is the District 11 U.S. Representative, with a part of Martinez in that district.
Meuser considers himself an outdoorsman, and became interested in the Ironman cvompetitions.
After the 2014 Ironman Tahoe was canceled because of fires, he was severely injured as he rode his bicycle back to his car. He entered the contest in 2015, only to learn he was allergic to his latex wetsuit.
Three months later, he competed in the Cozumel Ironman contest, completing it in 12 hours 45 minutes.
He also hikes, dives and snow skis, and has listed his favorite bike ride so far is a five-day trip on the Pacific Coast Highway from San Francisco to Orange County.
Meuser said he's been studying elections, and has noticed how many are won by fewer than 10 votes. People need to see how important their participation is, he said.
On the other hand, especially as election procedures change, the state's top election official needs to be proactive about explaining those changes so the public understands them. "Provisional ballots make people mad," he said. Occasionally, he's had to cast provisional ballots, and that upset him, too.
The trend toward electronic voting or exclusively vote by mail elections aren't bad, and they don't mean a person's ballot is less secure than if it were cast the traditional way, at a poll site on election day.
"Voters want to know their vote is secure, whatever system is used. They want to understand the process and their votes are counted. We've got to work on that," he said.
Meuser has both Twitter and Facebook accounts. His campaign website is https://www.markmeuser.com.