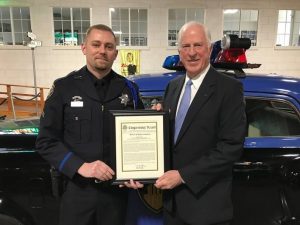 Martinez police Cpl. Ryan Baille was among those named Sunday as U.S. Rep. Mike Thompson's public safety heroes of the year. The Democrat congressman from Napa each year honors one local law enforcement officer and one local first responder from each county in his district who have gone above and beyond the call of duty.
The congressman said Cpl. Baille was chosen for the award because of his "dogged service with the Martinez Police Department, where he recently closed the largest human trafficking case in Bay Area history."
"This case began because of his dedication to listening to survivors of human trafficking and ended with a 180-year sentence of the guilty party," Thompson said.
Here is the full list of Public Safety Heroes of the Year for the Fifth Congressional District:
Corporal Ryan Baille, Martinez Police Department
Paramedic Fire Captain Dave Woods, Contra Costa Fire Protection District
Elona Porter, Evidence Technician Supervisor and Lead Crime Scene Investigator for Lake County Sheriff's Department
Fire Captain Richard Lawler, CalFire Clearlake Oaks Fire Station
Deputy Steven Lombardi, Napa County Sheriff's Department
Captain Steve Becker, Napa Fire Department
Corporal Ritzie Tolentino, Vallejo Police Department
Daniela Flores, Solano EMT and Medic Ambulance
Cristina Montoya, Cotati Police Dispatcher and Clerk
Captain Don Ricci, Santa Rosa Fire Department
Guy Fieri, Celebrity Chef and local second responder