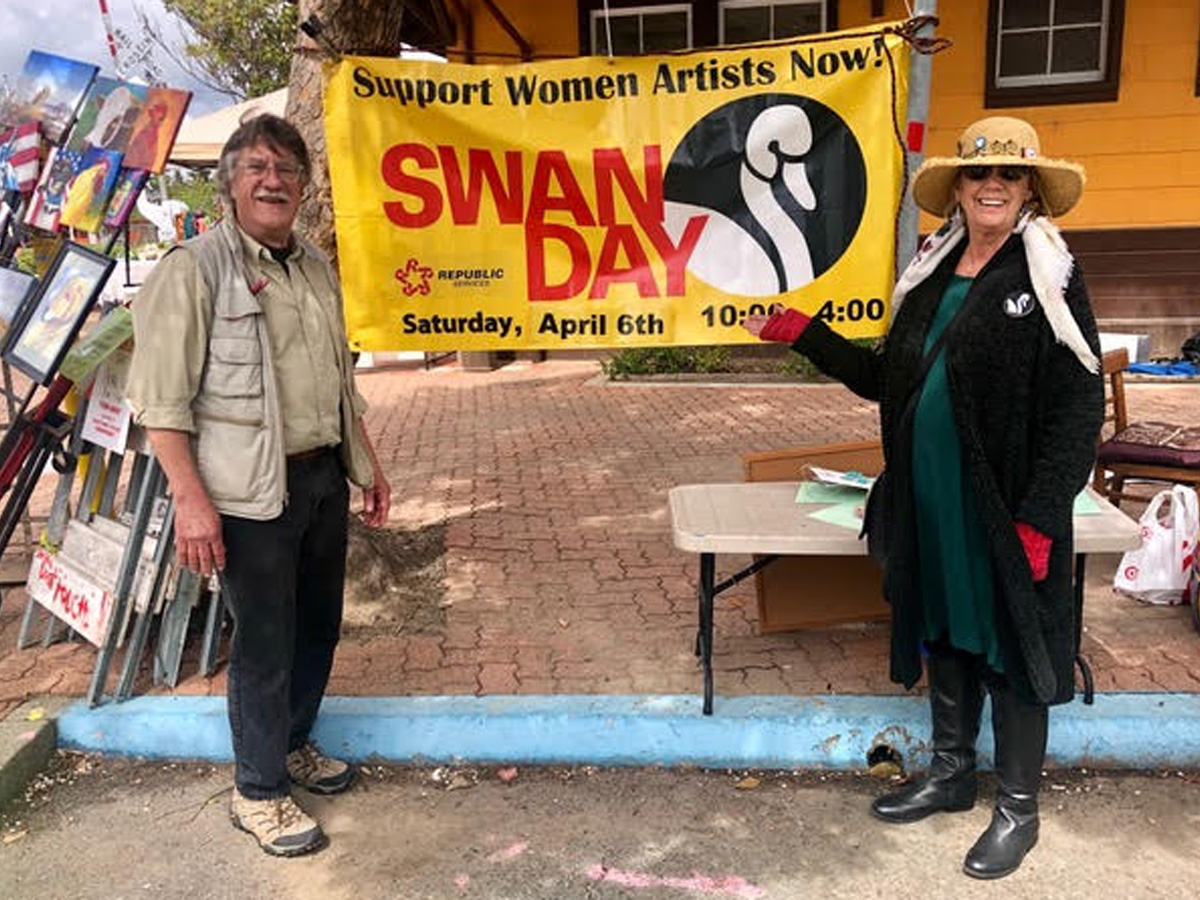 MARTINEZ, Calif. – When Maira Ayala, district representative for U.S. Rep. Mike Thompson, needed judges for the Fifth Congressional District's art competition, she called on two Martinez Arts Association members.
Both Julie Christopher and Vernon Sanders said yes.
Vernon, who owns Aldergrove Studios, has a degree in painting from the California College of Arts and Crafts and is a past president of the Martinez Arts Association and is on its Board of Directors in charge of membership.
He's also the special coordinator for the Association's biggest annual event, Art in the Park, has secured grants for the organization, and provides the Association with graphic designs. His work is in several private collections.
Christopher is a newer member of the Association, waiting until retirement to advance her artistic talent. She was encouraged by Association member Cathy Riggs, and has been enjoying the opportunities provided by the local art group. Her artwork has appeared at the Martinez Gallery, Art Cottage and Lafayette Gallery.
Ayala approached the pair at the recent SWAN Day celebration that honors women artists.
"Vernon had been judging art at many levels," Christopher said. "This was my first time."
The Martinez artists collaborated with two judges from Solano County as they examined submissions from high school students from throughout Congressional District 05, which includes schools in both Solano and Contra Costa counties.
The judges were free to use their own judgement, they said. They based their decisions on originally, quality of the work, composition, subject matter and a level of technical skills, the Martinez pair said.
Those entries were "varied and of a broad subject matter," the two agreed.
They also agreed on the work they liked best. "Vernon and I both honestly thought (the art of) Allison Patrick, a 10th grader at Alhambra High, was an eye-catcher," Christopher said. "Her caliber of art was most impressive."
The Solano County judges agreed. All four were tasked with picking the top five artists, and Patrick was a unanimous top choice.
That wrapped up the duties for Sanders and Christopher.
Patrick's entry now will compete against art chosen from other counties and a grand prize winner will be announced later.
This is part of the 2019 Congressional Art Competition that attracts entries from each district. Throughout the 50 states, United States territories and the District of Columbia.
Winning entries are displayed in the United States Capitol, and artists will be able to visit Washington to attend a national reception.