By DINA SPARACINO SCHULER
Contributor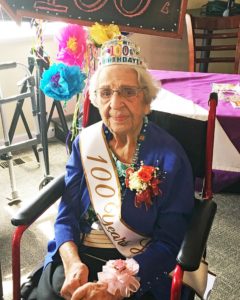 On Sunday, March 18th, family and friends celebrated the 100th birthday of Nina Sparacino. The Tavern has never before been filled with such excitement, joy and laughter. The family spared no expense in wining and dining the generation attendees and so many friends, the overflow filled the patio. Eddie Togonon serenaded Queen Nina and even baby brother, John Sparacino (97 years old) danced to the music. So many wonderful stories were told and Nina captivated everyone with the tales of her life.
There were four generations of the Sparacino family in attendance at Nina's birthday. The oldest being Nina at 100 and the youngest was Nina's great-great nephew Nunzio Sparacino who is five years old.
Nina attended Las Juntas Elementary, Martinez Junior High and Alhambra High School, graduating in 1936. She is an inspiration to our entire family and this great community. She is the oldest living graduate of Alhambra High School and arguably the oldest native Martizian. She was born in Martinez, CA 100 years ago on Escobar Street, where she and her 97 year-old brother John Sparacino have lived their entire lives.