By JOSEPH & JUDIE PALMER
Special to the Gazette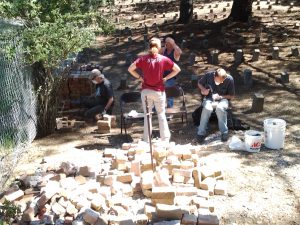 Ordinarily this column would begin where we left off with Aaron Rice's story; however Saturday May 12, marked the restart of our Potter's Field Restoration Project (PFRP) during the Alhambra Cemetery Spring Cleanup for 2018.
We last wrote about it this past October. In it we discussed our final work day of the year, site preparations for the upcoming rains, and shared our reflections of its birth on May 9, 2015 to cleanup, restore, and preserve the site. Over the course of the project, 70+ enthusiastic volunteers had given generously of their time, knowledge, and physical work, while others worked quietly behind the scenes gathering more recruits by spreading the word through social media.
Last year, the headstones of Nikolao Glaros and August Mueller had been removed, repaired and replaced by the Pan Ikarian Brotherhood Association and August Mueller's descendants. Members of E Clampus Vitus, Chapter 13 discovered the headstone and border of Ralph Vester Walker while also repairing the headstone of Aaron Rice alongside other project volunteers. Measurements for the Chinese Funerary Burner were taken and its brick foundation excavated.
During the dormant months of 2017-2018, a subcommittee formed to design the rebirth of the Chinese Funerary Burner and Altar Complex. The design drawings have been presented to all parties involved and hopefully we will break ground later this summer.
To begin the reboot, volunteers were treated to freshly brewed French Roast coffee, bottled water, packages of nuts, chips, and mandarins (provided by SOLS). Two volunteers brought extra cinnamon raisin bagels with honey pecan cream cheese to share.
Unlike the 2017 Spring Cemetery Cleanup, not much weeding was needed while fallen branches were easily removed by a few of our party. The main task of the morning was to remove the sandbags from the excavated chamber of the burner. While Joseph was removing a sandbag, a little green frog appeared and surprised him. We were very pleased he presented himself as frogs in Chinese culture are a symbol of good luck and new beginnings. After posing for a few pictures, he happily hopped away.
When the removal of sandbags was complete and branches picked up, all gathered to begin the Zen meditative art of cleaning brick. Though this art has been taught often for the past couple of years, the amount of indigenous brick is rapidly coming to an end. Should you wish to learn this art, it is best that you volunteer soon. We may only have a small amount of brick still buried in the silt for future meditations.
As the day went on, curiosity got the best of the passersby. While stopping to observe the art of cleaning brick, they were greeted by the new 2' X 6' signs reading, "Potter's Field Restoration Project, MartinezCemetery.org". Happy volunteers introduced visitors to the project as well as handed out brochures on the Martinez Historical Society, Martinez History Museum, and the newly created PFPR brochure.
The founders of the PFRP also created a new self-guided tour of Alhambra Cemetery's Potter's Field that is sure to please the most ardent of tombstone tourists. It includes the names and brief history of those that have been given a voice in this column. Inside you will find the stories of young and old immigrants who built our community by working for the railroad, shipping, farming, fishing, or building industries. The brochure also includes photographs that can lead you right to the decedent's gravesite. On project days, artificial flowers and other holiday decorations will be visible at each gravesite for better recognition.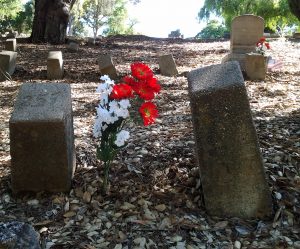 Fresh small American flags were placed on a few gravesites. One for Prussian immigrant and veteran August Mueller, who entered the military in 1867 and served as a private for Company K, 12 US Infantry during the Reconstruction Period after the Civil War. Another for 6' Texas born Ralph Vester Walker member of the U.S. Coast Guard Merchant Marines during World War II who was living in the Bay Area before being killed in a motorcycle accident in 1945. Lastly for Aaron Rice, a former African-American slave who received his freedom in 1860 and along with August finally gained U.S. Citizenship in 1870.
As always are heartfelt thanks go to our many participants, who gave so unselfishly a few hours of their time; Cathy Basen, Richard Blue, Amy Currie, Anneli Loeffler, Shauna Mundt, Chris Rousset, and Tamara Starr. Look for updates in our column as work progresses on the building of the new Chinese Funerary Burner and Altar Complex.
If you are a history buff or a tombstone tourist, you can find more information and request the self-guided tour brochure by visiting our website MartinezCemetery.org. Do you have a Potter's Field resident story to tell? We welcome any pictures or information on anyone or anything regarding Potter's Field. Please email us at martinezcemetery@gmail.com or call us at (925) 335-9396.