By JOSEPH & JUDIE PALMER
Special to the Gazette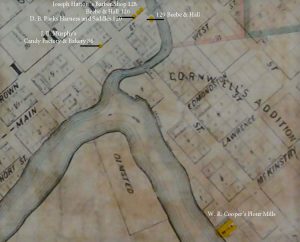 To recap Aaron Rice and his family's story since they gained their freedom, we created a list of the important events we have covered to date. We started with their first Holidays as free people in 1860, the loss of their son Lewis in 1862, the Civil War from 1861 – 1865, their founding of the Napa AME Church in 1867, and finally the ratification of the 14th and 15th Amendments to the U.S. Constitution giving them full citizenship in 1870. In this iteration, we will highlight their relative peace, prosperity and happiness from 1860 – 1873 with additionally discovered information and events.
Despite all of them living through enslavement and the dysfunction of William Rice, there was some positives to come out of their trauma. First, they had miraculously remained intact as a family, an uncommon occurrence for former African-American Slaves. Second, they had each gained valuable skills from their forced labor. Both of these factors allowed them to not only survive but also thrive in their new home in Napa, California.
The United States Census 1860 Agricultural Schedule 3 shows the previous owner of their 160-acre farm, William Russell (also African-American) did not fulfill the requirements of the Homestead Act by making the necessary improvements. Therefore William sold the property in foreclosure for $100 to Robert and Charlotte. In order not to lose the land themselves, the Rice family had to cultivate crops, and within a couple years build a dwelling.
From a letter to the editor of the Pacific Appeal dated Sep 1, 1862, Den Nottah gives a peak into the Rice's community. He states, "The number of colored persons in this city and county is 43. I propose to show their occupations: There are 8 farmers, 2 blacksmiths, 2 carpenters, 3 barbers, 5 wood speculators and poultry dealers, 4 jobbers. There are 13 families; 9 of whom own the houses they live in. Mr. Wm. Scott of this county, has raised, this year 3000 sacks of wheat; Geo. W. Holman 2200; John Sinclair 1700; A. Rice 460; the rest from 150 to 325 sacks. Mr. Sinclair has about 40 head of horses and cattle; Mr. Scott 55; others from 8 up to 20."
Aaron and Nathaniel would have done most of the wheat harvesting and preparation for its milling. On a good day, they would have used their horse drawn wagon to travel the dirt roads back into town hauling Robert's grain. They potentially left it with W. R. Cooper's Flour Mill on the corner of Water and McKinstry.
As they turned on to Main Street, they might have dropped in J. B. Murphy's Candy Factory and Bakery (86 Main St.) and visited their friend, Joseph Hatton at his barber shop (128 Main St). They might also have visited Beebe & Hall (126 & 129 Main St.) or D. B. Parks Harness and Saddles, established in 1852 (120 Main St.) for horse equipment repairs.
Along the way they would have viewed the Amelia (1860-1870), a 174-foot steamboat, dock in Napa, delivering the San Francisco Elevator and Pacific Appeal newspapers, dropping off and picking up passengers, local grown products and other goods. Additionally they would observe the Napa Valley Railroad (1864-1869), the first train to run through Napa, bringing additional visitors, settlers, news, and profits, which also increased Robert's property value.
Once enough time had passed, they would return back to the mill for their flour, which they then sold locally, to exporters, or kept for personal use. From which Charlotte and Dilcy would then create baked goods for themselves and for sale at market.
Examining U.S. Census data can tell you a lot about an individual and their family. From the United States Census, 1870 it lists the Rice's under "Dwelling-house" number 576. From the Ninth Census, 1870 Instructions to Assistant Marshalls, a dwelling house meant, "a house standing alone or separated by walls from other houses in a block."
Their "Family Number" is 532, which means all individuals listed under No. 532 live together as family. The first "Head of Household", shows Robert, Aaron's father, aged 70, followed by Dilcy aged 74, Aaron aged 49, Nathaniel aged 24, and Charlotte aged 58.
Under occupation, Robert is a "farmer", defined as someone who owns farmland. Dilcy as "keeping house", defined as a woman, "keeping house for their own families or themselves without any other gainful occupation." Aaron and Nathaniel are "laborers", defined as employees, thereby meaning they were employees of Robert. Charlotte has "no occupation."
The next two columns lists property and personal estate value. In the Ninth Census manual, it states, "…farms for the purposes of the Agricultural Schedule include all considerable nurseries, orchards, and market gardens which are owned by separate parties which are cultivated for pecuniary profit, and employ as much as the labor of one able-bodied workman during the year.
…no farm will be reported of less than 3 acres, unless five hundred dollars' worth of produce has actually been sold off from it during the year."
Robert's column lists his property value at $1,000 ($17,000 today) and his personal estate (furniture, vehicles etc.) at $600 ($9,000 today). Since, Aaron's columns are left blank we can assume he didn't own anything. However, Nathaniel has a personal estate of $200 ($3,000 today). Perhaps he owned a cow?
Their births are listed as follows, Robert, Dilcy and Aaron in North Carolina, Charlotte in Virginia and Nathaniel in Missouri. Additionally only Robert's parents are listed as foreign born, which means they were brought here on slave ships.
The Census also asked about literacy. Aaron and Charlotte were never taught, Robert and Dilcy could read somewhat but not write, while Nathaniel had the opportunity to learn both. Last note, it is also the first Census listing Robert, Aaron and Nathaniel as United States Citizens.
From the March 18, 1871 Napa County Reporter, listing all places of worship was an announcement that read, "African Methodist Church, Washington St. — Rev. Robert Rice. Preaching every Sunday at 11 o'clock a.m., and 7 1/2 p.m. Sunday School at 2 1/2 o'clock p.m., Nathaniel Rice, Superintendent." As a family, they would leave their farmhouse together on Sunday mornings and head to their church to fulfill their spiritual obligations.
On November 14, 1872, the Rice's gained another member as Nathaniel married Rebecca Donzel. They applied for a marriage license that day at the Napa County Court House and not waiting to get married were joined in matrimony by the Rev. G. W. Ford a Baptist Minister. He was on hand to perform their wedding with the County Clerk acting as the witness. This raises the question, why were no family members present? Perhaps they were fearful their families would object?
Their wedding announcement appeared in the Elevator on November 23, 1872. It stated, "Married! In Napa City November 14, by Rev. G. W. Ford, Rev. Nathaniel Rice and Miss Rebecca Danzel." In 1872, their marriage was the 311 registered in Napa County.
For more information, or to volunteer with the Martinez Historical Society's – Potter's Field Restoration Project, please visit our website. Please email us at martinezcemetery@gmail.com or call us at (925) 335-9396.
Due to its immense popularity the Martinez Historical Society has extended the viewing of its exhibit titled "Celebrating the Women of Martinez", created and curated by Mary Goodman. It will remain on display through April 29, 2018 during regular museum hours and for specially scheduled tours.

Martinez Museum – 1005 Escobar Street, and corner of Court Street. Open Tues and Thurs 11:30 a.m. to 3p.m. First 4 Sundays 1-4 p.m. 925-228-8160; www.martinezhistory.org.

Contra Costa County History Center – 610 Main Street, Martinez. Open Tues through Thurs, 9 a.m. to 4 p.m.; 3rd Saturdays, 10 a.m. to 2 p.m. 925-229-1042; www.cocohistory.com.