Vincent Joseph Graziano
Nov. 12, 1929 – Oct. 10, 2019
Resident of Martinez, Calif.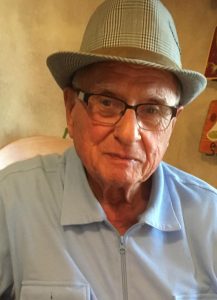 Vince, age 89, passed away on Thursday at his home, in Martinez, CA. He was born to parents Salvatore and Margaret, in San Jose, the family moved to Martinez 10 years later. He graduated from Alhambra High School in 1947. He spent the bulk of his career at Shell Oil Martinez Mfg. Complex, where he worked for 42 years. Vince was a loyal family man and a loving father. He married Gerie Delevati of Martinez in 1951. Vince was a hard working, active man who enjoyed family life and hobbies like, gardening, fishing, woodworking, cooking, camping, and coffee with his buddies. He will always be remembered as a steady, loyal, and thoughtful person.
Vince is survived by his four children, Rick (Roxie) of Sonora, CA, Nick (Tammy) of Martinez, Natalie of Martinez, Gina (Christoph) Graziano of Forestville, CA. He also had six grandchildren and five great grandchildren. He was preceded in death by his beloved wife, Gerie, his brothers Sal and Joe and nieces Lacey and Rosie.
A viewing is scheduled for 4 p.m. to 7 p.m. on Wednesday, October 16, with a funeral service at 10 a.m., October 17, both at Connelly and Taylor. All are welcome to attend and celebrate Vince's life. The family would like to thank Hospice of the East Bay and Senior Helpers for all their caregivers and beautiful support. Flowers are welcome or donations can be sent to Hospice of the East Bay or The Alzheimer's Assoc., www.alz.org.