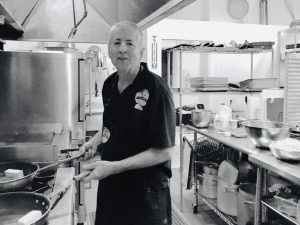 MARTINEZ, Calif. – The Haute Stuff restaurant on Main Street has been surreptitiously under construction since May, when Chef David Krider purchased it from the retired previous owner.
"Now I am really almost ready to invite the (Martinez) Chamber (of Commerce) to the official Ribbon Cutting on Oct. 24," Krider said with a grin.
The restaurant has been in business for about 20 years, with slight changes in the menu over time. The favorite menu items that Haute Stuff clientele have come to expect remain, but there has been a transformation in the open kitchen.
Gone are the wooden cutting table, the public trek through the kitchen to the restroom, and the dusty out-dated decor.
Krider explained, "I painted everything white and bright, even the trim out front. There are new flower boxes with fresh flowers, a new tile floor and a stainless steel kitchen, including a new stove."
"Probably the most important improvement is the new griddle," he stated. Krider looked like a kid with a new toy as he described how he has been able to add breakfasts, grilled bacon and cheeseburgers and other grilled items to existing popular sandwiches, salads and interesting dishes, such as chicken quesadillas, to the menu.
"I can be open more, soon. I was using the closed hours to work on the improvement projects," Krider remarked. "I have been open Monday through Friday from 10:00 a.m. to 2:00 p.m., and on Sunday during the Farmers' Market," he said. "Now I can offer pancakes, breakfast burritos, and other breakfasts until 11:00 a.m… In two weeks, I will open up on Friday nights."
Krider is a 40-year graduate of a few classes and the school of restaurant cooking experience. His beginning years with the San Diego Commissioned Officer's Club in the United States Navy were followed by working as a personal chef, ownership of other restaurants, developing his successful catering business, restaurant consulting, and now he is breathing new life into Haute Stuff.
He said he even worked for the previous Haute Stuff owner intermittently over the past 20 years. Krider still operates the All Occasions Catering business that he started in 2001, and is thrilled with being able to use the newly remodeled kitchen at Haute Stuff for both endeavors.
Although born and raised in San Pablo, Krider considers Martinez and Pleasant Hill his home since living and working in this area for the past 30 years.