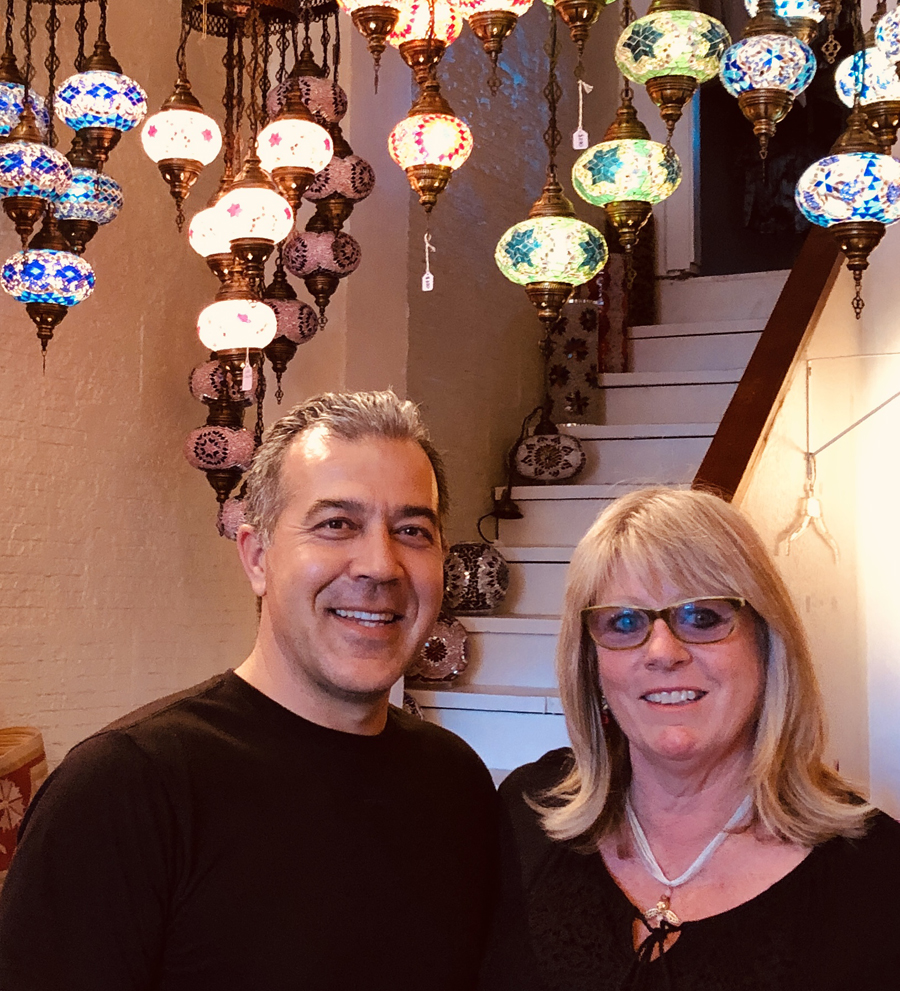 MARTINEZ, Calif. – A peek in the door transports one a world away to Turkey. Curtains of spiraling colored glass lights cascade from above. Textured carpets, woven pillow covers, and handcrafted boots and bags line the walls of this unusual store.
Always smiling and naturally personable, Tuncay and Michele Esener are unique as their shop, Pandora's Box.
Reportedly, Michele chose the business name in 2009, just in time for the "great recession" that hit the United States, then spreading to Europe and elsewhere. "It comes from Greek mythology," she said. "To me it means hope…. It's kind of interesting, mysterious. For some reason, after that, there was suddenly Pandora on the radio and other places."
They opened a store briefly in Martinez, but Tuncay realized that his Turkish jewelry business partnership needed some resolution. "It was not the same with me out of the country," he said.
Tuncay went back to Turkey to settle his business affairs and solidify contacts for the new business. They kept Pandora's Box going with the development of online, and wholesale business at trade shows, especially the bi-annual one in Tuscon, Arizona.
The store contains intricately designed, hand made ceramics, beautiful and well-priced enameled and etched copper earrings, a large assortment of handcrafted boots and handbags, distinctive necklaces that recall ancient designs, and much more. The same sorts of items can be purchased online.
Michele returned to her former profession, taking a position at AAA as a travel agent, and Tuncay even worked for UPS at times, all the while sustaining the business which grew stronger with time. "I learned a lot about how business works here," he recalled.
Two years ago, the couple leased the space on Main Street and Michele retired from the travel agent business.
"So many of our customers are repeat and referral," Tuncay observed.
Although Tuncay Esener says he enjoyed being in the United States for 10 years, he remains as attractively Turkish as his merchandise. His eyes light up when he begins to describe buying trips. "I don't just go to wholesalers. I go to the villages. I can watch how they work," he remarks.
Pandora's Box is reminiscent of shops one might find in Los Angeles or San Francisco.