By CHARLIE JARRETT
Special to the Gazette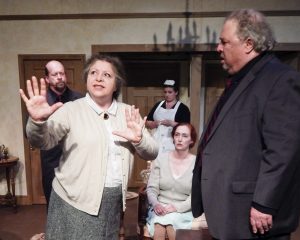 If you haven't been to the Martinez Campbell Theater this past weekend, then by all means pay attention, because their current show, A Murder is Announced, is a robust and delightful Agatha Christie murder mystery. The Plot Line theater company, one of the newer theater companies currently presenting their works in this delightful little theater in the heart of Martinez, has ferreted out a very experienced, talented, and hard-working cast, for this highly successful British comedy.
In 1977, playwright, author and screen writer, Leslie Darbon, adapted Dame Agatha Christie's very popular 50th anniversary book, entitled A Murder is Announced, into a stage play. It is Miss Darbon's Sterling adaptation that you will see in this intriguing community theater production in Martinez. The original Agatha Christie book was written 27 years earlier, in 1950, and featured one of Christie's amateur sleuth detectives, Miss Marple. It has been considered for a number of years by many mystery aficionados as a classic true crime novel.
Author Agatha Christie is one of many British playwrights whose work I've often enjoyed in theatrical productions. I had not seen this particular play, and was seriously looking forward to it when Karen and I and a couple of friends stopped by the Martinez Campbell theater this past weekend.
The story takes place in Chipping Cleghorn, a fictional Agatha Christie community somewhere in England, where a curious classified notice has just been published in the local daily newspaper announcing that a murder will occur in Letitia Blacklock's (Sally Hogarty) home, also known as "Little Paddocks", at 6:30 PM on that same day. Miss Blacklock resides there with her younger cousins, Julia Simmons (Clarisse Nichole) and Patrick Simmons (Joseph Saam), and a former school chum, Dora Bunner (played by Gretchen Lee Salter). Dora, or "Bunny" (as she is more generally known by her nickname), is a particularly quirky, over anxious, and delightfully engaging individual who can hardly restrain herself from sharing gossip or other interesting information to anyone within earshot. When Bunny discovers that a curious and worrisome article has just appeared in the newspaper, she immediately panics, running around like a chicken acting as if the sky is falling! Curious neighbors, Mrs. Swettenham (Kim Doppe) and her son Edmond (Frederick Winder) had also read the advertisement in the newspaper and stopped by the home in the late afternoon asking Letitia if the strange announcement in the paper is some kind of joke or perhaps a game. They also ask if anyone in the home is concerned. Letitia seems to pass it off to everyone as some kind of crude joke, probably of little or no significance. The assembled neighbors and family members alike, share their humor and concerns over a glass of wine in the drawing room as the designated time approaches. Suddenly, as the clock on the mantlepiece rings out the time, there is a flash of light and the room goes completely dark, followed by the external door opening with the dark figure rapidly entering, waving a gun and demanding that people raise their arms. Shots ring out – – and the evening mystery begins.
The principal characters in the play also include Police Inspector Craddock (Randy Anger), his Sargent assistant (Jim Kilpatrick), and a very effective amateur sleuth, Miss Marple (Melynda Kiring). In addition, there is a kitchen servant and household maid by the name of Mitzie (Christina Boothman), and another employee/friend, Phillipa Haymes (Kaitlyn Brennan), who also contribute significantly to the storyline. There are many seemingly nonsensical assumptions made by the lead investigators, that is, until the astute Miss Marple and clever Inspector Craddock put their heads together and dig deep enough into some family letters that finally unearth hidden information on one member of the household, who is the murderer!
The acting is quite superb all the way around with Melynda Kering, Sally Hogarty and Randy Anger getting top accolades. Not far behind, we thoroughly enjoyed Mitzi's paranoid madness and Bunny's frantic panic and over-ambitious sharing of information. The set is exceptionally well designed, decorated and presented by Diane McRice, but then again, Diane's work is always superlative. Costume work by CC Cardin is to be noticed.
The Plotline Theater is a newer production company that is now in its second exciting season. The managing director, Randy Anger, is the company's Artistic Director and Producer, a gentleman whose work I've enjoyed for probably 30 years. Company Producer and Director Matthew Davis, is both the Artistic Director and the director of this play at the Campbell Theater. The show is presented by Plotline Theater Company, but sponsored by Onstage Repertory Theatre and their management and production team, including Mark Hinds, Todd Drummond, Randall Nott, John Lytle, and Jim Maher.
This is a very entertaining show that has lots of twists and turns and will keep you glued to the edge of your seat right down to the last second. It is a show that should absolutely not be missed. All the recent hard work is paying off and really making this intimate theater a very worthy entertainment venue for the citizens of Martinez.
A Murder is Announced continues Thursdays at 7 pm, Fridays and Saturdays at 8 pm and with Sunday matinees at 2:30 pm, now through Sunday, May 26th. Ticket prices are very reasonable at $22 for adults and $19 for Seniors and Students (age 19 and under). The Campbell theater is wheelchair accessible and located at 636 Ward St. in Martinez, CA. For tickets, go to www.brownpapertickets.com or call, (925) 350-9770 or visit www.campbelltheater.com.