These pets are available for adoption from the Contra Costa County Animal Services shelters.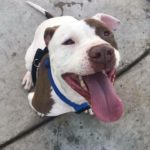 Nacho, No. A0910764, is a willing companion who is ready to accompany someone in any activity. He's described as a 3–year-old, easygoing lovebug type of dog who is happy to do anything so long as a human companion is involved. He likes playing with toys, cuddling and going on walks, which he does nicely on a leash, although he can hop like a bunny, too..
He has been at the Martinez shelter for four months, so his adoption fee has been dropped to $20 to qualified homes.
Bonnie, No. A9016365, about 13 and spayed, also is at the Contra Costa Animal Services shelter in Martinez waiting for a new home.
Shelter staff, in writing about and for Bonnie, said, "Kittens can be cute but they're also a bit of a pain in the behind. They never sleep, they climb the drapes, and fly around the house at all hours like monkeys on Monster Energy drinks. They're not sophisticated and can barely hold a conversation about important matters like the various strains of fine catnip, and what the neighbors have been doing all day while you're at work."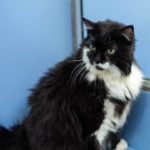 Bonnie has a stellar personality, is a champion lap cat and is a great listener, with kittenish shenanigans well behind her. Photographs are available at https://www.facebook.com/hashtag/a0916365?source=feed_text. He is in Get Acquainted 2 room at the Martinez shelter, 4800 Imhoff Place. Because she is older than 5, she is available for adoption for $5 to those 55 and older.
In addition, the county animal services department would welcome donations of pet treats.
"We use treats with our shelter pups for enrichment, and to teach them behavior cues," Jenny Thornburg, spokesperson, said. "Currently we're out of treats for our shelter pups and could really use more." Donors may give unopened bags of treats to either the Martinez or Pinole shelter during their open hours. Donors also may contribute through the department's Amazon wish list, available online at http://www.co.contra-costa.ca.us/849/Donate-for-the-Animals.
Those interested in seeing all available animals and learning about the two county shelters and what Contra Costa County Animal Services offer may visit the site www.ccasd.org.
Contra Costa County Animal Services has two locations. The Martinez Shelter is at 4800 Imhoff Place, and the Pinole Shelter is at 910 San Pablo Ave. Hours are 10 a.m. to 5 p.m. Tuesdays through Saturdays and 10 a.m. to 7 p.m. Wednesdays. The Martinez location has Sunday adoptions from noon to 3 p.m.