These animals are available for adoption from Contra Costa County Animal Services, which has a special in November. It is offering any dog weighing 25 pounds or more for an adoption fee of $25.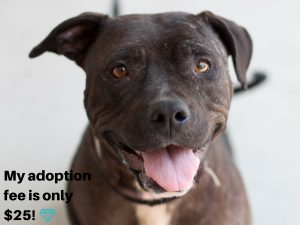 Dory (Petharbor ID No. A0923834) is a dog that loves water. She'll even take her toys into the water with her, and she's fun to watch her play with her toys in a pool.
Available at the Martinez shelter, Dory is about 5 and is a spayed female black and white pit bull terrier mix. She has been at the shelter since July 31. She is an affectionate dog that enjoys a good romp and also is easy to take on walks.
Tom, (Petharbor ID No. A0925002), in Cat Room 3 at the Martinez shelter, is about 7 and is neutered and is ready for his new home. His adoption fee is only $25.
Shelter employees have a soft spot for Tom because he is a shy cat who is FIV positive. Those who spend time with Tom realize he's a deep and sensitive creature worth the time and patience. He is black with two little white toes and a patch of white on his belly.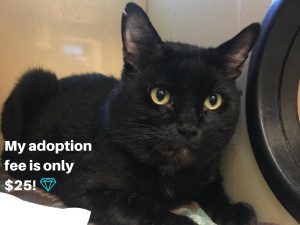 So far, Tom hasn't had anyone interested in him because he is scared and stays hidden on the side of his cate. But he loves treats and appreciates gentle head scratches and has become a little more forward for a bit of tasty wet food. He's been at the Martinez shelter since Aug. 24.
Tom will need someone who can see past his timid exterior and will have the patience and faith that he will form a bond with the person who earns his trust.
Tom has tested positive for Feline Immunodeficiency Virus (FIV, which is not transmissible to humans or dogs. It is difficult to give to other cats, because the usual method of transmission is through deep, penetrating bite wounds, according to the staff. FIV may weaken a cat's immune system and make him more vulnerable to illness, but recent studies indicate that most FIV-positive cats who live a safe, indoor life and have a healthy diet can live normal lives in terms of health and longevity.
Tom's profile and videos are available at http://petharbor.com/pet.asp?uaid=CCST.A0925002.
Contra Costa County Animal Services has two locations. The Martinez Shelter is at 4800 Imhoff Place, and the Pinole Shelter is at 910 San Pablo Ave. Hours are 10 a.m. to 5 p.m. Tuesdays through Saturdays and 10 a.m. to 7 p.m. Wednesdays. The Martinez location has Sunday adoptions from noon to 3 p.m.