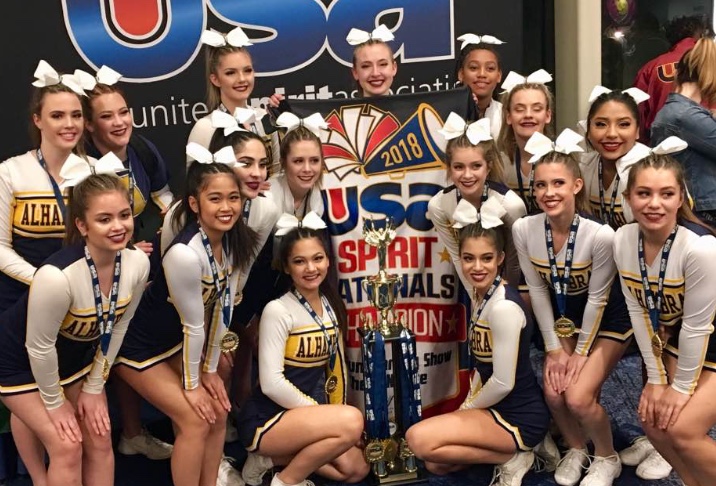 Despite challenges that got the team out to a late start, the Alhambra Varsity Competitive Cheerleading Team has won the recent USA Spirit Nationals cheerleading competition in San Jose, a team spokesperson said.
It's the first time since 2009 the team has returned from the national contest with the first place award, said Marcy LeBoeuf, chair advisor for the team coached by Erin Chin and Alyssa Aguilar Fernando.
The road to this victory has had plenty of bumps, LeBoeuf said. The competition team was formed in August 2017, but didn't start practicing until November, to get homecoming out of the way.
They participated in what LeBoeuf called "little things" – a camp for Martinez youth Football and other events, but that wasn't the type of training that this level of competition would require.
Formal training requires attention to learning new and challenging choreographies, because part of the routine is cheering, part of it is dance and a good portion of the performance involves gymnastic abilities.
Makeup of the team kept changing, and then came flu season, she said. "Every time we would meet with the choreographer, it was a different team," she said.
The team began knuckling down to learn from Jeff Benson, of Body Mind Cheer of San Francisco, who designed the presentation the students needed to practice.
And they practiced – two to three times a week, three hours each evening, LeBoeuf said. When Benson presented them with challenges – or thought some of the girls might decide to give up – the squad surprised them.
Sometimes Benson thought he was working the students so hard, they'd ask for breaks.
"Not this team," said LeBoeuf.
"They had a goal. They knew what to do. They had a goal-oriented mindset, and they were extremely focused," she said.
They realized they had to work harder when they came in second in their first contest, penalized for dropping a stunt.
The team got a glimpse of how their hard work might pay off when they entered the Cheer Gym Spectacular, a contest that took place in December 2017 outside of Sacramento.
They walked out as grand champions, with the best scores among all divisions – small, medium, large, novice, intermediate and others.
In the next contest in Deer Valley, the team tied for first.
Cheerleading competitions require more than standing on the sidelines, encouraging sports fans to yell for their team.
Competition teams are judged on building and executing stunts, formations such as pyramids that demonstrate the girls' skills and dexterity. They also are graded on building creativity, which are the transitions from one type of stunt to another, how the formations are built and how fast they're accomplished and its complexity.
Cheerleaders also are judged on "catch and release" – when one of the members is thrown in the air and is caught.
Cheer sections of the performance are graded on showmanship, practicality, use of such props as pompoms and signs and the techniques the squad uses.
One segment of the performance is musical, which requires the cheerleaders to dance in unison. Other segments involve tumbling and other gymnastics.
"How does it look? Is it engaging the crowd?" LeBoeuf said. That's what the judges are asking. They also are seeing whether moves are sharp and well timed, if the synchronized portions truly are done in unison, how the cheerleaders are spaced on a mat and how difficult each element is. A perfect score is 105.
Going in to the national contest, LeBoeuf said, "I thought we were in really really good shape. " But when a team enters at the national level, they face competitors they haven't seen before, from other states.
Judges can be particular, too. "You don't always have an idea what you're getting into," she said. She wasn't sure about the team's chances when she watched 21 teams in the preliminaries.
"I'm like, 'These teams are really good!'" she said. Still, Alhambra resolved to go do its best.
The girls had a goal to "make the podium" this year. Last year they came in fourth after making it to the finals, but needed to be third or better to take home a medal.
As the teams were narrowed to the finalists, the Alhambra girls heard team after team named. Finally they were called last. Then they saw their scores – the announcers had saved the best for last.
"We were first," LeBoeuf said. And on the final day, they kept that first place standing.
LeBoeuf has been around cheerleading since her 28-year-old daughter was 3. She knew this team was special.
"It was their determination," LeBoeuf said, recalling the Kevin Costner movie, "For the Love of the Game." In it, Costner plays a pitcher who wants to end his career with a victory and finds himself in the middle of a perfect game. His teammates come up and tell him, "We got you. Just pitch."
Each girl on the squad felt the same, she said. "That was what this team was like. They would not let anything happen. They fought on the mat. They would think, 'How do we get together?' They would not allow anything to fall. They had each other's back. As a result, this was the team every coach dreams about.
"They were extremely focused. They had a growth mindset, and if you got hung up with something, you'd look at it from multiple perspectives, grow and get better," she said. "They had mental toughness. I'm so proud of them."