MARTINEZ, Calif. – Where should additional air monitors be placed in cities that are home to oil refineries?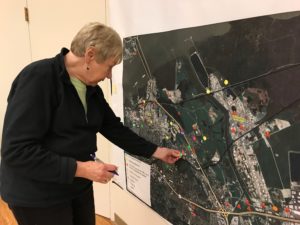 A series of Bay Area Air Quality Management District workshops is letting the public answer that question.
Those workshops already have sought answers in Richmond and Martinez, and upcoming sessions will give Rodeo and Benicia residents a chance to put dots on a map or to learn how to contribute their thoughts online.
The air district knows about regional-level air quality, said Eric Stevenson, director of measurement and meteorology. Among the monitors already established is one in the Alhambra area, as well as in Concord and Rodeo.
"We know a lot about monitoring and technology," he said during the presentation in Martinez Thursday night. "But we don't know local conditions."
That's why the district organized the workshops. "We need to expand the monitoring program to identify local elevated air quality concentrations – in neighborhoods, not in the region – and to identify persistent and intermittent 'hot spots' and to determine contributing sources."
The air district governs stationary pollution sources – the California Air Resources Board governs mobile sources, such as vehicles. Bay Area Air Quality Management District requires continuous emissions monitoring of refinery stacks, as well as ground-level air, to determine how quality changes long-term.
In addition, new regulations require fence-line monitors that should be installed within the next two years and will detect chemicals that drift pass those boundaries.
During specific incidents, such as the Santa Rosa fires, mobile units can be sent out and set up to determine whether air pollution is dangerous.
Depending on how the monitoring is done and what is found, the data can be used to request a refinery or other pollution source correct or mitigate a problem, or it may lead to citations and fines.
Sometimes the information leads to new regulations designed to protect the district's air.
But the agency wants to find other places that would be good sites for additional monitoring, such as areas where those vulnerable to air pollution might live, work or play, he said.
Each session has what Stevenson calls "Air Monitoring 101."
"Pollution is affected by the natural background," such as highways where cars and trucks travel. And there are certain chemicals that the district expects to find in certain areas. In the case of refineries, it knows to look for sulfur, he said.
The atmosphere and weather conditions affect pollution, too, he said. For instance, smog and ozone are the result of chemical reactions in the atmosphere, he said. Other impacts are the use of fireplaces or other fires and land topography that affects air movement – encouraging wind speed or direction, or as in the case of valleys, creating a concentration of air chemicals in a glorified land bowl.
"Pollution is complex, and it changes widely," he said. A graphic he showed at the Thursday workshop illustrated widely fluctuating air conditions at a single site.
The air district wants to know what residents are breathing, he said. But its approach to monitoring is more focused than finding out "what's out there." Monitors must be close to a source that produces unique chemicals, he said. Being close to a freeway would produce different results than those near a refinery.
After explaining how monitoring works, air district representatives invited residents to put dots on an aerial map, and directed them to the Open Air Forum portion of the district's website if they preferred to comment online.
Those interested can visit the website baaqmd.gov, click on "In Your Community" and then "Open Air Forum," to show a list of topics. They should choose Refinery Community Monitoring Survey, which will give them an opportunity to look at additional topics and send their comments and recommendations to the air district.
The next workshops will be at 6 p.m. to 8 p.m. March 1 at the Lefty Gomez Recreation Center, 470 Parker Ave., Rodeo, and 6 p.m. to 8 p.m. March 5 at the Veterans Memorial Building, 1150 First St., Benicia.