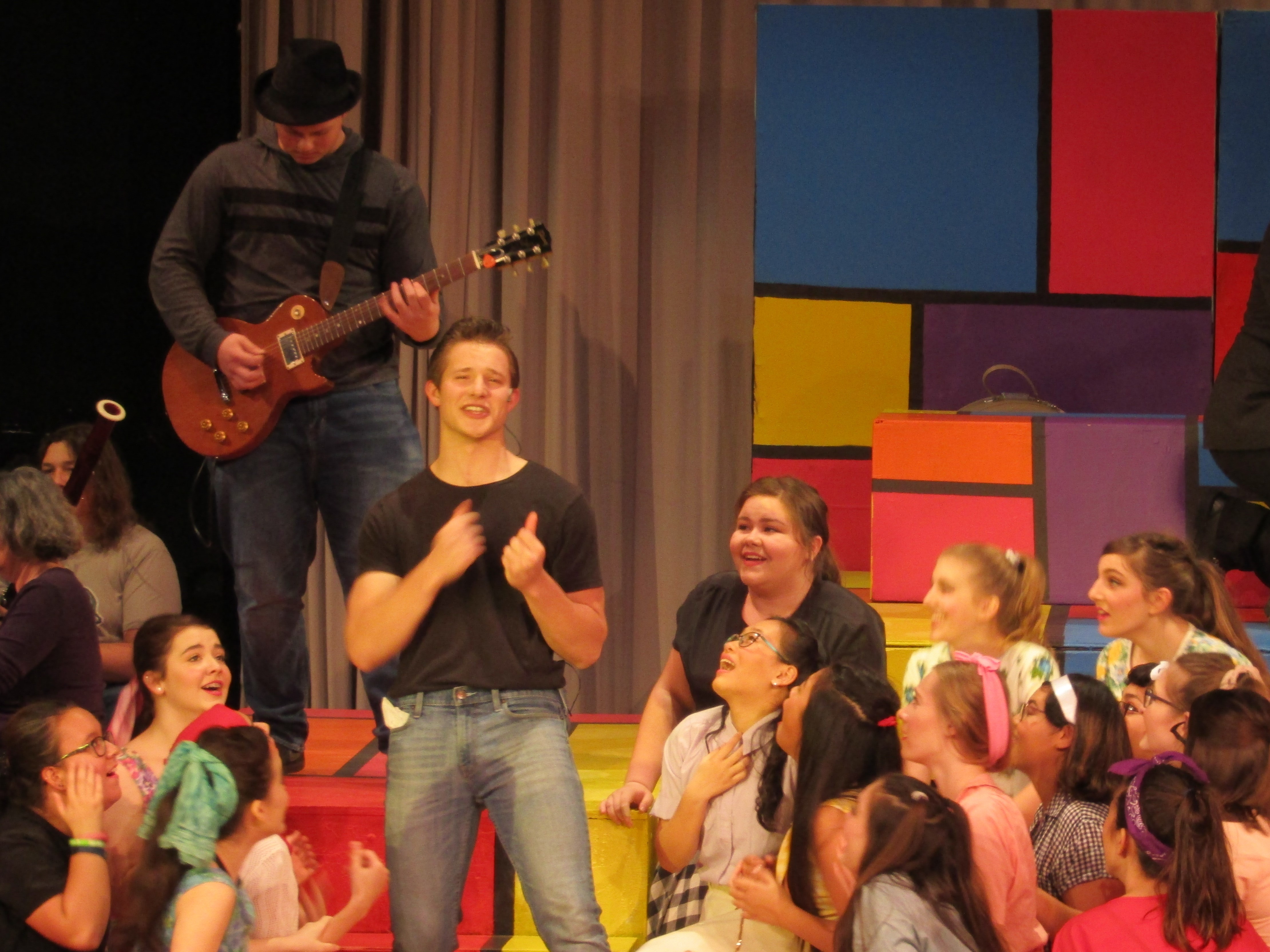 "Kids!
I don't know what's wrong with these kids today!
Kids!
Who can understand anything they say?…
Kids!"
Kids? Have we got kids!
Right here in Martinez and they are going to amaze and razzle dazzle you next week on the Alhambra High School stage! Live musicians! Period costumes! Colorful sets! Show stopping song and dance numbers! Throw into the mix a Rock star, a sweet young thing, Ed Sullivan, a couple of jealous lovers, and an over bearing mother and you have all the ingredients for an evening of madcap entertainment.
Alhambra High School's 2019 spring production is "Bye Bye Birdie," a Tony Award – winning show that opened on Broadway in 1960. Lyrics by Lee Adams, music by Charles Strouse, and book by Michael Stewart.
The story opens in the 1958 New York City office of Albert Peterson, an in-debt song writer, and former college English major. His hopes of writing one more money-making hit song for his client, Conrad Birdie, are dashed.  Conrad Birdie, superstar teen idol, has just been drafted into the Army.
Enter Rosie, Albert's long-suffering secretary/not-yet-engaged-to girlfriend. Rosie devises a last-ditch publicity stunt to save the day. If it works, Albert's financial crisis will end, Albert will finally marry Rosie, and then Albert will become the English teacher he was always meant to be!
"Gray skies are gonna clear up,
Put on a happy face!
Brush off the clouds and cheer up,
Put on a happy face!"
The plan is for Conrad to record a new song written by Albert and perform it before the rock star goes overseas. (If it sounds like a familiar story, you would be correct. This musical was inspired by the real Elvis Presley and his draft notice into the Army in 1957.) While Albert writes the block buster song "One Last Kiss", Rosie picks a teenager from a Conrad Birdie fan club to receive that last kiss, live, on the Ed Sullivan Show.
Imagine a small town in the midwest in the year 1958. Adults were first noticing that adolescents were dictating trends in fashion, music, film and more. Rock and Roll was in its infancy. "Teenager" was still a new concept. In that small town of Sweet Apple, Ohio, young Hugo Peabody has just pinned his sweetheart, Miss Kim MacAfee. Now that she is going steady, Kim decides she is too grown up to belong to the Conrad Birdie fan club. Kim decides to quit the club. Her friends are aghast!
Kim sings "One boy, One special boy, One boy to go with, To talk with, And walk with…"
But then Kim gets that fateful phone call from New York telling her that she, Miss Kim MacAfee of Sweet Apple, Ohio, has been chosen to get that "One Last Kiss"! Hugo will just have to wait. Sweet Apple, Ohio will never be the same.
"Oh, one last kiss,
Give me one last kiss,
It never felt like this,
No, never felt like this,
You know I need your love.
Oh! Oh! Oh!"
Oh! How will it end!? Will Conrad Birdie or Hugo get the girl? Will Ed Sullivan sing an aria? You'll never know unless you come to the show.
Putting on a play takes an amazing feat of energy, dedication, and talent by numerous people. Students, parents, guardians, teachers and staff put in countless hours to direct the actors, coach the voices, lead the orchestra, choreograph dance numbers, sew costumes or build sets. The Alhambra Drama Foundation (or "Drama Mamas") do so much for the program, fund-raising to pay for much needed supplies, and providing drama scholarships.    It's a three-ring circus weaving its magical acts together to form one seamless show, the inner-workings transparent to the audience.    
The dress rehearsal is where you first see the magic come together. After months of memorizing lines, building sets, making costumes and attending rehearsals, its time to blend it all into one cohesive piece of brilliance.
In the light and sound booth at the back of the theater sits Elam Bender, a junior at Alhambra. He is a "light technologist". When asked if he ever wanted to be an actor, Elam replied that he didn't. Being a technician was exactly what he wanted to do. "It's a great place for a person who doesn't want to be in the limelight but wants to be part of the show."
Amaya DeShasier, sound technician, agreed with Elam as she attached a mic to Jonah Leib who plays Randal, the kid brother. Ms. Sara Stafford, costume and tech Goddess, has taught her students well.
On stage, the musicians, organize their music and tune their instruments. under the baton of Ms. Julianna George, music teacher for both Martinez Middle School and Alhambra High.
Backstage, the actors are in costume, having attended to a last-minute tuck here and a little more make-up there. "I love drama!" exclaims Kira Garza, a junior who plays teenager 'Suzie' Kira exclaims "It feels like being a part of a family." As running crew member Samantha Roberds, helps Kira on with a costume coat, Samantha agrees and says she likes working backstage. She can be creative and she likes being "part of something bigger."
Mr. Gerry Wiener, director, gathers the kids into a circle. "In January we were strangers. Just look where we are today!" he says with pride and joy. "Look at this team we have created!"
Places every one!
As Conrad Birdie and the cast all sing:
"Oh, Life's a ball
If only you know it
And it's all just waiting for you
You're alive,
So come on and show it
We got a lot of livin'
Such a lot of livin'
Got a lot of livin' to do!"
Bye Bye Birdie!
April 10-13, Wednesday.-Saturday at the Performing Arts Building, 150 E. Street, Martinez.
General admission $15, Students $10, Seniors $10. Doors open at 6:30pm. Show begins at 7pm.  
Pre-sale Tickets can be purchased on-line at: ahsbulldogstore.myschoolcentral.com
Cast
Albert Peterson…Isaiah Huntsinger
Rosie Alvarez…Niki Amini
Kim MacAfee…Skylar Wondrusch
Conrad Birdie…David Miller
Mrs. Doris MacAfee…Maryann Ekstrom
Mr. Harry MacAfee…Lucas Haller
Randolph MacAfee…Jonah Lieb
Mrs. Mae Peterson…Cassie Kendig
Hugo Peabody…Jeffrey Metz
Ursula Merkle…Kaelyn Nguyen
Harvey Johnson, Ed Sullivan, Customer…Henry Clarke
Mayor, Train Conductor, Customer…Jack Boerner
Mayor's Wife, "One Boy" Girl…Julia Lloren
Mrs. Merkle…Lainy Larsen
Gloria Rasputin…Antonia Reed
Deborah Sue…Kawthar Aljanabi
Helen…Breanna Hatcher
Nancy…Deandra Lara
Margie…Jayelynn Reeves
Alice…Dulce Perez
Suzie…Kira Garza
Penelope…Holly Moran
Freddy, Police Officer…Timothy Douglas Sherry
Carl…Sam Millson
Maude the Bartender…Charles Boerner
Teen, Camera Man, Customer…Rigoberto Perez
One Boy Girl, Sweet Apple Citizen…Zoe Labinski
"One Boy" Girl, Sweet Apple Citizen…Rosalind Lao-Brooks
"Happy Face" Dancer, Sweet Apple Citizen…Amberly Bateman
"Happy Face" Dancer, Sweet Apple Citizen…Kyla Menconi
Musicians
Flute & Piccolo…Jenna Ebding
Violin…Rachel Snyder
Violin…Victoria Gilbert
Clarinet…Maggie Barnard
Clarinet…Jade Jachim
Bass Clarinet…Tyler Austin
Bassoon…Colbin Trew
Alto Saxophone…John Butcher
Alto and Baritone Saxophones…Frankie Cady
Tenor Saxophone…Kadyn Brown
Trumpet…Matthew Welch
Trumpet…Treven Garvey
Trumpet…Dillon Spencer
Trombone…Daria Bevens
Trombone…Brenda Armenta
Cello…Derek Damon
Guitar…John Kelly
Bass Guitar…Dylan Martin
Drum Set…Alexnder Santa Maria
Piano…Lisa Shedd
Fine Citizens of Sweet Apple
Angelisa Dominguez
Nicole Finnegan
Emeline Letellier
Charlotte Pachall
Alyssa Reeves
Reese Richardson
Natalie Rousset
Marrie Williams
Technicians
Stage manager: Lily Skinner
Running Crew- Emma Wentz, Sam Roberds, Sherry Limjoco, Katrina Hernandez
Spots- Alyssa Chiok, Idalia Meija
Sound- Amaya DeShasier
Lights- Elam Bender
Construction Crew- sub running crew- Analise and Andrew Devoux
Props- Rayla Padilla
House Managers- Ali Podwys, Rayla Padilla