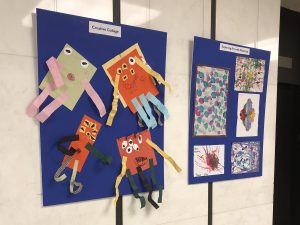 MARTINEZ, Calif. ­­– A free exhibit of art by children and photographs of community-based child care centers is designed to show the availability of early child care programs in Contra Costa County.
The show is the collaboration of the Arts & Culture Commission of Contra Costa County (ACS) and the Contra Costa County Community Services Bureau (CSB), and it shows children at play at Head Start preschools throughout the county, according to information provided by the two agencies.
It's called "The Contra Costa County Community Services Bureau Head Start Awareness Month Exhibit," and it will run through the entire month of October.
A pressing need in Contra Costa County is access to licensed child care for infants and toddlers, said CSB Director Camilla Rand.
"Those families who don't receive subsidies end up making hard choices, sometimes resulting in substandard care," she said.
Her bureau operates 15 Head Start preschools throughout Contra Costa County, and is in partnership with a dozen community-based child care sites that provide high-quality early care and education programs to more than 2,000 children and their families, according to the agencies' announcement of the art exhibit.
The bureau prepares younger children for school by providing them with comprehensive services while keeping the children's parents engaged as well, the announcement said.
According to the agencies, 13 percent of area low-income children 2 and younger receive subsidized care, and studies of children who don't receive Early Head Start child care indicate those youngsters lack in social, cognitive, language, physical and emotional development by the time they enter kindergarten, when compared to those who received such child care.
The art exhibit is on display through Oct. 31 at Art Passages Gallery, 651 Pine St., which is open from 8 a.m. to 5 p.m. Mondays through Fridays and closed weekends. Admission is free.