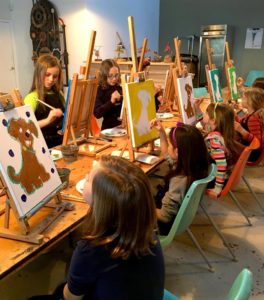 Artu4ia will have its final exhibit at its downtown area workshop and gallery, and its award-winning owners John Kleber and Carol Ludwig Kleber are calling it the "Last Hurrah" Art Show.
Artu4ia will be closing at the end of the month, and the Klebers will be moving to Pennsylvania.
Open for the past five years, Artu4ia has exhibited wood carvings of birds so lifelike, a viewer might expect them to take flight.
Another show featured the works of Albert August Schultz II, including a motorbike, items struck by lightning and a variety of other objects that showed Schultz's tinkering side.
Jaxon O'Hara, a child whose love of popular rock music inspired collaborative artworks had a place his oversized paintings could be displayed in the October 2017 exhibit, "Jaxon John: A Collaboration Thru Generations."
The exhibits were nothing if not eclectic and sometimes unexpected.
Adults, too, found the gallery and workshop a place where their talents could be encouraged. Artu4ia was the Martinez home of "drink and draw" events that have cropped up in many communities to provide a fun, guided and social art experience that delighted the experienced and the first-timers alike.
Longtime and professional artists felt at home there, too, such as the Martinez woodcarver Jim Marieiro, who exhibited his wood decoys and wildlife sculptures, then taught John Kleber how to do the work himself.
Artu4ia has had its serious side as well. In 2015, the studio secured a grant from the Arts and Culture Commission of Contra Costa County to start a veteran-focused painting workshop, "About Face: Building Veterans' Self-Understanding Through Self-Portraits."
That project started in the least intimidating way – using felt markers on cocktail-napkin sized paper pieces. From there, the project has grown beyond the borders of the Klebers' studio, and has given veterans the confidence to express their military experiences and feelings through paintings.
Visitors wandering into the Ward Street site never knew what would be underway – formal classes with the Klebers, such fun events as painting pets in a social creative atmosphere, a children's after-school art club or an individual spending some quiet time drawing in the studio.
Some of the events have been art-centered private parties or fundraisers, after which attendees used such words as "inspiring," "a great experience" and "a hidden gem" that has lived up to its name that pairs art with the feeling of euphoria.
And the "Last Harrah" one-day show came about because artists and studio supporters felt the same way, Kleber said.
"These guys wanted to have a show and a farewell to Artu4ia," he said.
After the show and party, the couple who built up the workshop studio will be "ramping down," he said. At the end of business March 31, "that's it," he said.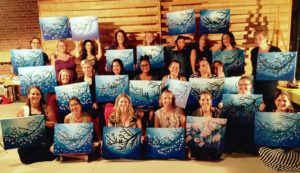 The past five years have plenty of highlights – some of them little memories that make the artist-owners smile.
"It was a comfortable, non-judgmental space where you could work on whatever your vision was. We would encourage you to pursue the vision. That's kind of how it works," Kleber said.
"I'm glad it had that reputation, that it was a welcoming place where you could come in, sit down and relax and paint or look at books," he said. "I never went on the big sell. If they came in and wanted to paint, yeah. And if they wanted to look at books, help yourself. It was set up like that."
Kleber said Artu4ia opened in Martinez as the city was about to experience a change. After the workshop opened, the city's downtown began to show signs of a renaissance. New homegrown coffee shops, craft beer places as well as boutique retailers and other store fronts began opening, he said. "It seemed to escalate after we got here," Kleber said.
One of the most important projects that came out of Artu4ia is "About Face," the veterans' project Kleber said he wants to try after the couple moves to Pennsylvania. "If we can get it going in a few states, it could take off and become a national thing," he said.
Kleber also will have fond memories of his children's classes Saturday mornings. Which produced such talents as Kaley Woods, who has attended art school in New York, "and of course, Jaxon. That's a big deal."
Another highlights was working with a Lafayette school for autistic children. Some of them had never tried anything artistic, he said. Under his guidance, they made kites and flew them at the Martinez Waterfront Park. "To see their happiness was extraordinary," he said.
"We don't have big moment. We have a bunch of little moments, things no one else would really see," he said. "But for us, what we got out of it – what I got out of it – some of those things were really a big deal.
"To work with the veterans and the less fortunate, people who may not know as much about art as some and to enlighten those folks – that was what it was really all about," Kleber said. "I set out to do nothing more than to bring some art to the community – alternative art to the community."
John Kleber, who has worked for such studios as Warner Brothers and Disney Animation, has been an art director, production designer and illustrator with national clients. He has been nominated for an Academy Award for the film short "Redux Riding Hood."
Carol Kleber has been the understudy for American master artist Harold F. Edmonds, learning to paint backgrounds in egg tempera, a medium that has been used at least as far back as for Egyptian sarcophagi decorations, and has been used by Medieval and Renaissance classical artists. She also has modeled for Edmonds.
"Last Hurrah Art Show" features ocean art and live painting by Fred Najera Jr. In keeping with the welcoming ambiance of the studio, the art show has an after party celebration.
The show will take place from 3 p.m. to 7 p.m. Sunday at Artu4ia at 725 Ward St. Live music will be provided by Tommy Guerrero, and Louie Senor will have his tiki carvings. The artists and studio supporters will have a party afterwards, Kleber said.
Catering will be by Melos Pizza, and the live art will be awarded through drawings. Those interested must be present to take home their prizes. Those interested may call the studio at 925-451-9372.