MARTINEZ, Calif. – Martinez City Council will decide today whether to pay a Malibu attorney $30,000 for expenses it said it incurred while demanding the city convert its voting system from at-large to by-district elections.
Kevin I. Shenkman, whose firm Shenkman and Hughes demanded October 2017 that Martinez alter its voting procedures or face a lawsuit, wrote Feb. 24 requesting reimbursement of the cost of his firm's work that led to its notice.
The letter acknowledged that the state's Elections Code caps reimbursement to $30,000, and sent an invoice from Compass Demographics for its services to Shenkman and Hughes, as well as a time and task chart summarizing the tasks it performed itself, including consultation with plaintiffs, evaluation of the need "to pursue Martinez in light of politics and City Council actions policies and statements.
Shenkman's documents said the firm conducted investigation and research, collecting an analyzing election information, population demographics, citizen voting age populations, registered voter proportion and voter turnout, as well as working with its contractor to prepare preliminary study and report,
The attorneys' document also said it investigated the city's history of discrimination and the use of electoral or other voting practices or procedures for dilutive effects, denial of access processes determining which groups of candidates would get financial or other support in a certain election, which protected groups would bear the effects of past discrimination in such areas as education, employment and health in ways that hinder the group's ability to participate in the city's political process and the use of overt or subtle racial appeals in political campaigns.
These and other tasks amounted to $21,114.50 in fees.
Certified mail cost the firm $6.70, and the cost of the demographic consultant's mapping and demographic consultation was $15,400, the firm said.
A redacted document detailing the attorney time noted that the Malibu firm had a Sept. 8, 2017 discussion with someone regarding Martinez and the need for action related to the California Voting Rights Act, which Shenkman has claimed the city's at-large elections had violated.
Afterwards, Shenkman and his partner, Mary Hughes, discussed a preliminary review of Martinez's historical demographics and elections and exchanged Martinez election data with Compass Demographics, the legal firm said. It also looked at the city's government action, disparity in services, city associations and how it dealt with the Latino community on such issues as annexation. It also looked at the city's history of discrimination and prepared a summary memorandum.
The attorneys said Shenkman traveled to and from "Contra Costa County to meet with Contra Costa community advocacy group to discuss Martinez, Martinez USD and Concord potential cases and on-the-ground political reality in those jurisdictions". In neither demand letter, one to Martinez and the other to the school district, did Shenkman mention any client other than the Texas activist group.
The firm worked with its demographics consultant on maps and election data, and Oct. 17 it prepared the CVRA demand letter, for a total of 32.7 hours.
"Although the total costs are higher than the statutory limit, we are only seeking reimbursement of $30,000 provided by the statute," Shenkman wrote.
Shenkman represents the Southwest Voter Registration Education Project, based in San Antonio, Texas. Neither Shenkman nor his client appeared during the hearings led by the Council as required by law to make the change.
In multiple reports to the Council, City Manager and Assistant City Manager Anne Cardwell have insisted Martinez is innocent of Shenkman's claims that it has diluted the voting impact of its largest protected group, Hispanics and Latinos, and otherwise have limited their ability to have its preferred candidates elected.
Despite Shenkman's contentions about Hispanics having little impact on city elections, AnaMarie Avila Farias was elected to the Council in 2012 with the largest number of votes among candidates. City Clerk Richard G. Hernandez rarely faces formal opposition when he seeks reelection.
The Council "expressly rejected the validity of Mr. Shenkman's allegations," Kilger and Cardwell wrote in their joint report. However, to avoid costly litigation, they initially recommended the city proceed with changing to by-district voting, and tonight will urge the Council to pay the attorneys $30,000 in reimbursement.
That anticipated but unbudgeted bill from the attorneys, the expenses related to the elections switch and Shenkman's demand letter that threatened suit has upset the Council in the past, and has shown in public meetings that residents are divided on the issue as well.
Vice Mayor Lara DeLaney expressed her disapproval by casting the sole no votes in choosing a four-district map and passing an ordinance establishing by-district voting.
Councilmember Mark Ross has been urging state officials to intervene by sending their own notices telling cities and other agencies to make the change, rather than to let attorney firms continue profiting by sending demand letters to other cities in California.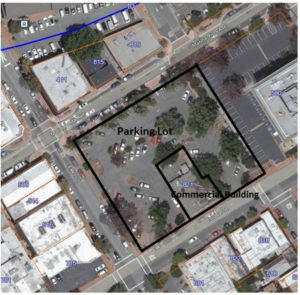 Another topic on tonight's agenda will affect some residents directly, including those associated with three downtown businesses that will have to move if the Council decides to buy 821 to 825 Escobar St.
That building is home to the What Not Shop, owned by one of the building's owners, a dog grooming business and Sal's Kitchen, a family restaurant.
If the Council decides to make the purchase, at $560,000, it will demolish the building and convert the site to parking, wrote Christina Ratcliffe, the city's community and economic development director, in a report to the Council.
The building, owned by James Davis Revocable Trust for which Sharon Ellsworth is acting trustee, is surrounded by a public parking lot that at times is used for such city events as an ice skating rink site.
Owners of the What Not Shop would vacate its site before the close of escrow, expected to be 90 days after the purchase agreement is executed.
As required by government codes, the city of Martinez would pay relocation costs for the other two tenants, Ratcliffe wrote.
After discussions with those two tenants, the Council would need to adopt a resolution and to approve funds related to their relocation, she noted.
The Parking Services Fund's money would be used for the purchase and other related expenses, she wrote.
The Council will open a hearing for public comment on an ordinance amending the agreement between the city and the California Public Employees' Retirement System (CalPERS) Board of Administration, for a 1 percent cost sharing agreement for local police members.
That ordinance was introduced Feb. 21 and aired for public comment. If the Council approves the ordinance, it would become effective July 1.
The Council will witness two proclamations, one on prescription drug awareness and the other recognizing March as Red Cross Month. It will hear a presentation open the Contra Costa Aging Policy platform.
On the consent calendar, which could be approved by single vote unless an item is removed, the Council will consider awarding construction contracts for the Brown and Green streets' reconstruction; purchasing parking meters that accept credit cards; acknowledging completion of the 2016-17 pavement rehabilitation Project C 1056; choosing City Manager Brad Kilger to receive emergency repair projects funding from the California Office of Emergency Services; and renewing its agreement with Rising Son Energy Center and the Martinez Unified School District for the California Youth Energy Services Program.
The Council will meet at 6 p.m. today in a closed session to discuss legal and labor matters. The regular meeting starts at 7 p.m. today in the Council Chamber of Martinez City Hall, 525 Henrietta St.