By JEFF ROUBAL
Martinez News-Gazette Columnist
After church services at Saint Catherine's last week, we had "hospitality hour" or, as I refer to it, Doughnut Sunday. It was the highlight of my weekend. There is something about doughnuts that brings out the best in people. I never see anyone sad on Doughnut Sunday. On the contrary, people are friendly, talkative, and cheerful. Children are overcome with happiness.
There are those who would prefer something more whole-grain and low calorie healthy but it is my experience that a little sugar never hurt anyone, especially when the practice at St Catherine's is to cut each doughnut into four or six bite size pieces. Vivian likes it because she gets to sample several different kinds of pastries on her plate. That is her favorite technique.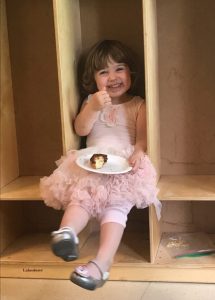 My two-year-old granddaughter who lives in Washington has Doughnut Sunday every week. At her church, and every person gets a whole doughnut. Such luxury! Daisy likes to lick off all the sprinkles and the frosting then throw away what is left. Each person has their own technique. My daughter Marion's favorite technique is to dunk her doughnuts in hot, fresh coffee. Sugar and caffeine!
Doughnuts have been a favorite Sunday tradition for as long as I can remember. My father would send me to the bakery with a five dollar bill to buy one dozen assorted doughnuts. I was in the fifth grade at the time so that was quite a lot of money. It was a big responsibility for me to make the one-mile round trip walk all by myself.
When I returned with the goodies, my parents, two brothers, sister, and I would change out of church clothes then lounge in the living room devouring pastries and the Sunday newspaper. We were lazy for as long as possible because, after doughnuts came chores. Sunday afternoon was to finish our homework, shine shoes, lay out school uniforms, pick up the house, and pack everything for school the next day.
I had another memorable experience at the Honda dealership in Concord several years ago. I dropped my wife Vivian's van off for service. In the customer waiting room I found a coffee machine and a display case full of doughnuts for the taking! There were more than three dozen doughnuts from which to choose. I found paradise that day. Two weeks ago, we dropped off Vivian's new van for repair. I ran to the customer lounge dragging Vivian but, sadly, the doughnut case was gone. Some things are just too good to last.
One of the biggest doughnuts I ever ate was at "Top Pot Hand-Forged Doughnuts" in Issaquah, Washington. It was more than eight inches across and topped with maple frosting and four slices of bacon, crumbled. It weighed over two pounds and took more than one meal to consume.
According to Guinness World Records, the largest doughnut ever made was an American-style jelly doughnut made in Utica, New York on January 21, 1993. It weighed 1.7 tons, was 16 feet wide and 16 inches high. After the record was set, the assembled crowd ate it! I wish I were there..
In 2007, employees of 20th Century Fox and Capital Radio built the world's tallest stack of doughnuts in honor of The Simpsons Movie. The stack was 43.5 inches high and shaped like a pyramid. It took 1,764 doughnuts to build. There is no record of what happened to the doughnuts afterwards. Americans have always had a special place in their hearts for doughnuts. We even have a special day to honor one of our favorite treats.
National Doughnut Day 2019 in the United States will be on Friday, June 7th. National Doughnut Day started in 1938 as a fundraiser for The Salvation Army and to honor The Salvation Army women of World War I, who served doughnuts to soldiers.
Soon after the US entered World War I in 1917, The Salvation Army established canteens near military training centers to serve baked goods, provide writing supplies and stamps, and provide a clothes-mending service. Typically, six staff members per "hut" would include four female volunteers who could "mother" the boys.
About 250 Salvation Army volunteers deployed to France. Pies and cakes were hard to make at the huts inside abandoned buildings near to the front lines. Two Salvation Army volunteers (Ensign Margaret Sheldon and Adjutant Helen Purviance) came up with the idea of providing doughnuts. Doughnuts were an "instant hit," Margaret Sheldon wrote, "today I made 22 pies, 300 doughnuts, 700 cups of coffee." The Salvation Army women soon became known by the servicemen as "Doughnut Girls."
Twenty-five years later, Martinez had its own USO canteen on Ferry Street across from the old train station to provide rest and refreshment to soldiers passing through on troop trains. According to the historic marker, the Martinez Citizens Canteen opened October 17, 1943, and closed February 15, 1946 after serving 401,322 traveling servicemen and women. Over the years, there were 1,348 volunteer hostesses from Martinez. The marker doesn't say exactly how many doughnuts were served but I will bet it was in the thousands.
What better way to celebrate national Doughnut Day than make your own? We have made traditional doughnuts at home and found it too much work. Years ago, Vivian came up with a recipe for what she dubbs "cheater doughnuts." She taught this recipe to her Culinary Arts students at Will C. Wood High School for many years and it was always a hit.
Start with a package of refrigerated biscuits in a tube — the cheapest ones are the best. Poke a hole in the center of each biscuit with your finger and pull it out to doughnut-shaped. Drop gently into enough hot oil to cover the biscuits. Our Daddy Fryer is 350-375 degrees. Fry 1-2 minutes until they are light brown on both sides. Remove with tongs. Drop one or two doughnuts at a time into a paper bag with granulated or powdered sugar. Shake gently until uniformly covered. Serve warm with coffee or milk. Cheater doughnuts are easy to make and delicious. There is nothing like a warm doughnut.
So please enjoy a doughnut on June 7th. Make it yourself or buy it at the store. Eat it by yourself or at a doughnut party. Use whatever is your favorite technique and be happy. If you can't find a doughnut, come with me. This weekend is Doughnut Sunday at St Catherine's!