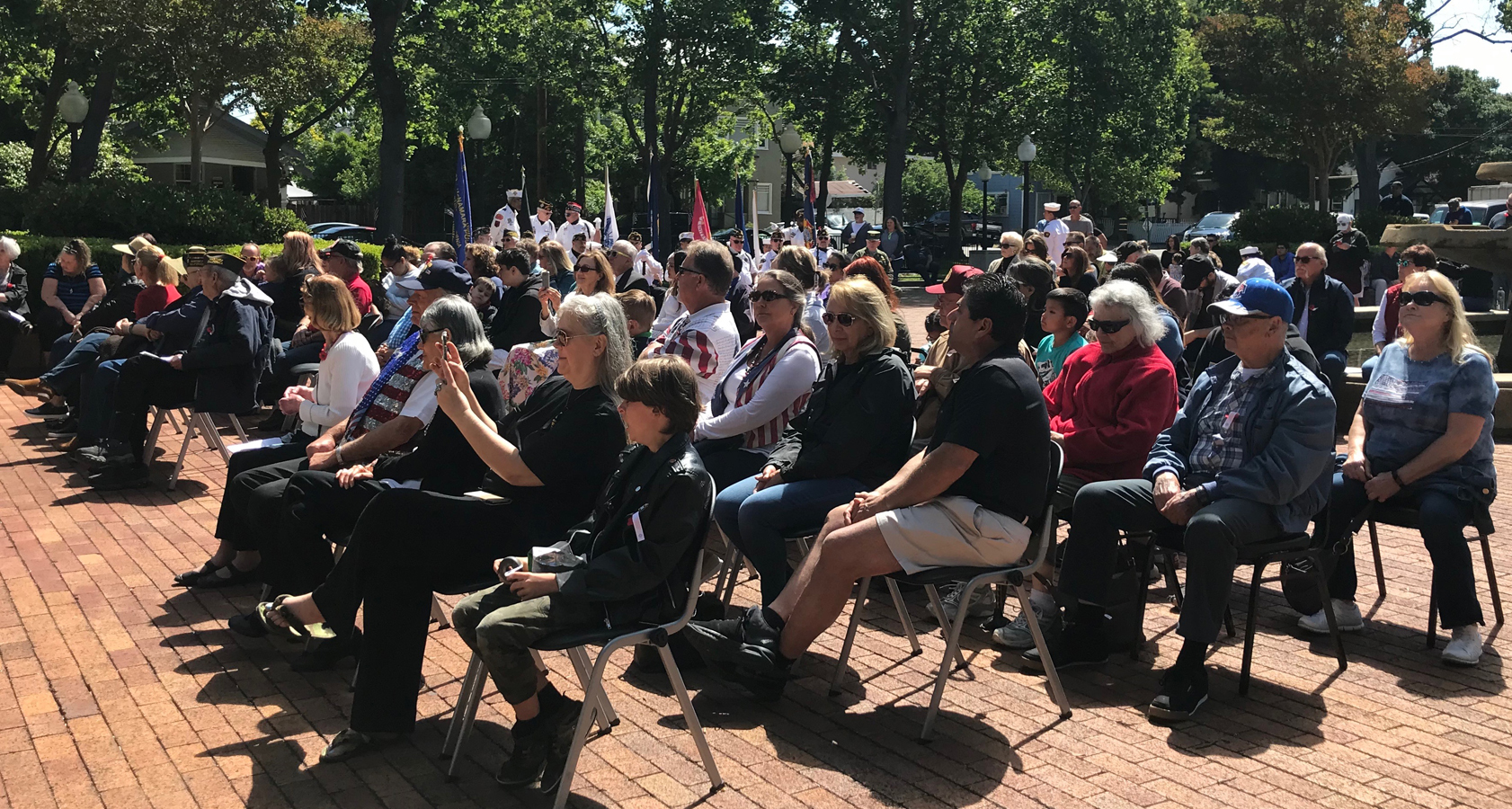 MARTINEZ, Calif. – "We are here to honor the greatest men and women the world has seen, from the greatest country the world will ever know," United States Marine Corps 2nd Lt. Anthony Jenny told those who gathered at Ignacio Park Monday for the Martinez Memorial Day ceremony.
Jenny delivered the Memorial Day message at the event that remembered those who died in military service, whether their sacrifice came at Lexington and Concord in the colonial era or in the recent Middle East conflicts.
While the remembrance is somber, as Americans remember how their service men and women died, Jenny said, "it's also important to remember how they lived, their unwillingness to kneel to tyranny."
Their courage has inspired others to enter the armed service, he said. "And there are plenty of patriotic men and women ready to serve."
In fact, five members of the University of California, Berkeley, Reserve Officer Training Corps will leave soon to Virginia to the Marine Base Quantico, where they will strive to become Marine officers, he said.
Citing the courage and bravery of the fallen, Jenny said it's important that they are remembered,
"May the fallen rest in peace, and may God bless America," he concluded.
The city's Veterans Commission organized this ceremony and an abbreviated one that took place earlier at the Alhambra Cemetery. Commissioner Richard Philbrook, who has known Jenny since he was a child, said a million and a half servicemen and women have died in various American conflicts.
Martinez has its share of citizens who never returned from those conflicts. Veterans Art Miller, Ellison Lockett and Frank Steelhamer took turns reading those names, which also are engraved on a monument at Veterans Park at the corner of Berrellesa Street and Alhambra Avenue. At the recitation of each name, another veteran, Kandie Jones, tolled a bell.
Other speakers addressed the audience as well. Commission Chairperson Shane Bower said that since the Vietnam War, military service has been voluntary. And while recruiters speak of benefits they should receive after service, they rarely talk about the possibility of being killed.
Servicepeople are aware, however, he said. "We know it happens in wartime," as well as in training accidents and in protective actions, he said.
Better medical techniques and improve armor has reduced those deaths, he said. Still, "on a day to day basis, they put their lives on the line."
Former Mayor Mike Menesini, who also is on the Commission and is a veteran himself, reminded the audience there are many ways to serve the country, from Volunteers of America and VISTA as well as with other organizations.
Vice Mayor Noralea Gipner, acknowledging that many spend the day with their families, reminded the audience that "You can enjoy your barbecue only because of those who fought and died."
U.S. Representative and veteran Mike Thompson, asked that families of servicepeople be recognized as well. "We know this (military service) is a family affair." Veterans and the fallen should remember for serving the cause of justice and other honorable values, not just on Memorial Day, but throughout the year, he said.
He also called for the promises made to those who have volunteered to serve to be kept, so when they take off the uniform, they can have "a great life" and "work for peace."
State Senator Bill Dodd described how the brother of his wife, Mary, died in a military training accident, and how family members have grieved since that day.
Jessica Angelo read a statement from U.S. Rep. Mark DeSaulnier, who acknowledged the nation's debt to those whose lives have been sacrificed. Jenna Elkins did the same for Assemblymember Timothy Grayson, who recognized those who were deployed, but never had the chance to take off the uniform. "Freedom is not free," the statement said. "The price has been paid by servicemen and women."
David Fraser, representing Contra Costa County District 5 Supervisor Federal Glover, is the father of a son, Marine Cpl. Brian Fraser, who is serving in Okinawa. One year, he hopes his son can join him as he speaks at Martinez's ceremony, where he is always headed on Memorial Day, he said.
"He is my son, but he's America's Marine," Fraser said.
Military families face separation and at times financial challenges, he said. Families often are aware of the costs, but they rarely are prepared for the loss of a soldier, he said.
Those in the service fight for freedom that must apply to every American as well as those within the American sphere of influence, he said.
He said he is ashamed that some complain about the cost of helping returning veterans. "They make the payment for liberty," he said.
But the price of freedom isn't covered in a single payment, he said.
"The cost does not diminish over time," he said. "We do not love war, but we love liberty. We do not love to fight, but we love freedom."