By JEFF ROUBAL
Martinez News-Gazette Columnist
Last weekend, Vivian and I went to the Campbell Theater to see Agatha Christie's "A Murder Is Announced." It was a wonderful production. We were impressed with the lighting, sound, costumes, sets, direction, and acting. I highly recommend that you go see it for yourself. It runs through May 26th.
Vivian and I have experience working in theaters so appreciate all the hard work that goes into staging a smooth production. For ten years, Vivian was the costumer at Will C Wood High School in Vacaville. She would create a hundred or more different outfits for student actors in each show.
One of the things I love about my wife is her resourcefulness. She was walking across campus one evening worried about creating costumes for the musical "Girl Crazy" with a practically nonexistent budget when her eyes fell on the school's Pampas Grass landscaping. The tall dried stalks looked like hat feathers! Vivian snapped off a stem and experimented. For the next couple weeks, students were seen dashing around campus to secure the most perfect stalk for their hat. Because they were fragile, each performance required a fresh stalk. The show was a success. Only the cast and crew knew about the plant fluff flying around backstage and in the dressing rooms like tiny tumbleweeds. Dry Pampas Grass sheds a lot.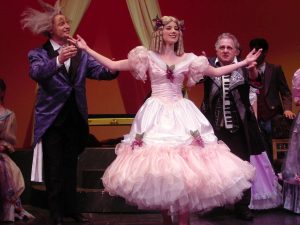 Vivian was also the resident costumer for North Bay Opera in Fairfield for more than ten years. Her crowning success in "Le Nozze di Figaro" earned an Arty Award that honors outstanding achievement in the performing arts in the Solano and Napa County regions.
Not everything in the theater is as frictionless as it appears from the front of house. There are shenanigans and hijinks backstage that the audience never sees. One of my favorite plays is "Noises Off" by the English playwright Michael Frayn. Before intermission, it presents a stage show as seen by the audience. After intermission, it presents the same show as seen backstage. The frantic activity the audience can't see is a cross between Keystone Cops and the Three Stooges. Sometimes, real life backstage is not that much different.
In 2011, we were rehearsing the opera "Falstaff" by Giuseppe Verdi. I was helping with properties at the Fairfield opera house when the director loudly called for someone to bring a wine bottle. The scene called for Falstaff to sit in a big chair onstage drinking wine while he sang his aria. The prop mistress looked at me helplessly. Nobody told her that she would need to supply a wine bottle.
When the director asked again, she called from backstage that one was on the way as I sprinted out the door and down the alley. In a minute or two, I was in a little neighborhood grocery store three blocks away. Breathing hard, I asked for the cheapest bottle of wine in the store. The clerk was amazed when I ripped off the paper label and handed it to him on my way out the door. We only needed the bottle.
Back at the theater ten minutes later, I had the bottle uncorked and was about to dump out the wine when the prop mistress grabbed it from my hands. "No time," she said and ran it on stage.
Following directions, Falstaff began his is song and took a swig. The look on his face was priceless. He didn't expect anything in the bottle, let alone wine. When his female companion entered the scene and took a swig, she was surprised too but neither said a word. During the afternoon, they practiced their entrances, exits, blocking and vocals several times, each time with a swig at the bottle. By the time the scene was set, the bottle was empty!
Nobody ever spoke a word about what happened but the director commented at the end of the day that it had been one of their best rehearsals.
I sang with the chorus in "Falstaff" and distinctly remember that my costume pants were safety-pinned together for opening night. That is what happens when one is married to the costumer, you are the last to get a finished costume. In a different show, she glue-gunned the military medals onto my tunic (while I was still wearing it!) then safety-pinned my tunic closed because there was no time to sew medals or buttons before I went on stage.
Vivian used the forty-foot rule. If it looked good from forty feet away in the daylight, that was just right. Nobody in the audience was going to get any closer than that and stage lighting masks any minor imperfections.
North Bay Opera also staged "Eugene Onegin" in which there is an epic duel. At the end of scene four, the two protagonists would square off on stage and shoot at each other. The director insisted on using antique dueling pistols with live ammunition (blanks) to give this scene authenticity. Unfortunately, dueling pistols are notoriously unreliable. They would only explode half the time. We actors never knew if they would go off or not. They were very loud when they did go off and we all jumped. When they did not go off, we jumped anyway, just from reflex.
A few years later, our daughter Marion and I were in a production of "Oliver" with Vallejo Music Theatre. We each had four different costumes. Backstage was a madhouse with actors constantly running back and forth to change. I played Doctor Grimwig who does a medical examination of the sick hero Oliver. Oliver was played by a twelve-year-old actor. To keep him on his toes during rehearsal, I carried a bunch of random stuff in my enormous medical bag. Instead of a stethoscope, I would pull out a yoyo or a rubber duck. I found some of that stuff later in the pockets of my other three costumes. To this day, I don't know who did it. Everyone is a practical joker.
Even professionals are not perfect. One of the greatest composers of all time was Gioachino Rossini. In the thirteen years between 1810–1823, he composed thirty-four world-class operas. Always a procrastinator, Rossini did not write the overture for his opera "The Thieving Magpie" until May 31, 1817 — the day it opened! That morning, the desperate theater manager locked Rossini and four stagehands in the theater's attic. Rossini was instructed to drop the completed pages out the open window for the copyists in the street below to pick up and transcribe; in the absence of pages, the four stagehands were ordered to throw Rossini out the window instead! Rossini finished and the opera opened on time to rave reviews.
Live theater is a wonderful enhancement for our community. Great performances inspire, motivate, and enrich the soul. Our favorite local theaters are the Campbell Theater in Martinez, Diablo Valley College Drama, Woodminster Summer Musicals, and California Theatre in Pittsburg. We recommend all of these.
Vivian and I are retired from working in the theater but will never forget the exhilaration and satisfaction that comes with putting together a huge stage production. As one aging thespian replied when asked if he would prefer to be cremated or buried, "Neither, just set me in front of the bright lights."