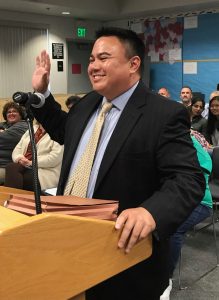 MARTINEZ, Calif. – After a series of interviews Monday night, Martinez Unified School District Board of Education chose Jeremie Ginelli to succeed Bobbi Horack, who was forced to resign after moving out of that voting area.
Ginelli is an attorney who also is a member of the Martinez Parks, Recreation, Marina and Cultural Commission, and represents the PRMCC on the Measure H Citizens Oversight Committee.
Also vying for the position were Dawn Polvorosa, also an attorney who has coached the Alhambra High School mock trial participants for 23 years; Tania Brugger, who has a career in banking and whose volunteer work has included being the president of the Monument Crisis Center and being a room parent at John Swett Elementary School; Barbara Turcious, who has served on the Measure K Oversight Committee and the St. John the Baptist school board; and Maria Anderson, who has been a member of the John Swett Elementary PTA and who has volunteered at Oakland Children's Hospital, the former Growing Garden, the creative Play Center and other places.
Each of the four Boardmembers were given three votes to cast as they pleased, and Ginelli received 9, to Polvorosa's 2 and Anderson's 1 vote.
Sara Toney, a photographer who has been involved in community service through Amigos de las Americas, withdrew her application, citing time constraints.
Many of those seeking the Area 5 appointment acknowledged parents' concerns about student safety in schools, especially at Martinez Junior High School where fights have been reported.
Polvorosa said she wanted to assure that school administrators had the tools to cope with students' behavior. Brugger wanted to encourage parental engagement so the junior high could return to the days just a few years ago when it had a positive reputation.
Anderson also promised to improve the school climate through programs that would help students learn how to deal with problems but also wanted to focus on raising the District's scholastic standards.
Ginelli said the Board and District needs to make sure students have safe and secure schools to attend, so the classrooms could be conducive to learning. The District needs to assure that all students, including those with special needs or disabilities, have full access to that education. At the same time, the District must be transparent and communicative to its stakeholders.
Turcious also was concerned about reports of school violence and agreed something needed to be done about student violence, but questioned whether it was a school district's responsibility to teach children how to behave. However, Martinez schools must address a parent's concern whether a child is being treated unfairly, she said.
Most agreed that school finances also were top priorities, Polvorosa said she would assure the District's bond issue revenues were spent appropriately and would want to hear from teachers, administrators and other staff before tackling the District's budget challenges. She said the state Legislature should be lobbied to increase funding to schools, because basing revenue distribution on attendance isn't sustainable.
Brugger cited her finance career experience, and said the District needed to dig deep to find ways to trim its budget, especially to assure teachers get paid fairly. She, too, promised to lobby the Legislature to loosen its purse strings while urging the Martinez district to be thrifty.
Turcious said the Board already knows the District's financial challenges and pitfalls, including trying to give raises with revenue it doesn't have.
Anderson praised Martinez residents, local companies and organizations for the support they give the District, which she called on to be a good steward of both tax and bond revenues as well as donations.
Ginelli said in addressing the budget, he first would look at the District's goals and what it's trying to accomplish, and match the funding to those priorities. He said he wants the District to be able to retain teachers and assure student safety, and the budget should reflect those goals, too.
Most said they would listen carefully if approached by a member of the public who had a school concern, although Ginelli said he would try to address the concern at the school level. Applicants assured the Board they could work with those of differing viewpoints, especially their fellow Boardmembers.
Likewise, they were fairly united in defining "integrity," another question posed by the District. Many described it as "honesty" and "truthfulness," with a few saying it was doing the right thing even if no one else would know. Ginelli added that it meant holding people responsible and to stand by set goals.
Asked about their view of the near-term challenges, Polvorosa said in the next three to five years, MUSD and other districts must address how schools get funding. Students need available technology and to be trained on those devices in responsible ways that produce good citizenship and to have a safe environment for learning.
Brugger agreed that the budget would continue to be a hardship on schools. She again wanted a better educational rating for MUSD schools, for children to feel safe and for more fundraising activities to be started.
Turcious said the District would continue being challenged if parents don't prepare their children to behave in school settings, and noted that the District also will need to step up in its own care of homeless students.
Finances, a decline in discipline and impacts of social media would continue presenting challenges to the District, Anderson said, but Martinez as a close enough community should be able to address those problems. Adults are available to model proper behavior, she said. She also wanted the District to focus on improving its academic standards.
The budget will continue to be problematic, not only for MUSD but other districts, Ginelli said, Locally, the District will need to keep maintaining its buildings and retaining its teachers. Students want to learn, but they need a safe environment in which to grow both scholastically and socially, he said.
Several individuals, including students, expressed support for Polvorosa, especially for giving so much time to students in coaching them for the mock trial competition. Brugger and Anderson won supporters' praise for their participation in school support or civic organizations.
Ginelli earned the Area 5 seat on the first vote, was administered the oath of office, and participated throughout the rest of the meeting.
In other District business, Ami Nichols has been chosen as Morello Park Elementary School's next principal, and Anna Malki will be the new assistant principal at Alhambra High School. Interviews are being conducted for other administrative openings, the panel was told.
The Board delayed a vote on leasing space on the Knowles Field to T-Mobile until Assistant Superintendent Helen Rossi determines whether the cell phone carrier wants to use it for 5G service.
Clerk Jonathan Wright sought the delay, saying some reports have indicated radiofrequency radiation could be a possible carcinogen.
The Board learned that Las Juntas and Morello Park elementary schools and Martinez Junior High School qualify for additional help for faltering students under the California Department of Education's evaluation of underperforming student groups that need targeted support and improvement (TSI) and Additional Targeted Support and Improvement.
Director of Educational Services Tom Doppe said the Board had approved each school's Single Plan for Student Achievement, but those of the three affected schools will be revised and presented to the Board at a future meeting.
At Morello Park, English learners will be targeted because of a suspension, Doppe said. That suspension was deserved, but with the additional attention, students would be taught mindfulness in class and good citizenship.
At Las Juntas, white students and disabled students will get additional attention again because of suspensions. In addition, multi-tiered support would address the needs of English language learners.
At the junior high, disabled and English-learning students likewise will benefit from the additional help, Doppe said, including providing positive reinforcement for attendance and helping those with social and emotional needs.
The Board will vote on the school plans revisions at a future meeting.
Doppe also introduced additional educational materials for a National Geographic program for English learners, another National Geographic text for Special Day English classes, a Vista Higher Learning French 4 text, and the high school level of TCI History Alive text.
A set of classroom book texts would be available, as well as a few extra copies for specific needs, but students also would have access to the books online, Doppe said.
The Board will vote next month whether to use those texts next year.